Media
Please review the latest media releases from Starts at Sixty below.
——————————————————————————
Saturday 8th June 2013, 11.30am
Australians Over 60 say "Bring Kevin Back"
Over Sixties know who they want as our next Prime Minister, and the current choices of Julia Gillard, Tony Abbott and Clive Palmer just don't seem to be resonating.
An unofficial poll taken on the Starts at Sixty Facebook page www.facebook.com/startsatsixty over the last 36 hours has shown categorically the dissatisfaction by over sixties with current candidates.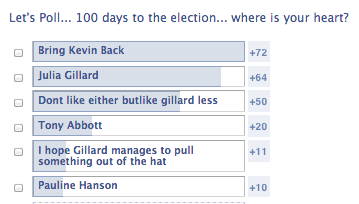 We launched our poll with the three Prime Ministerial candidates as choices, late on Thursday, the day that marked 100 days until the Federal Election.  We left the option open on the poll for voters to "add" their own choices… and within hours a number of popular options appeared:
Bring Kevin Back

Don't like either but like Gillard less
And our community started to show their satisfaction with these options, more than they have shown with major candidates.
At the time of writing this article, "Bring Kevin Back" was the most popular choice of over 60s online.  The poll will continue throughout the weekend, publicly on our Facebook page.
I showed Kevin Rudd these results this morning, when I popped down the local shops to find him sausage sizzling outside.  He smiled, and turned a little shy, perhaps wanting to avoid the question I asked, of "did he realise how many over sixty throughout Australia support him?".
Kevin was spending his morning courting his electorate of Griffith over a community barbeque outside the local shops where he is rumoured to be heavily challenged by the liberal candidate Bill Glasson.  The Labour Party would need to be certain Kevin can survive his electorate before they would ever be able to contemplate allowing him back as leader.
Outside our local butcher, Kevin was keenly embraced by over 60s and children in the community, and posed for photos from the waiting media contingent with delight.
About Starts at Sixty
Starts at Sixty is a website and online community for Australians over 60 years of age.  Launched on March 15, 2013, the site has attracted the attention of over 60s online very rapidly, with over 70,000 pageviews per month from people over 55 in Australia.  The site has more than 100 contributors, most of whom are over 60 years of age.  Founded by Rebecca Wilson, the community facilitator, it is rapidly turning into a dedicated place online for conversation, community and concerns of the over 60s, the fastest growing community in Australia.
For more information please contact
Rebecca Wilson
Starts at Sixty
——————————————————————————
 15th March 2013
New Online Community for Baby Boomers "Starts At Sixty" launches in National Seniors Week.
StartsatSixty.com.au has launched their new website and Facebook page online in National Seniors Week to provide an online community portal for the Baby Boomers and beyond.  It is the first Australian content portal providing information and publishing exclusively online for the aging generation.
More than 3.6 million people are aged over 55 in Australia and are looking forward to, or grappling with this different phase of their life.  Whether they have given up work, or are working full or part time, are travelling, facing health issues, or just want a connection with someone else in their agegroup, they need a place to visit online that gathers the opinions and thoughts of their generation.
So today we launch "Starts at Sixty", a website and Facebook community, and encourage anyone approaching or over 60 with a story to tell to suggest it, or consider writing it for others to enjoy.
The site, in its early days, will cover
Entertainment
Food
Health
Hobbies
Living
Shopping
Travel
"We have many plans in the wings for what comes next, but for now we are focused on providing a website full of useful information for our community", said Rebecca Wilson the Founder of the site.
We have a terrific lineup of authors who are 60 with their own stories to tell, and a group of topical experts who will share insights and information tailored to over 60s.
The site has been put together by Rebecca Wilson, Managing Director of Stretch Marketing, and one of the founders of the Flood Discounts online community that served Queensland and New South Wales in 2011.
"We are thrilled to pour our online knowledge and experience into a community that will grow and support each other through the next stage of their life.  It is clear to us that many over 60 are now quite frequently online, and are keen for information, opinion and insight on the issues in their lives," said Rebecca
"My parents are over 60, online and keen for its success so they too can use it.   It is exciting to be creating it for the generation," said Rebecca Wilson, the founder of Startsatsixty.com.au.
People can connect into the community by signing up on the homepage for the email list, or by clicking "like" on Facebook.  We'll be bringing plenty of exciting stories out regularly from now on.
For more information
Rebecca Wilson
Founder and Publisher
StartsatSixty.Com.au