Gordon Ramsay, Jamie Oliver feud ignites with 'unspeakable' comments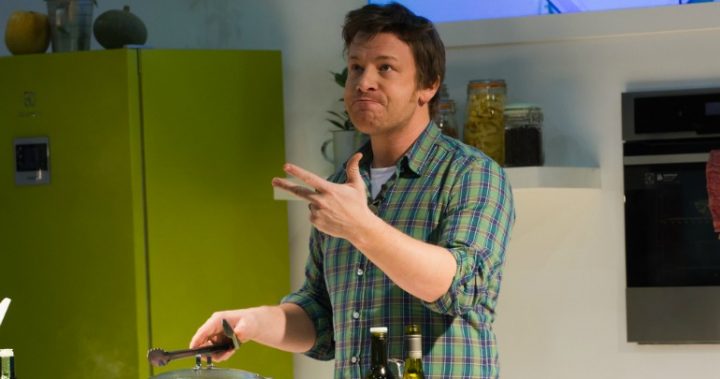 Gordon Ramsay and Jamie Oliver have always had a bit of back-and-forth, but one of the British chefs seems to think that a certain line has been crossed. 
In an interview with Radio Times, Ramsay touched on the feud and said that he would not speak to Oliver again until the 42-year-old apologised to Ramsay's wife, Tana, for past comments. 
"Jamie turned round and said [in a newspaper], 'I've got five kids, he's got four kids.' To judge someone else's family on the amount of kids you have, that's … that's …" 
Ramsay was appalled by the apparent blow to his family for good reason: in 2016, Ramsay's wife suffered a miscarriage five months into her pregnancy. 
Read more: Did Gordon Ramsay's horrifying prank cross the line?
Ad. Article continues below.
"Boys will always fight and butt heads but Tana was mortified," Ramsay said in the interview. "I mean, really mortified." 
The two chefs have had their differences in the past, so it's not really surprising that Ramsay thought the worst of Oliver. However, it seems he may have taken the remark completely out of context. 
Read more: Gordon Ramsay confesses to getting work done
The quote in the newspaper came after Ramsay had spent a week hosting ITV'S The Nightly Show earlier this year. During his stint on the show, Ramsay repeatedly mocked Oliver, calling him "fat" and criticising his restaurant chain. 
When asked how he felt about the insults, Oliver responded, "All my friends and people I work with in TV were very p***** off for me. I was doing TV years before him, so maybe five years ago it would have bothered me and I may have responded. 
Ad. Article continues below.
"But he's got four kids and I've got five kids and I don't want to be slagging off some kids' dad on telly. It's not nice." 
Read more: Gordon Ramsay questioned over the way he treats his kids
The full quote appeared to be a jab at the sense and maturity Ramsay had lacked in his decision to publicly mock Oliver, rather than an insulting comment on the size of Ramsay's family or his wife's struggle with a miscarriage in 2016.
However, Ramsay fixated on one part of the comment and took it to heart. The 50-year-old's reaction is perhaps understandable when Oliver's other comments about the interview were taken into account. 
"It's a bit like going to see someone you love who has dementia, who keeps forgetting and then doesn't remember what they've said," Oliver said in an article from The Sun. "It doesn't bother me, but it was a lot. He hasn't texted to apologise. I don't know if he does emotion like that." 
Ad. Article continues below.
Instead of heeding Oliver's apparent call to back down for the sake of their respective children, Ramsay took things to another level in his Radio Times interview. 
Read more: Jamie Oliver calls for a ban on selling these drinks to children
"It's all very well to spout off now about sugar tax and supermarkets," Ramsay said of Oliver's continued attempts to promote healthier eating habits, especially for children. "None of that was spoken about when he was label-slapping with Sainsbury's for ten years." 
"And no disrespect, but we're chefs, not politicians. When you breathe that stuff down the public's throat and say, 'I'm leaving if we have Brexit', then, I'm sorry, the door stands open. Stand for what you say. Sadly, the only time he opens his mouth is when he's got something to promote." 
Read more: Jamie Oliver blasts extreme dieters after restaurant attack
Ad. Article continues below.
Oliver has also said he doesn't understand why Ramsay made such harsh jokes about him during his hosting gig on The Nightly Show. 
"I don't think he can be jealous of me because no British chef has cracked American TV like Gordon has or smashed it on TV. He's killing it, but we're different." 
What do you think of this war of words?