After spending four days in a chilly Chengdu getting all the legalities done, it was time head off to where we would be living for the next 12 months. The principal of the kindergarten picked us up and we headed for a place called Meishan. Meishan has a population of around 3.8 million people. It was a 45-minute drive from Chengdu.
A thick dense low-lying fog accompanied by heavy rain hampered our trip from start to finish. It was miserable. I discreetly said to my husband, "Oh, my God where have we come to." On the drive there it was obvious that the province we were in was an agricultural one. Orchards after orchards with trees laden with oranges and other fruits lined the highway.
Meishan is not a tourist destination and if you were not coming here to work you would probably not have any reason to visit the area. There were no other foreigners, so from the very start we were treated like movie stars. An overwhelming curiosity by the local people left us feeling amused most of the time. Their desire to just stop and stare and try to ask if they could take a photo was soon to be just part of our daily life. They would take photos of us everywhere even if we were sitting in a restaurant they would be outside the window taking photos. In all honesty I don't think they had ever had a 'white' woman with blonde hair in town before.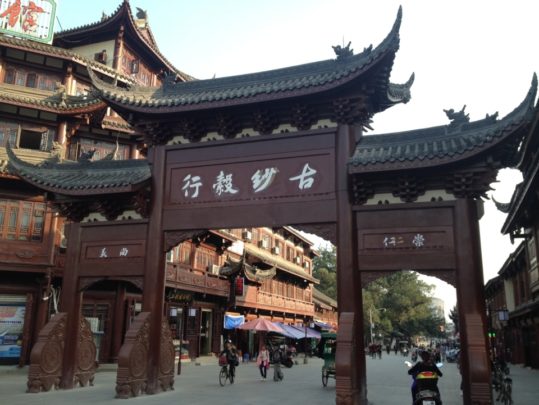 We quickly settled into our apartment and I commenced teaching at the kindergarten, which had more than 700 children. I did not know what to expect having never worked with small children before, let alone the fact that no one at the kindergarten could speak any English. Nevertheless I was eager to put the months of TESOL (teaching English to speakers of other languages) training into practice.
Within the first week we both felt so totally at home. It was a brisk 10-minute walk to the kindergarten from our apartment. Leaving the apartment to walk to school soon became something I looked forward to. Everyone was so genuinely happy to see me and greet me. I had never felt so excited and on such a high to go to work in my life as I was there and I was blessed to feel that way for four years.
Winter had finally turned into spring and it was at this time when the city of Meishan became a artists canvas. The Chinese people love their parks and gardens. A recently developed 200 hectares of Sukura trees had been planted and were starting to bloom leaving a field of pink flowers.
Living in China was very easy and quite different from Australia. There was no political correctness, if someone wanted to say something about you they would just come right out and say it with no thought or the possibility of offending you in any way. This was something I found refreshing, taking me back to how things used to be in my own country.
The Sichuan Province is known for its hot and spicy food, not just chillies but small black pepper corns that acted like scud missiles once in your mouth. When eating out we would be wiping the sweat off our faces and our lips and our tongues would be tingling giving that feeling that they were on fire due to the spicy flavours. Not to mention the aftermath the next day. We eventually adjusted to this diet but it took a good year. We would go to the supermarket, which would attract a whole new audience that didn't usually see us and their natural curiosity would leave us in stitches trying not to laugh as they would check out what was in our shopping trolley and quickly whisper to each other about it then sneakily take a photo.
We would looked forward to the weekends when I was not working so we could explore the area. We would jump on a local bus and stay on it to where ever it was going just so we could sight see. A bus fare was 1 Chinese Yuan, the equivalent to 20 cents Australian and that fare was valid until you disembarked the bus whether it be in 5 minutes or 1 hour.
The local Chinese people were very kind and often upon meeting us they would invite us to their homes or want us to have dinner with them and their friends thus our one or two hours would turn into six or seven hours. We lived in the local community of Dongpo. Dongpo was named after the very famous Chinese writer and poet Su Dongpo in the Song Dynasty. He died in 1101.
I loved going to the kindergarten and just loved teaching English, often wishing I had have done it many years earlier. I was constantly amazed at the way the children embraced the art of learning a second language at such a young age when they are basically just learning their own native language. I would always say to my husband "I have the best job in the world, probably the lowest paying one but the most rewarding one."
My days were filled with fun and laughter. I have never had a job before where I could sing (very poorly I must add) dance and be silly, dress up like a chicken or a pig. At the end of each class there was always lots of cuddles. I loved returning to Australia and visiting the $2 shops to buy all the stuff that is made in China only to bring back to use for materials in the classroom. It's hard to believe but you cannot buy those things there. I would bring back suitcases full of things to use in my classes and the kids just loved it.
The first year flew by and my contract was due to finish. I signed on for another year. We had settled into the Chinese lifestyle and its culture and all it had to offer with ease and did not have any plans to return to Australia any time soon. We visited many places in China and loved exploring the history of the country.
We visited The Great Wall, Tiananmen Square, and The Summer Palace to name a few in Beijing. We spent four days in Xian visiting the Terracotta Warriors and exploring its beautiful city. We caught a fast train to Wuhan just to experience travelling long distance on a train that travelled at 400 kilometres per hour. The trip was initially 9 hours but because of persistent rain some of the train tracks were closed due to flooding it ended up taking 18 hours.
I had been interviewed several times for the local newspaper. The Meishan TV made a documentary about me working and living there. The 'Propaganda Department' from Chengdu did an article about us for a tourism magazine. We were in a TV advertisement for a fish food company and I was featured teaching in a music video made by one of the universities, just to name a few. There was never a dull moment.
We were exposed to many situations here that we'd never have encountered in Australia. The language barrier never created any huge problem. If we were trying to communicate with someone be it in a shop or taxi etc. both parties usually just ended up laughing and then if all else failed we would resort to our translation app on our phones. We became so well known around Meishan that a lot of the taxi drivers knew where we lived and automatically took us home. Random people would stop us to have a chat. You could stand for 5 or 10 minutes chatting with someone in two languages, neither understanding the other, and at the end give a big smile to each other and walk away with no idea what was said. It brought a smile to our faces every time. We would tell them in Chinese that we didn't understand. It didn't matter they would just keep talking and laughing.
We loved doing our fruit and vegetable shopping in our local community. Our local streets were lined with stalls overflowing with seasonal fruits and vegetables. We would choose our own eggs, put them in a bag and get them weighed. We ate out a lot of the time as it was so cheap, but sometimes it was just nice to have a steak and vege or salad at home. We had a large selection of restaurants we frequented and they all knew our preferences, but we continually reminded them by touching our head, stomach and point to our feet that we didn't eat those parts. They would nod with laughter and still to this day don't understand why we don't eat these parts of an animal.
I had a couple of falls while there and visited the local hospital several times to see the doctor and the physio, which was perhaps the most noticeable difference between the two cultures. Privacy is not something that comes into play in China and there is no one-on-one with the doctor. I had to find someone to take with me to the doctors so that we could communicate. In the doctor's office there would be roughly eight to 15 other people in the room watching and listening to everything that was discussed. As I was having ongoing treatment for a few months the doctor became used to me shutting the door when I went in, much to the amazement of the local people standing there waiting to see him.
The standard of cleanliness at the hospital on the other hand and some of their 'outdated' practices and equipment is a reminder to be careful to avoid any situations that could potentially lead to me being admitted as a patient.
After falling backwards playing badminton, knocking myself unconscious and sustaining a head injury one weekend, I was off work for two weeks. The principal sent her mother over with some chicken soup. I was feeling poorly but the thought of some homemade chicken soup sounded good. A couple of hours later her mother arrived at the door. My husband opened the door and she was holding a freshly killed and plucked chicken in a plastic bag with all body parts still attached. We still laugh about this. My husband did turn it into chicken soup, but it wasn't quite the same. A couple of days later the principal phoned again to say she was sending her mother with a pigeon for some pigeon soup. I've eaten many unusual 'delicacies' in China but had to pass on the pigeon soup.
After four years, I decided it was the right time to leave China. It was the hardest decision. It had been an amazing life changing experience for us both. We had decided that we were not ready to return to Australia permanently, so our time home was only for a few months before setting off again.
We've travelled for much of our lives and were looking forward to exploring somewhere different. After living very simply in China life somehow got put into perspective. The material things we had to have when working in our younger years seemed no longer relevant. It's the memories of the people you meet and the friends you make that add more value to our lives now.
I encourage anyone no matter what your age or your background to embrace any opportunity that may arise to travel and live in another culture. The benefits far out way the negatives. I will always be so thankful to the Chinese people and everyone at my kindergarten for welcoming us into their hearts. We will cherish those years forever.
Do you have a story to share with Starts at 60? We want to publish it. Sign up as a contributor and submit your stories to Starts at 60. Stories written by over-60s go into the draw for some great weekly prizes. You can also join the Starts at 60 Bloggers Club on Facebook to talk to other writers in the Starts at 60 community and learn more about how to write for Starts at 60.