"While I say to you that osteoarthritis is the most common, many patients over the age of 60 will still suffer with an autoimmune inflammatory arthritis," Irwin Lim, Rheumatologist at BJC Health, tells Starts at 60. "The problem with your group over 60 is unfortunately, they see general doctors who aren't treating this a lot or aren't thinking about it a lot. They may just simply be labelled as having osteoarthritis, just because they're older."
Signs and symptoms to look out for
People will experience different signs and symptoms, depending on the type of arthritis they're living with, but early diagnosis is often key to putting effective treatments into place and managing symptoms going forward.
"With osteoarthritis, it's often the symptoms that cause people distress," Andrew Mills, CEO Arthritis Australia, tells Starts at 60.
People typically notice pain in the joints, knees or hips when they're dealing with an osteoarthritis diagnosis.
"Those symptoms are pretty obvious because you're feeling the pain," Mills explains.
It's important to talk with a GP or health professional as soon as possible so tests can be run to diagnosis arthritis. This may include blood tests, x-rays, ultrasounds or MRI in some cases.
For other types of arthritis, the condition won't be picked up through traditional x-ray imaging. Most types of back arthritis are non-radiographic and will need to be diagnosed through MRIs or blood tests.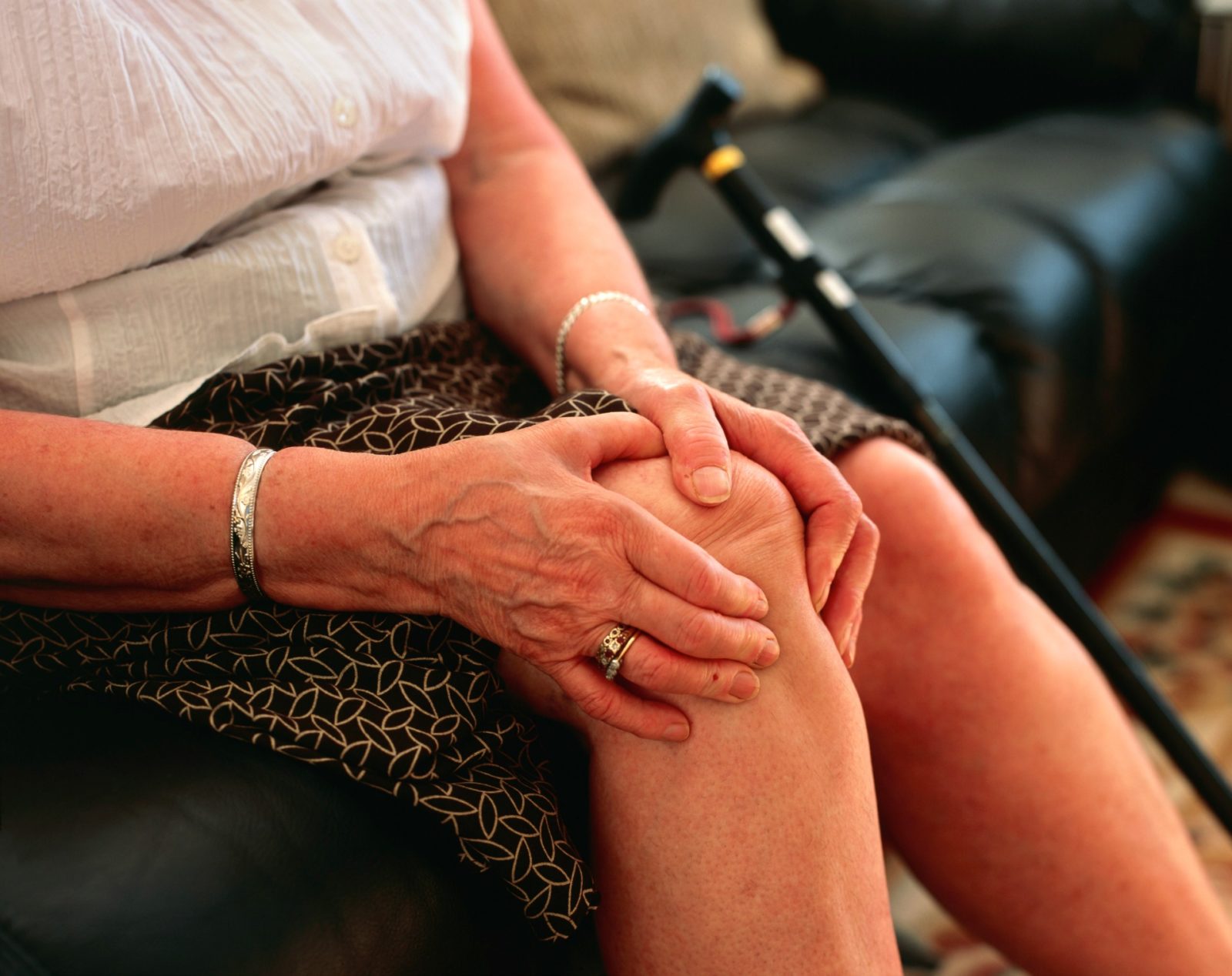 In inflammatory types of arthritis, patients will typically be referred to a rheumatologist for further investigation. In psoriatic arthritis, for example, a dermatologist may also be required because it's a condition that also impacts the skin.
"The difficulty and the reason psoriatic arthritis unfortunately often has a delay in diagnosis is people often don't link the presence of a skin disease with disease affecting tendons, ligaments and joints," Lim explains. "The diagnosis is basically a bit of detective work."
It's also possible for people to be living with more than one type of arthritis at one time, which can complicate matters even further.
"More than one condition can coexist at the same time," Mills says. "Somebody might have osteoarthritis and psoriatic arthritis or rheumatoid arthritis. There are different pathways which is part of the complexity we see."
It's important not to ignore symptoms, to seek support and really get to know the condition you're living with. Two-thirds of people with arthritis aren't actually managing their condition well, which can lead to increased pain or side effects.
"That's a huge number and that's because they're not aware of the symptoms, they're not really aware of what they can do about it," Mills says. "They think they may just be growing old or it's a little bit of arthritis. There are certainly treatment windows that are optimum, particularly for the inflammatory conditions. The sooner you can get onto seeing a doctor and then a specialist who confirms the diagnosis is really critical."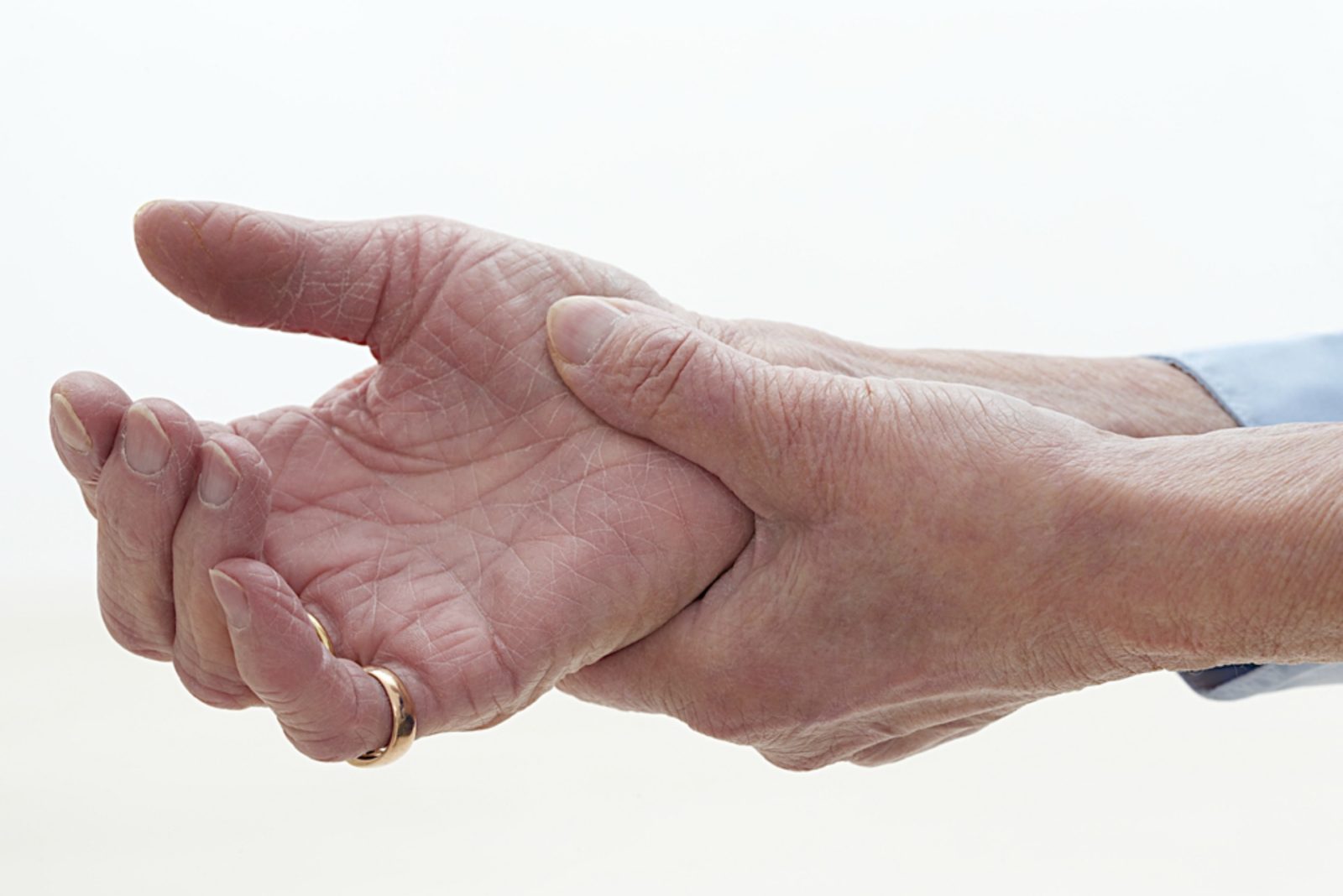 What treatments are available?
Unfortunately, because arthritis is an umbrella term given to more than 100 different conditions, it's difficult for professionals to suggest a universal treatment. What works for one person won't always work for another.
"Someone with osteoarthrosis of the knee at an age of 80 has a different arthritis to someone maybe in their 50s who has an inflammatory autoimmune arthritis affecting their hands and their feet with swelling and pain," Irwin says.
There are no cures at present for any type of arthritis but there are effective treatments for inflammatory types of arthritis such as rheumatoid arthritis, psoriatic arthritis, and ankylosing spondylitis, which affects the spine and large joints.
"The treatment outcome is really around achieving what's called remission. Remission is the control of symptoms and a return to normal function," Mills explains. "We know that doesn't mean cure, but people can live very comfortably or can live well with arthritis, particularly in these inflammatory conditions, if it's treated early and if it's well-recognised and with really good support mechanisms behind them."
Treatments for rheumatoid arthritis range from non-steroidal anti-inflammatory drugs (NSAIDs) to corticosteroid medicines or injections to disease-modifying anti-rheumatic drugs (DMARDs) or biologicals. NSAIDs, DMARDs and biologicals can also help manage psoriatic arthritis.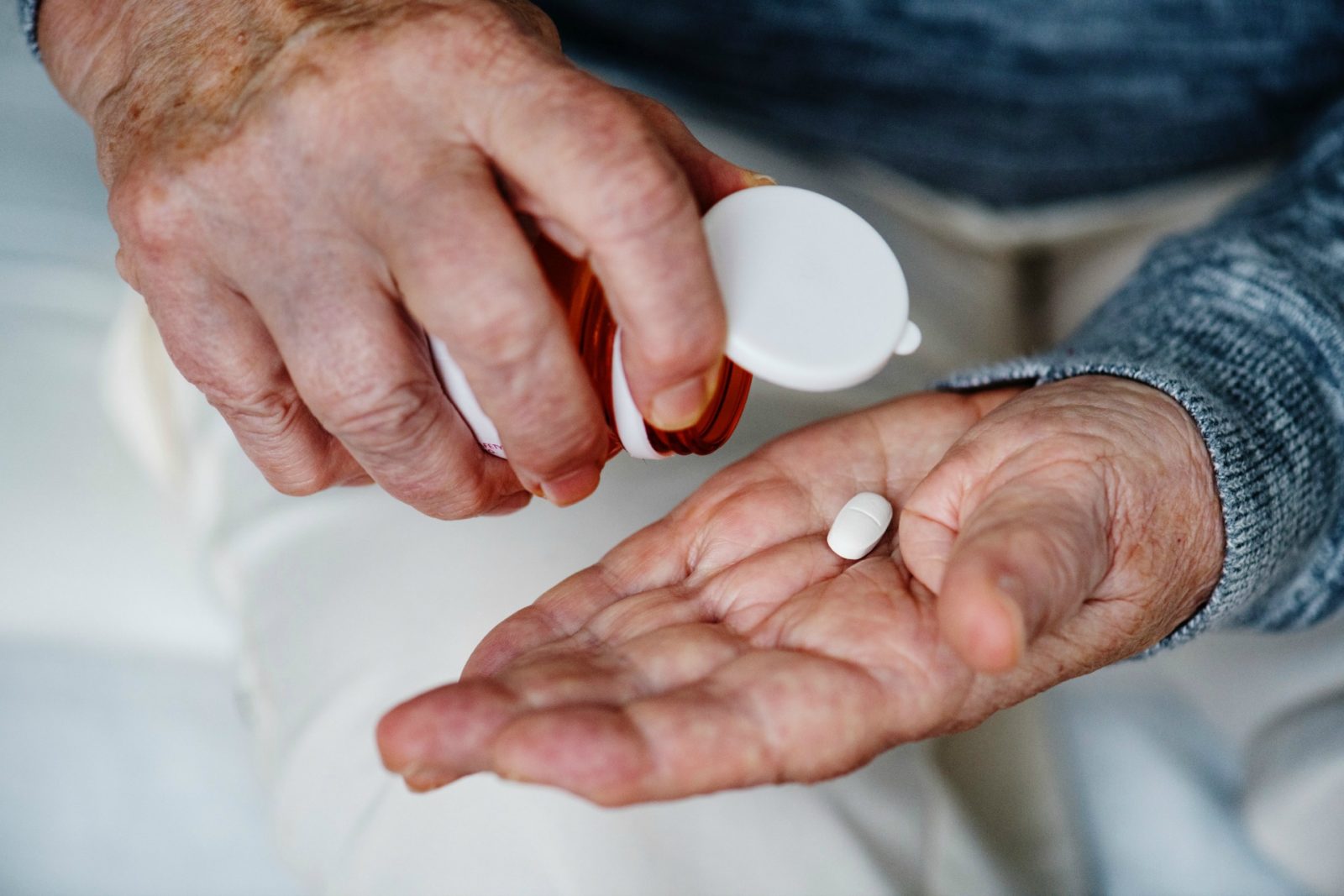 Sadly, there are no effective medications for osteoarthritis, but NSAIDs can offer temporary relief. The problem is these creams and pills can't be used long-term because of side effects including stomach pain, heartburn, headaches, dizziness, liver and kidney problems, allergic reactions, increased bleeding and leg swelling.
Doctors will often recommend patients use them for a week or two to manage short-term pain. If they do need to be taken for a longer period of time, the doctor will carefully monitor the patient for side effects.
"You might be using those medications [NSAIDs, DMARDs] for a week and then you have to go off them because of side effects," Mills says. "That's the typical run of things. People do react differently and no one path is the same as the other person."
Factors such as genetics, the environment and lifestyle and diet choices can also affect how arthritis will impact individuals.
"You actually have to establish a diagnosis so you can then go down the proper pathway," Lim adds. "The problem of continuing being treated as a generic arthritis is that there are specific treatments for specific types of arthritis. It's really getting a diagnosis and then trying to create a management plan that finds the right treatment for the right patient at the right time in the course of their disease."
Read more: Supplements for joint pain: Do they really work?
What role does exercise and diet play?
Like many health conditions, exercise is vital when it comes to muscle, ligament and tendon function. While arthritis can make it difficult to keep physical, exercise can help maintain bone density, keep the body moving and as strong as possible.
"It's probably the number one thing people should do, other than seeing the doctor and receiving a referral if they've got an inflammatory form of arthritis," Mills explains. "Particular with rheumatoid arthritis, in the old days and this is not so long ago, 10 or 20 years, you used to see disfiguration in hands and feet and a gnarling of knuckles and bones so it was more prevalent and obvious. These days you don't see that when people get onto medications early."
Exercise can help reduce pain, increase and build strength, as well as improving balance and joint function. Older people should be participating in at least 30 minutes of regular fitness a day, but it's common for people with arthritis to become less active because of fear of pain.
"A little bit of pain is okay and that's why these non-steroidal anti-inflammatory creams can be quite effective in relieving those initial pain symptoms but working through that is really important to overall health," Mills says. "That can be land-based, it can be water-based. Even chair-based for people who may be living in retirement homes or care homes and residential aged care facilities. There are exercises that can be done to maintain muscle tone, balance and strength."
These activities can include swimming and water exercise classes, tai chi, low-impact aerobics, strength training and even dancing. From a chair, there are also plenty of activities which can assist with strength, balance and movement. The "sit to stand", for example, requires sitting on the edge of a chair with your toes directly in line with your knees. The aim of the exercise is to push yourself off the chair without actually using your arms to do so, which strengthens the thighs and buttocks.
The "seated knee lift" is another example, which is as simple as pulling an exercise band over the thighs and sides of the chair and lifting one leg at a time against the band to improve the hip muscles.
Read more: Quick and easy chair exercises for over-60s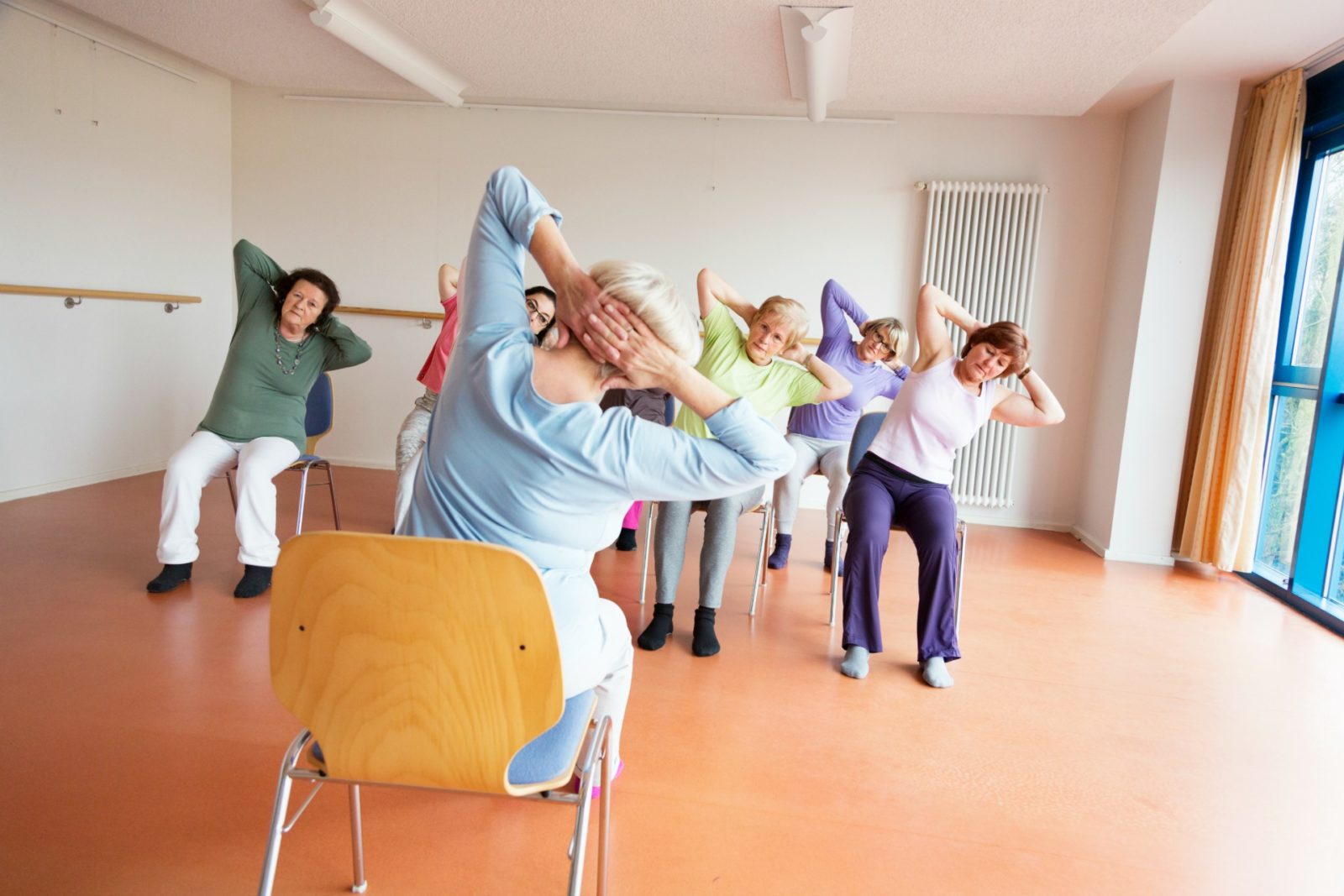 What is being done by researchers and professionals?
To tackle the growing arthritis problem, Arthritis Australia launched a national strategic action plan in March, outlining key priorities for preventing arthritis, investing in research and improving treatment and support for people living with the condition.
At present, annual arthritis healthcare costs exceed $5.5 billion in Australia, with Arthritis Australia calling on governments at all levels to invest in implementing the action plan as a way of transforming future outcomes and quality of life for people living with the pain of arthritis.
Awareness, prevention and education is a key priority, particularly because misconceptions can undermine prevention and few people with arthritis are receiving the right information and support to help them manage their condition. And, with two-thirds of Aussies admitting they're faring badly with the condition, another priority is offering high-value, person-centred care and support so people receive adequate pain management, information and support at an affordable price.
The third priority is an investment in all levels of research to better understand arthritis and how it can be managed and treated better.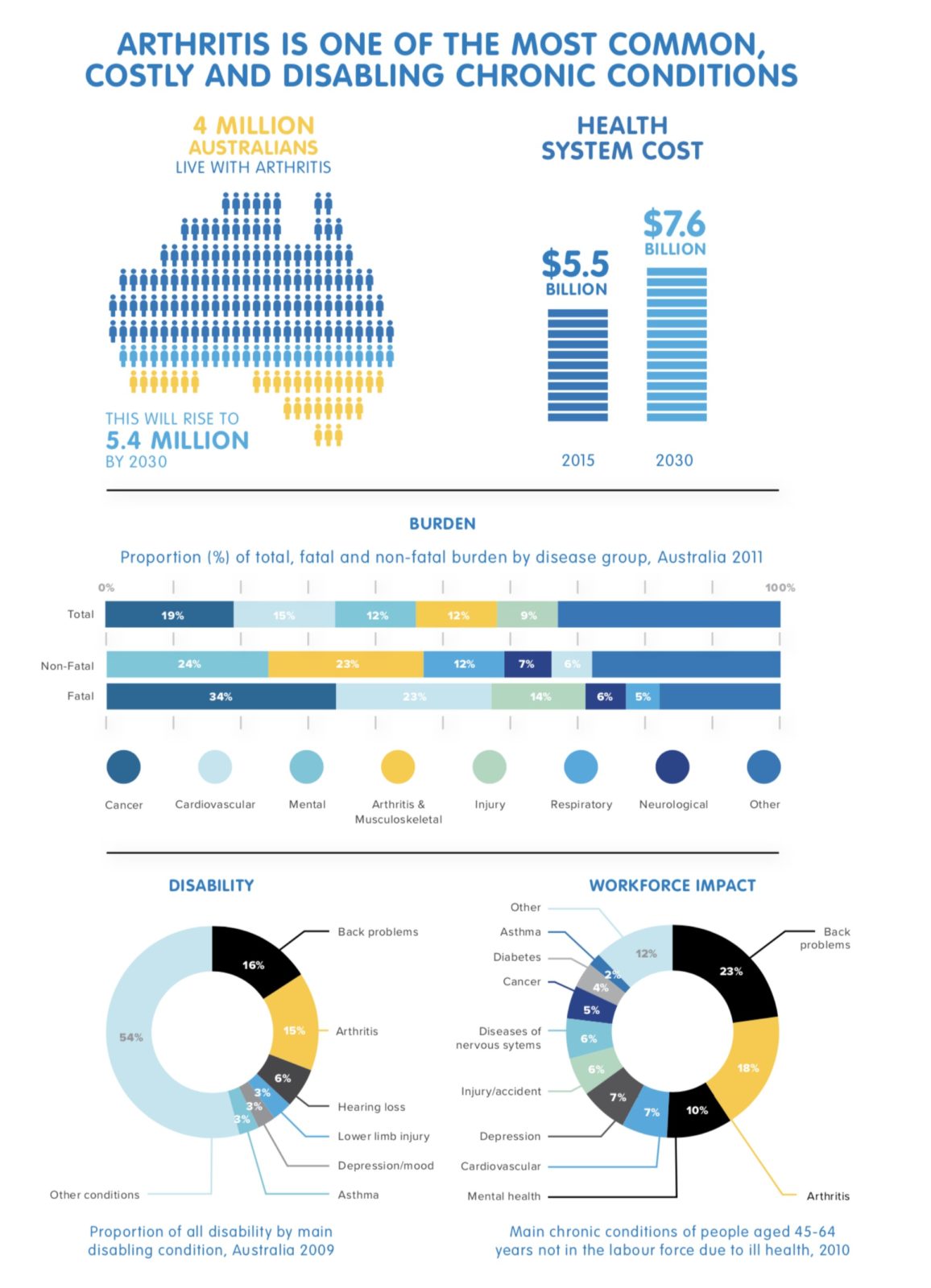 If you're experiencing any signs or symptoms that could be associated with arthritis, it's important to talk to a GP or health professional as soon as possible and to ensure the right advice and treatment plan is established for your needs.
Are you living with arthritis? What impact has the condition had on your overall health and wellbeing?
IMPORTANT LEGAL INFO This article is of a general nature and FYI only, because it doesn't take into account your personal health requirements or existing medical conditions. That means it's not personalised health advice and shouldn't be relied upon as if it is. Before making a health-related decision, you should work out if the info is appropriate for your situation and get professional medical advice.