Beyond the gate didn't get any better, the scouring became worse and the ups remained relentless. At one stage there's a swamp, home to the rare and endangered Blue Mountains skink. The fires hadn't missed the area with the charcoal black contrasting with the verdant flush of new vegetation after the rains. In the trackside eucalypts, epicormic growth was spawning in lovely greens and reds dappled with raindrops.
I rode on. Tarros Ladder is listed as only 19-22 kilometres return from the gate, depending on which site you read. I wasn't going to make it. I'd also noticed it was listed as up to 4 hours return, which should have been a warning if only I'd done more research. This was a long way from when I used to road race and average 30-40km/h.
It was when I was trying to catch up to a female jogger and struggled for over a kilometre to get adjacent that I realised just how hard it was. Atop a rise after the swamp she pulled up and turned to go back. In front of me looked like yet another converted mine shaft, so steep was the gradient. I mused for several minutes before heading down just a little to a half hidden rock formation that seemed to offer a nice outlook. That it did, but it also had some wonderful formations in the sandstone, striations heading in all directions created some irresistible artistic shapes.
At one place it looked like giant oyster shells had been stacked one inside the other. I'd never seen anything like it before and pondered just how it came about. No answers were forthcoming from my limited geological formations knowledge.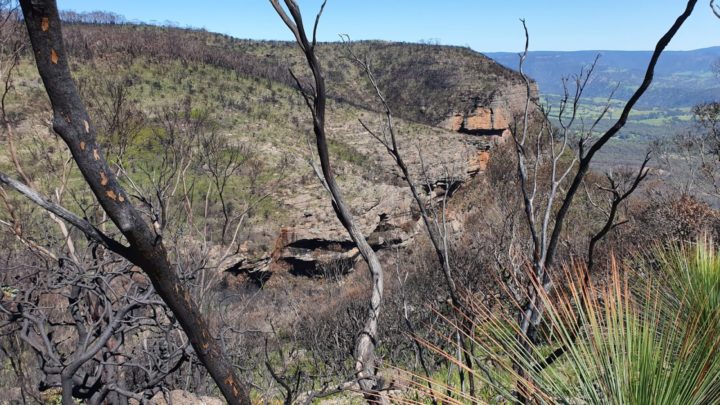 Back to the bike and, acting on information the jogger had passed on, I decided to go a tad further to lookout points on the next rise, which she said were the best viewpoints. The road dramatically curled around an overhanging rock near the bottom. It featured more strange patterns, whorls and the like, but the views further on, while expansive, weren't that photogenic, though you could see Mount Solitary and beyond to Warragamba Dam.
It was time to turn back, labouring over the hills again, being particularly careful on the rutted descents. At the gate I stopped and briefly chatted to the fellow cyclist when he arrived. He'd done all the way to Tarros and I felt guilty but, then, he had driven his car to the gate, so my ride would be longer. I spoke of the hills, and that's when he said "There's no shame in walking", indicating that I wasn't the only one who'd struggled.
Descending concrete hill was a real white knuckle affair because my pathetic brakes couldn't quite restrain motion totally so we slowly accelerated down the hill. I was grateful there weren't any more corrugations as there had been on some other downhills because the jarring was simply awful.
At the junction with Cliff Drive I felt an oh-so-blessed sense of relief, knowing there was only just over a kilometre to get home. I'd been out over three hours but some of the scenery and rock formations had made it all worthwhile. Tomorrow I'd have a rest day.
Been travelling? Travel at 60 wants to publish your story. Simply sign up as a contributor and submit your stories. When your story is published, you'll go into the draw to win some great weekly prizes. You can also join the Travel at 60 Travel Lovers Club on Facebook to talk to other travellers in the Travel at 60 community.