1997 was the year Diana entered a brief relationship with Egyptian film producer, Dodi Al Fayed, who died alongside the Princess during the Paris car crash on August 31, 1997.
In another letter, written on September 1996, Diana expresses her excitement for her future after gaining a sense of freedom.
"I am more than happy to have my freedom and reckon that I'm very fortunate to have a second chance! Lots of nice things have come my way and it's fun… who'd have thought!" she wrote.
Mimi Connell Lay of Lay Auctioneers, the auction house selling the letters, says reading the Christmas letter is "heartbreaking".
"We have the benefit of hindsight of course and we know what happened to her in the year of 1997. It really is a tragic letter in that respect," Connell said.
"Diana did really struggle with Christmas time as they always had to be spent at Sandringham House and she found that really hard going later in the marriage.
"I think the line about topping herself was a throwaway and light-hearted remark given she put an exclamation mark on the end of it.
"The letter she sent in September 1996 was far more upbeat and about her looking forward to the future.
"Of course at this time she was in a relationship with Hasnat Khan who she had called the 'love of my life'.
"Their relationship ended in the summer of 1997."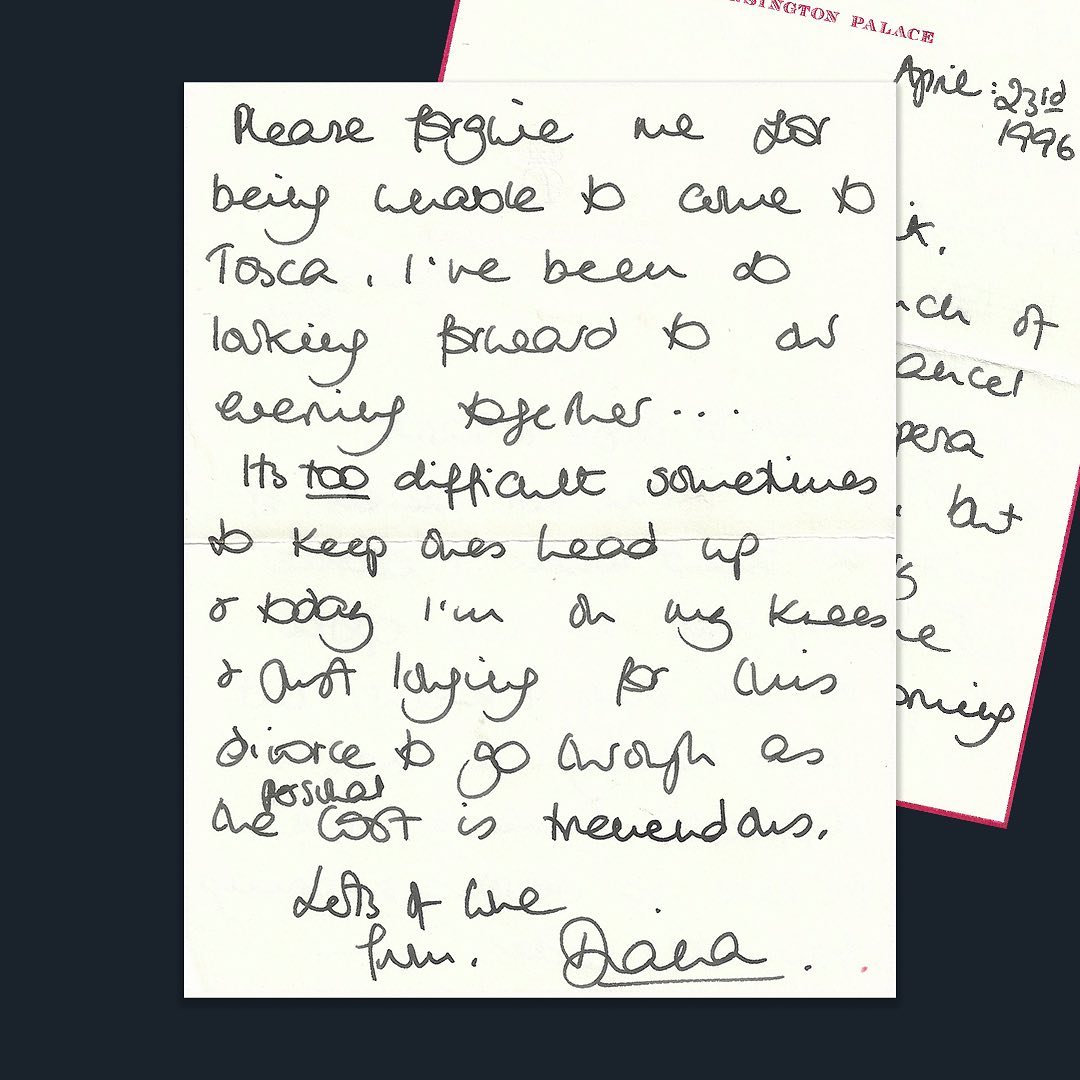 The Christmas letter is part of a collection of Diana's "highly personal" letters which were given to the auction house by Susie and Tarek Kassem, two of Diana's closest friends, who she had met two years prior to her death.
The Kassems had kept the "treasured" letters for over 25 years as they showed "the special and loving relationship they had with the most unique women that they had ever known".
According to a statement made by Lay's Auctioneers, "the ownership of these poignant documents is a responsibility that the Kassems do not wish to pass on to their children or grandchildren".
"They have decided to sell the letters and use proceeds of the sale to support some of the charities that were close to Susie and Diana's hearts," the statement read.
The letters went to auction on Thursday, February 16, and sold for over AU$ 250,000.00 (£145,550).
If you or anyone you know needs help: Lifeline — 13 11 14; MensLine Australia — 1300 789 978; BeyondBlue — 1300 224 636; Suicide Call Back Service — 1300 659 467; Headspace — 1800 650 890; Kids Helpline — 1800 551 800.