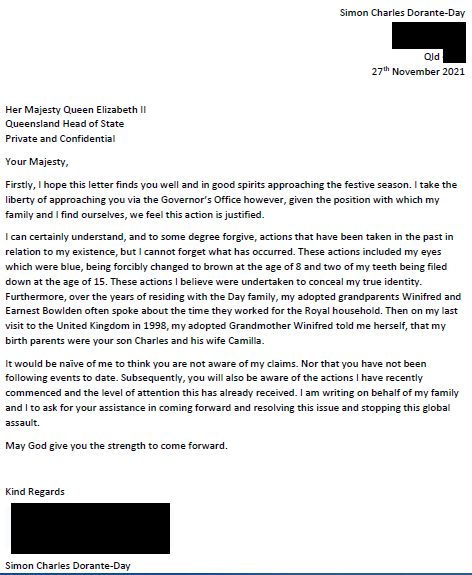 "I've kept the contents of the letter confidential until now, but with her passing I think it's appropriate to share my last correspondence with her.
"When she passed away, I was disappointed that she had died without responding to my message. That was my first thing – just sad, because that window of opportunity has closed."
In the letter, Dorante-Day goes into detail regarding his appearance, claiming his looks have been purposely altered during his childhood to conceal his "true identity".
"I can certainly understand, and to some degree forgive, actions that have been taken in the past in relation to my existence, but I cannot forget what has occurred," he wrote.
Dorante-Day then claims that it would be "naive" of him to assume that Her Majesty was not aware of his birth nor was she not aware of the attention his case has already received.
He finished off his note, writing "it would be naive of me to think you are not aware of my claims. Nor that you have not been following events to date".
"I am writing on behalf of my family and I to ask for your assistance in coming forward and resolving this issue and stopping this global assault," he wrote.
"May God give you the strength to come forward."
Per Dorante-Day's note, he felt inclined to reach out to the Monarch, after writing to Queensland's Governor General Dr Jeantte Young asking for her assistance in his search for answers. 
Dorante-Day had approached the Queensland Governor back in November 2021, after a "well-placed" and "trusted advisor" suggested that he contact Dr Young.
In response to Dorante-Day's letter, Dr Young's Official Secretary – writing on behalf of the Governor – encouraged him to send a "private and confidential" correspondence to Her Majesty.
This wouldn't be the first time Dorante-Day had reached out to Queen Elizabeth before her death.
After numerous "attacks" from internet "trolls," the determined grandfather wrote an open letter to Her Majesty pleading for her help. 
"We are both the black sheep of the royal family, I would say we have that bond," Dorante-Day told 7News.
"And I believe Harry would be receptive to my plight. He got f***ed over by his dad, he has a bone to pick with Charles. Just like I do."
Although Charles and Camilla have never commented on Dorante-Day's claim, he continues to stand firm in his belief that he was conceived in 1965 when the now-married couple were first rumoured to have been involved with another, and then was later adopted by a family in Portsmouth, England, who are believed to be connected to the Queen.
Dorante-Day had previously spent three years in the courts battling to have Charles and Camilla submit to a DNA test with no success, but he is determined to keep going.
"This is a lengthy legal process and one I'm not giving up. I have taken my case to the Australian High Court, but they referred it back to the Family Court – and that will happen again in the next few months," he claimed.
"I'm also seeking legal representation in the UK to take my fight abroad as well."