"Going grey is not a sign of weakness. It can be a powerful form of self-expression."
Transitioning to grey is an individual process based on the right tone, cut and technique needed. For those considering the process, Starts at 60 have compiled all the information you need to embrace your grey, ensuring the transition is smooth and graceful to make sure you always look your best.
Choosing the right grey
To set the tone for your new look, you need to make sure you choose a grey that compliments you. The first step in doing this is to work out what your skin undertone is: cool or warm?
To figure out your undertone, look at the colour of the veins on your wrist. If your veins are blue or purple, you have a cool undertone. Green or yellow-toned veins mean you have warm undertones.
Once you know your undertone, the next step is to choose the right shade of grey for your skin tone. Lighter shades of grey compliment darker skin tones, darker shades flatter lighter tones and olive skin tones tend to suit all shades.
Remember, you want to choose a colour that enhances your appearance, so avoid the wrong shades and tones that might wash you out.
For cool tones, you want to choose colours like white, silver-grey and ash grey.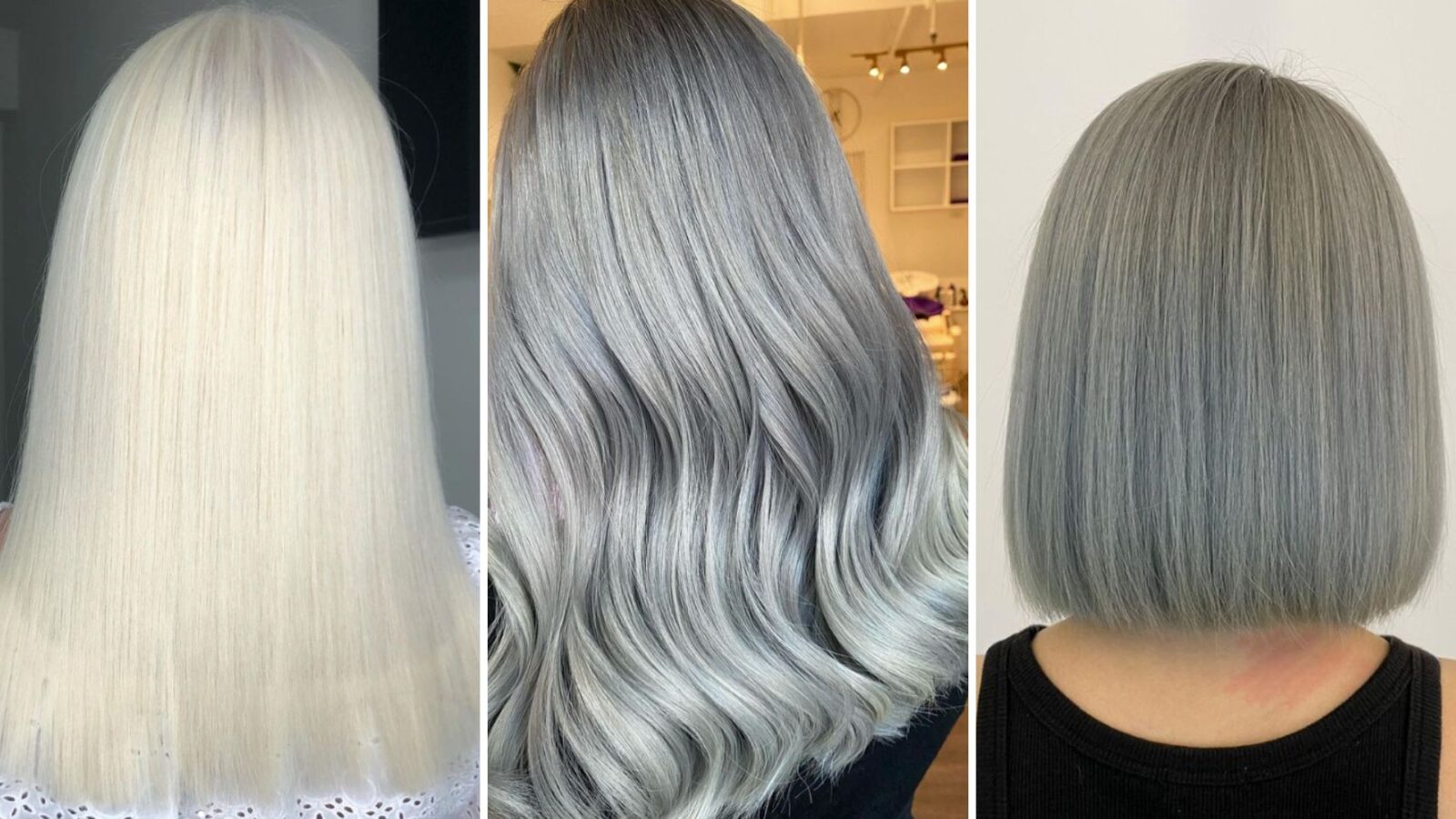 Whereas, warmer tones should look at salt and pepper grey, dove grey and blonde-grey.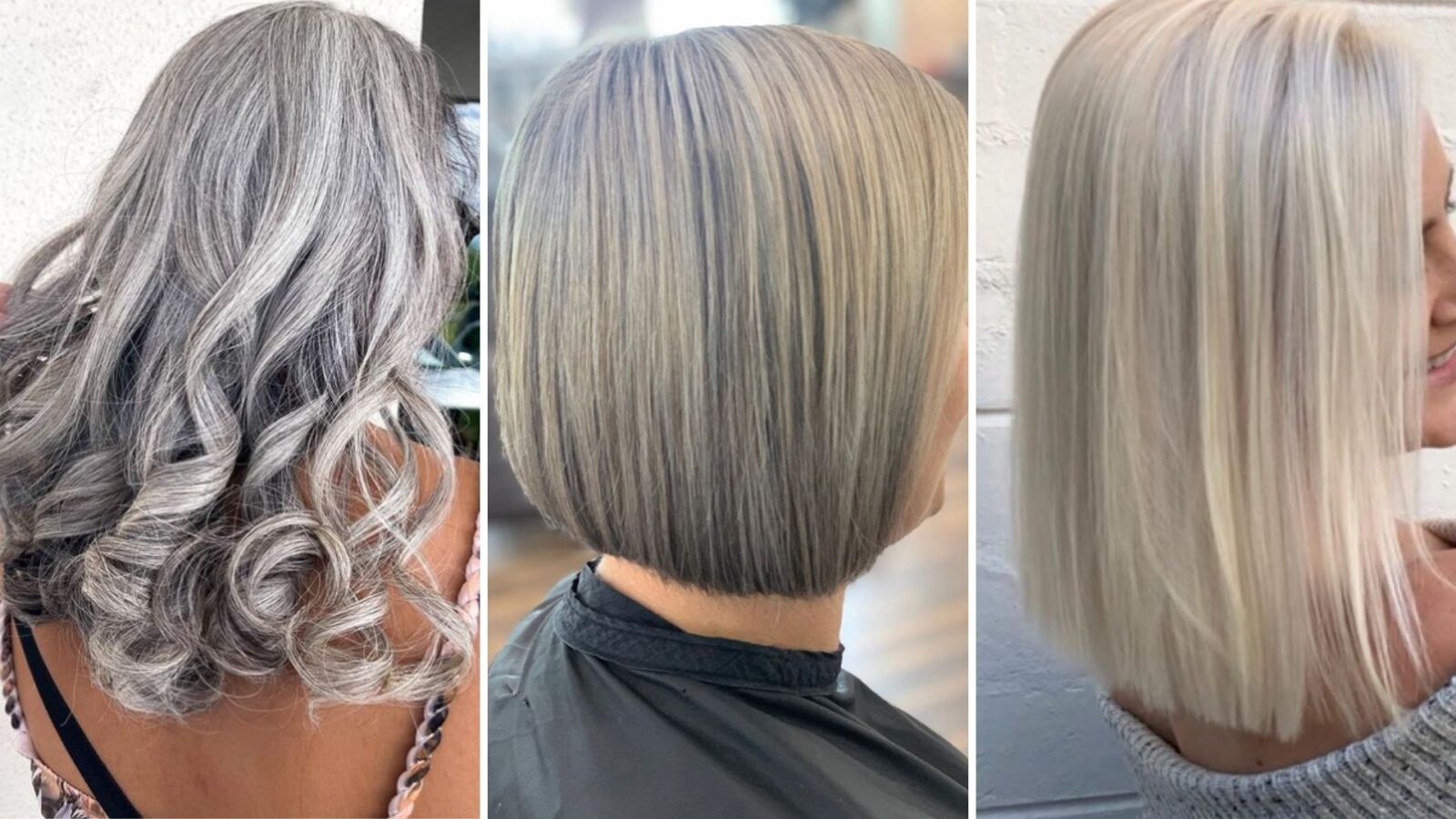 Making the Transition
Transitioning to grey can seem like a slow and daunting process, often resulting in multiple appointments to achieve the desired look. However, many hairstylists agree that the best way to make the transition involves the use of highlights and lowlights.
Speaking with Starts at 60, hairstylist and Editor in Chief of Latest-Hairstyles.com, Cindy Marcus, said it's all about foil placement.
"When transitioning my clients to grey I tend to use the highlight/low-light technique. In assessing the client's hair, foil placement is particularly important with this technique," Marcus said.
"For your blonde colours, you want to reach as pale white a colour as possible. Your low-light colour will match the client's natural colour – not the colour you have been colouring their hair if it's different. You do not want to add another colour that defeats the point. The point of this process is to blend grey and natural colour to eliminate the line of demarcation.
"Placing your foils in the right place will aid you in eliminating that line. In sections where the client has greater amounts of grey hair, you want to incorporate fine-weaved foils of the natural colour. Same in sections that are heavy in their natural colour, you want to add more of your pale blonde colour in those areas.
Enhancing your grey hair
AMR's Henderson says once your transition has begun, you should use a purple toner to enhance your new look.
"Purple shampoo is the best toner to use when it comes to grey hair because it neutralizes brassiness caused by heat styling, medications, product build-up, sun, salt, chlorine and environmental pollutants. It's basic colour theory. Yellow is the opposite of purple on the colour wheel, indicating these two tones cancel each other out," she said.
Henderson stressed the importance of avoiding blue or green shampoos, as well as shampoos that have ingredients that don't work for grey hair such as parabens, silicone, mineral oils and artificial colours.
The hairstylist also warns women to avoid hair products with the ingredients sodium lauryl sulphates (SLS) and alcohol.
"This ingredient [SLS] in shampoo causes grey hair. This cheap synthetic product can strip out the natural oils from the scalp leaving it dry and rough. Long-term use of SLS can even create serious scalp problems including baldness," Henderson said.
"Hair products with alcohol are [also] a no-no for grey hair. Grey hair already struggles in keeping moisture and adding alcohol to your hair will only dry out even more and make it look even wirier."
Style cuts to suit your newly embraced look
Owner and Creative Director of In Awe Salon, Adelaide, Megan Evans says women don't need to be locked into a particular look once they go grey.
"Long gone are the round ladies hair cuts that made women look like a greying lollypop," Evans said.
"If your client is concerned about looking old, then make sure their haircut is current. A sharp bob on grey hair always looks amazing!"
 

View this post on Instagram

 
 

View this post on Instagram

 
 

View this post on Instagram

 
Evans also offered some advice for those with longer hair, claiming texture is the best way to go.
"However, if your client is growing out their grey, texture is your friend. Shags are back and are also the perfect way to hide regrowth on long and short shags. Short pixie cuts are always a winner when it comes to the grow-out," she said.
"It's always important to remember that the texture of grey hair is different to our natural colour and the cut and texture need to work together to complement each other."
 

View this post on Instagram

 
 

View this post on Instagram

 
With these tips, you'll be able to say goodbye to dye and make a smooth transition to grey.