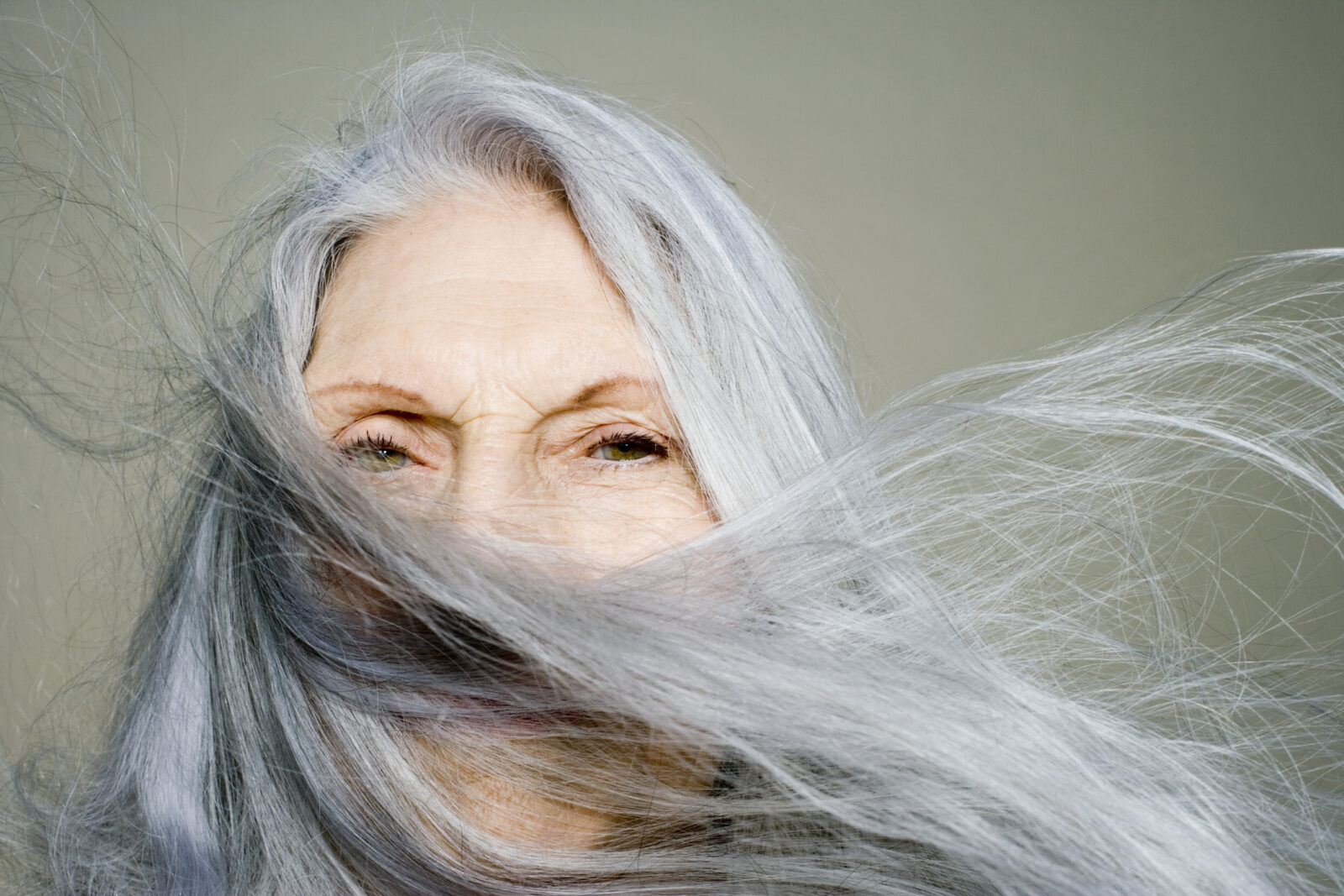 "We all have a natural pigment in our genetic makeup called "melanin", which determines our skin, eye and hair colour. As we get older, we have reduced levels of melanin and our hair follicles gradually stop producing this pigment," Fuchs explained, adding that while people may cite lifestyle factors such as stress or a nutrient-lacking diet as another cause for greying hair, it simply comes down to the natural ageing process and genetics.
The catch here is that not all hairs grey the same hue. Some people have silvery locks while others will have whiter strands. However, Fuchs said whether you decide to embrace your greying hair or no longer want to dye your roots, it's important to invest in a good hair care routine to ensure your hair looks shiny and healthy.
"Whether you have grey hair or not, everyone should have a hair care routine that is tailored to them and what their hair concerns are. An ideal hair care routine includes washing your hair twice a week with a shampoo and conditioner that is specifically suited to your hair type," Fuchs said.
For women in their 60s with greying hair, Fuchs recommends using a scalp-specific treatment on your hair once a week and to use a heat protectant any time you plan on using a tool that emits heat.
"If you're struggling to stick to the 'twice a week wash' rule, use a dry shampoo like Batiste Bare, a dry shampoo with a clean and light scent that helps keep hair looking fresh in-between washes while making it look fuller and easy to style," Fuchs said.
"If you're letting your grey hair grow out, you still want to keep your hair looking bright and shiny. Work with a purple-based shampoo once a week, which helps to tone grey hair."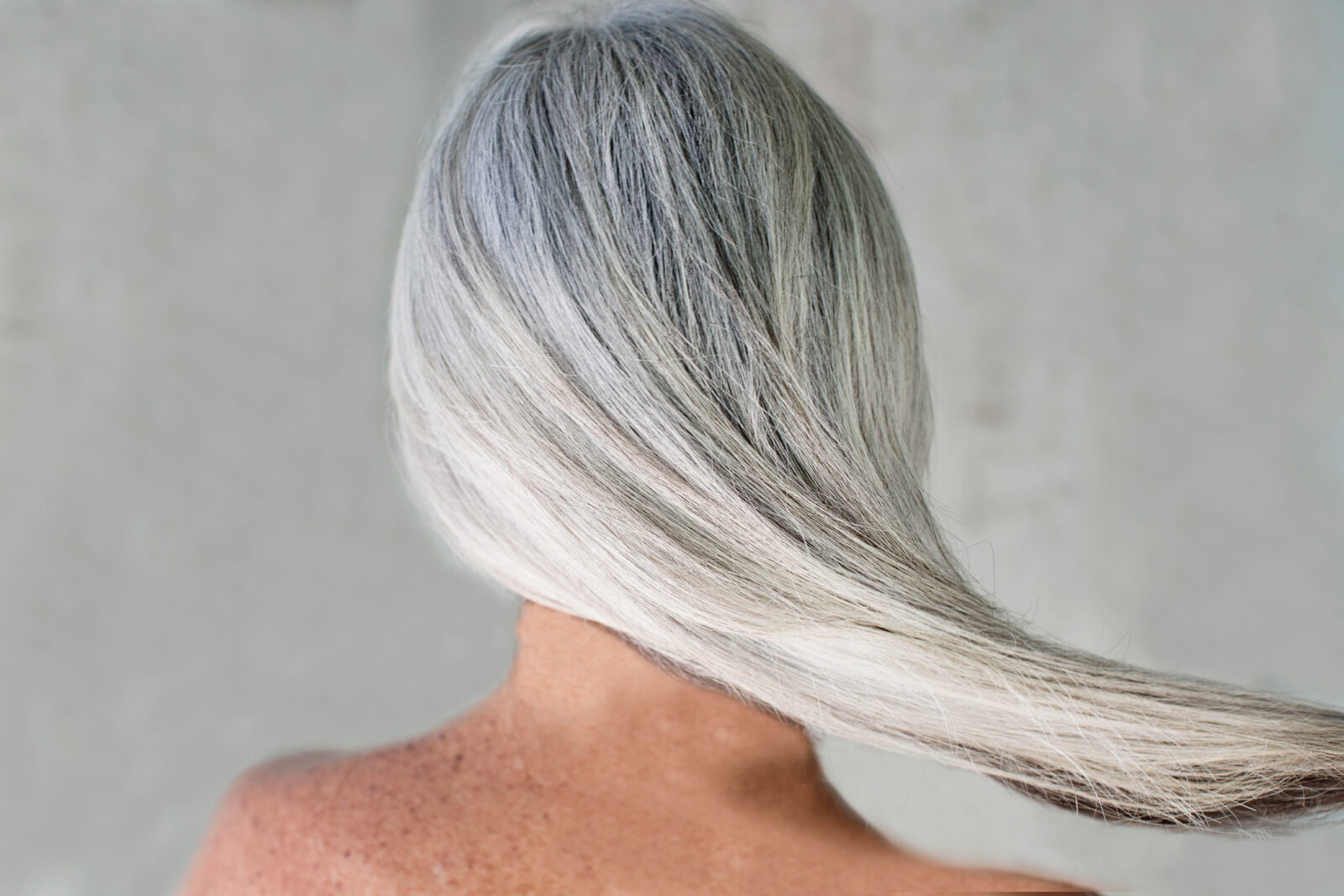 Fuchs points out that UV rays can cause grey hair to turn a dull, yellowish tone. To prevent this, he advises using a purple-based shampoo to ensure grey hair looks more polished while maintaining a clean, white and bright hue.
"Just note that a purple-based shampoo should be used when the majority [50 per cent] of your hair is grey," he noted.
When shopping for hair care products, Fuchs recommends looking for sulphate-free and paraben-free. If you're not sure what products are good for your hair or if you don't understand your hair type, Fuchs said to talk to your hairdresser for an assessment so you can choose products tailored to you.
For those who are wanting to go grey but are finding that their greys are patchy and they're bothered by the uneven look, Fuchs said to ask your hairdresser for a semi-permanent colour tint to camouflage the greys. Instead of fully hiding the grey hairs, the semi-permanent tint will slowly fade off while your greys grow out evenly.
"If you're one of the women who want to go 'au natural but don't know how to start growing it out so there's not a harsh difference, I recommend speaking to your hairdresser. See a colour specialist for a consultation and discuss a plan to grow your greys out slowly over a 6 to 12 month period," Fuchs said.
At the end of the day, embracing your shades of slate and silver all comes down to personal decisions and is up to each individual. Grey hair is just as gorgeous as any other hair colour and with the aftermath of the pandemic-era restrictions, Silver has become the new black.