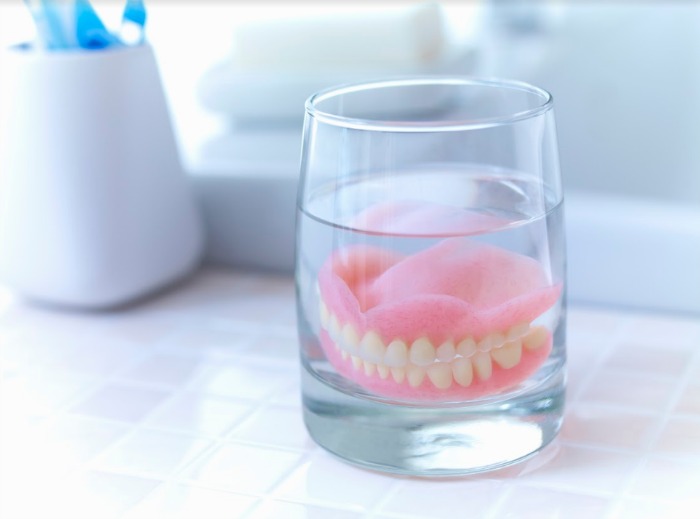 Working with older patients regularly, Foley notes it's Boomers who are bearing the impacts of a lifetime of dental disease and treatment and are more likely to report difficulties, pain or embarrassment when it comes to eating, smiling and socialising. For many, problems with their dentures are one of the biggest concerns when they see a dentist.
Read more: 'My new false teeth made me look a bit horsey'
"Dentures can successfully replace missing teeth and restore chewing ability and smiles, but dentures and their supporting teeth and gums need to be kept meticulously clean and healthy to avoid further problems," Foley explains. "Dentures need to be replaced or relined if they are heavily worn or no longer fit or function well. Our gums change throughout life, and our dentures sometimes have to change too. Dental implants can often replace missing teeth or support dentures, and these are usually very successful."
Brushing dentures at least once a day with a soft brush and soap can help maintain proper dental hygiene. Unfortunately, regular toothpaste is too abrasive for dentures, so it's best not to use it.
For those without dentures, heavily filled teeth can also cause problems. Filled teeth tend to be weaker than teeth without fillings, while they can also wear down or fail over time.
"The emphasis should always be on prevention – maintaining the teeth and gums as healthy as possible, and preventing or reducing the need for future dental treatment," Foley says.
It's also important to brush your teeth and gums with a soft toothbrush at least two times a day. In addition, avoid using a heavy sideways scrub and instead opt for a round and round action. The type of toothpaste you use can also help.
"Always use a fluoride toothpaste," Foley recommends. "If your decay risk is high, your dentist can recommend a higher strength fluoride toothpaste or additional measures to keep your teeth healthy."
Read more: Australians don't know how to brush their teeth properly: Study
Flossing is also important in reaching parts of the mouth a toothbrush can't reach. Simply guide the floss between two teeth, gently cleaning the back surface of one tooth and the front of another. Flossettes, interdental brushes and water irrigators are also helpful.
Healthy teeth and gums are vital for eating, talking smiling and socialising, while older people are at a greater risk of developing cancer and other diseases that can impact the mouth.
"Some of these can have devastating effects, and early diagnosis and treatment is critical for achieving a good outcome," Foley notes. "Prevention is better than a cure. Eat and live healthily, brush and floss regularly, and drink fluoridated water. The time and effort spent to maintain a healthy mouth will pay off in the long run, and your dentist can help you achieve this."
What do you think? When was the last time you went to the dentist?