Vintage photos reveal Charlotte and Queen's incredible likeness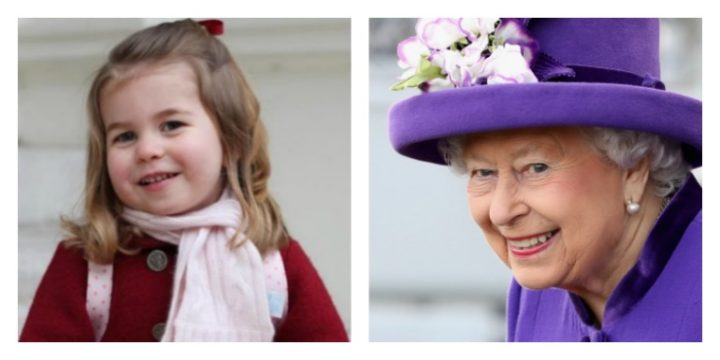 Kensington Palace released two adorable new photos of Princess Charlotte on her first day of nursery school on Monday and it didn't take long for people to notice a striking similarity between the young royal and her great-grandmother, the Queen. Vintage photos of the Queen aged about three show features very similar to Charlotte's with chubby cheeks, almond eyes and a cheeky smile all a near-perfect match.
The Duchess of Cambridge took the photos of her two-year-old on the steps at Kensington Palace, which the royals later shared on social media. "The Duke and Duchess of Cambridge are very pleased to share two photographs of Princess Charlotte at Kensington Palace this morning," the Palace said. "The images were taken by The Duchess shortly before Princess Charlotte left for her first day of nursery at the Willcocks Nursery School."
Not long after the images were released to the public comments started rolling in, with many noting Charlotte's resemblance to the Queen. "She is the spitting image of her Great-grandmother at this age," one woman wrote on Instagram.
Ad. Article continues below.
"She looks like the Queen & her mommie," commented another. While one woman added: "My gosh, she so resembles the young queen."
Ad. Article continues below.
The two-year-old the princess has certainly grown since her last public appearance in July when she accompanied her parents and brother, Prince George, to Poland and Germany.
It's not the first time members of the royal family have sent people into a tizzy over their similarities. Many have noted a strong resemblance between Prince Harry and his grandfather Prince Phillip, while others have commented on Prince William's likeness to his mother.
Ad. Article continues below.
Ad. Article continues below.
While the rest of the world was busy talking about Charlotte's likeness to her great-grandmother, the young princess was buckling down for her first day at Willcocks Nursery School — prestigious institution with a broad focus on creative learning and good manners.
Both Prince William and the Duchess of Cambridge were invited to accompany the young princess on her first day. The proud parents were asked to attend a "stay and play" session so Charlotte could settle in with ease.
Prince George started school at Thomas's Battersea in south London in September last year and has been photographed on numerous occasions in the schools uniform.
The young prince also had his picture taken on his first day at nursery school dressed in a blue puffer jacket with light-blue bag.
Who does Princess Charlotte remind you of? Do you think she looks like the young Queen Elizabeth in the picture?