Kochie gets Samantha fired up with claims 'men work harder than women'
Sunrise host David Koch has had a few feisty run-ins with his co-presenters, but today he was really determined to get their goat, by claiming that "men work harder than women'.
The 61-year-old presenter was discussing 'man flu' with guests including former Marie Claire editor Jackie Frank, journalist Melissa Hoyer and The Thinkergirls' Kristie Mercer.
"It's official, man flu is real. A Canadian researcher says males have a weaker immune system than women because we work so hard and are more likely to suffer complications," Kochie declared.
It immediately left his co-host Samantha Armytage and fellow presenter Natalie Barr looking on in shock.
Read more: Is David Koch about to be axed from Sunrise?
Ad. Article continues below.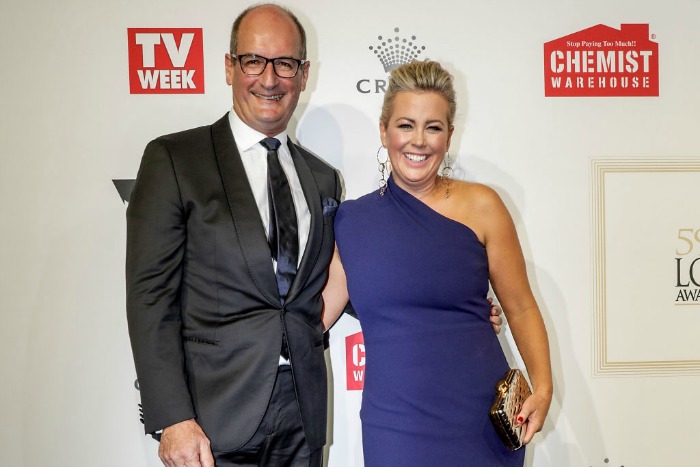 Stirring the pot, he then added: "Do men demand more sympathy because women go to bed and get over it and men just keep moving and going on and working?"
Frank responded: "Women power through, men do not … what universe are you on?"
Ad. Article continues below.
But while Kochie claimed men "rarely whinge and moan" about feeling ill, Frank hit back: "There's a reason Mother Nature gave us the possibility to deliver children, because you men could never do it."
Hoyer then piled on, saying, "We soldier through everything and anything, 24/7".
Read more: David Koch's terror as wife is rushed to hospital while gardening
Kochie attempted to defend himself and claimed the difference in life expectancies for men and women must explain it.
"Science has proven that we get worn out because we work harder," he joked.
Ad. Article continues below.
Then it got a little personal, as Frank pointed out that Kochie's co-star Armytage gets up earlier than him every day to put make-up on and get dressed, and Armytage herself added: "Do you think our ratings would be as high if Nat and I just came and sat on set looking all crappy in the morning?".
Armytage had already made clear on Twitter what she thought of the claims about 'man flu'.
Bull**** ???????????? https://t.co/fErEKpt5wK

— Samantha Armytage (@sam_armytage) December 12, 2017
Koch has been co-hosting Channel Seven's breakfast show, Sunrise, for 15 years, so the team is well used to his jokes. So he was a bit miffed when at least one publication turned the banter into a spat.
Ad. Article continues below.
@DailyMailAU you are so infuriatingly stupid. How you can turn a fun @sunriseon7 segment on man flu into a "controversy" is absolutely beyond me.
Smile, have fun… we are.

— David Koch (@kochie_online) December 13, 2017
What did you think of Kochie's comments? Spot on or deluded about men and their ability to withstand discomfort?