Greens senator won't be deterred by dual citizenship bungle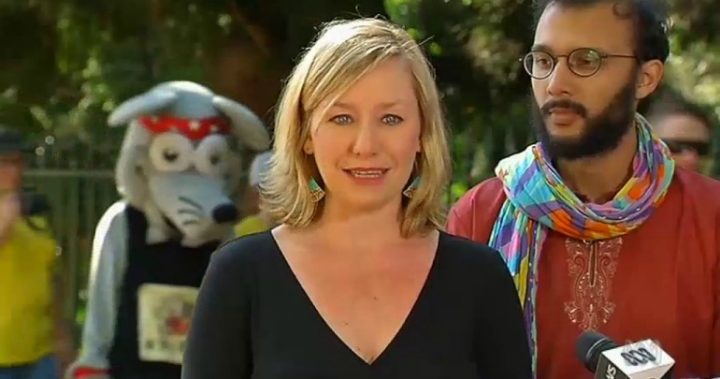 Three weeks ago, Larissa Waters resigned from parliament when it was revealed she had not renounced her Canadian dual citizenship. According to the Australian Constitution, no member of parliament may have an "allegiance to a foreign power".
But Waters isn't backing down so easily.
"I said when I resigned that I felt I was leaving a lot of unfinished business, and after a couple of weeks of personal reflection, I have decided that I will put my hand up to recontest the seat," Waters said.
Read more: Breastfeeding in public: Shameless show-off or equality icon? 
During the last three weeks, Waters renounced her Canadian citizenship, making her eligible for the position once more. 
Ad. Article continues below.
Read more: Another Greens senator forced to resign over citizenship bungle
The top pick for Waters replacement was the second Greens candidate on the Queensland ballot, Andrew Bartlett. However, if Bartlett wins the special recount of the votes, he may not be eligible for office based on the same section of the Constitution that proved so troublesome for the dual citizenship senators. 
Read more: Another MP resigns over dual citizenship mishap
Section 44, subsection (iv.), states that "any person who holds any office of profit under the Crown, or any pension payable during the pleasure of the Crown out of any of the revenues of the Commonwealth" may be disqualified. 
At the time he was nominated for the position as Greens senator, Bartlett was a researcher at the Australian National University's College of Law.
Ad. Article continues below.
The other ousted Greens senator, Scott Ludlam "doesn't plan on returning to politics in the short-term" according to Greens leader Richard Di Natale, who wants an immediate audit of every MP's citizenship status and is calling for support from the prime minister and opposition leader. 
Read more: Greens senator Scott Ludlum resigns over citizenship error 
"Malcolm Turnbull and Bill Shorten must join us in putting the Australian people first, even if it means the loss of a senator or MP from one of their parties," Di Natale says. 
Read more: Dual citizenship drama claims another victim
The Senate will open today, August 8, with discussions about the dual citizenship dramas and how best to handle them on a case-by-case basis.
Ad. Article continues below.
Do you think Larissa Waters should be able to resume her position?