Susan Sarandon shows off figure in revealing photo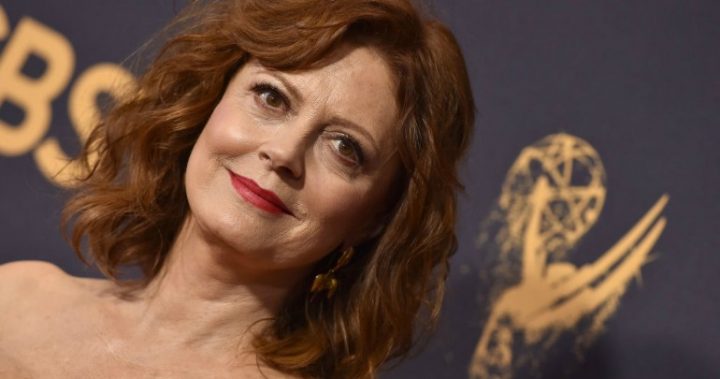 Susan Sarandon is no stranger to posting tantalising photos on Instagram; when she's not posting about her activist efforts, the Thelma & Louise star has fun digging through the archives and getting a bit sassy with old photos.
While some photos of Sarandon's younger days are accompanied with captions for a little context, she'll usually just use the caption #TBT to indicate that it's a much older shot. 
The latest photo, which shows a much younger Sarandon staring sultrily at the camera, sent her 899,000 Instagram followers wild.
Read more: Susan Sarandon turns heads in floor-length leather
So far, the photo has attracted nearly 50,000 likes and more than 600 comments, more than three times the amount Sarandon might usually get for a photo of her 71-year-old self in activist mode. 
Ad. Article continues below.
The angle of the black-and-white photo indicates that Sarandon might be dressed only in her underwear, or clad in a bed sheet. Her long, voluminous hair covers up anything too risqué but her hands (perfectly manicured, of course) are clasped protectively around her décolletage. 
Read more: Susan Sarandon posts sultry throwback photo
It's Sarandon's trademark wide-eyed stare that has everyone talking, though. 
Ad. Article continues below.
"Those eyes, I'm lost in them," one person commented.
Another commenter suggested that the popular song "Bette Davis Eyes" should be changed to "Susan Sarandon Eyes". 
Sarandon's sexy throwback photos may be the highest-performing on her account, but she's not opposed to showing off a little skin in later life. A photo from Cannes Film Festival earlier this year, in which the actress's bathrobe was carefully positioned to slip off her shoulders, gained plenty of traction. 
Ad. Article continues below.
Read more: Susan Sarandon shows why you never need to 'dress your age'
The shot was a nod to a photo of Sarandon in Cannes nearly 40 years prior. Perched on a balcony, the film star (then just 32 years old), went topless under a dress jacket. 
What do you think of Susan Sarandon's throwback photos?