Susan Sarandon turns heads in floor-length leather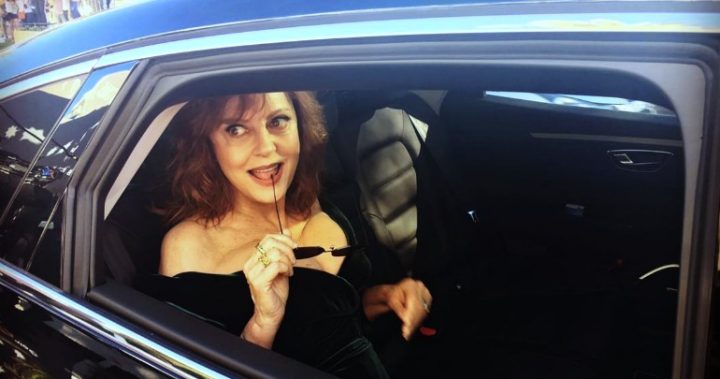 One minute she's flaunting her best assets in green velvet, next she's stepping out in the leathers.
No matter what she wears Susan Sarandon oozes sex appeal.
The 70-year-old showed up many of the much younger starlets as they too appeared on the red carpet at events during the Cannes Film Festival. 
Wearing a floor length leather skirt with a tuxedo jacket, she showed she was ever the fashion rebel.
Ad. Article continues below.
Read more: Susan Sarandon turns heads in revealing dress at Cannes.
Sarandon wasn't the only one embracing the leather look with Uma Thuman, 47, wearing a leather jacket with a darling pink satin skirt; like Sarandon a much more casual look to her first appearance at the opening of the event.
Julianne Moore kept up the glamour look after her stunning Givenchy Couture scarlet dress yesterday. This time the 56-year-old chose a beaded and feathered white number, and statement earrings, to attend the screening of Wonderstruck. 
Ad. Article continues below.
Vanessa Redgrave however, took a definite casual look in a pair of Converse shoes. At least the 80-year-old was warm and comfortable.
 
While some were rugged up at the event, others were happy to wear less to show off more. First Robin Wright, 51, stepped out in a simple emerald green '90s style slip dress.
Ad. Article continues below.
Then 30-year-old British fashion model Lily Donaldson looked like she forgot the outer layer of her outfit.
What do you think of these red carpet fashions?