Susan Sarandon posts sultry throwback photo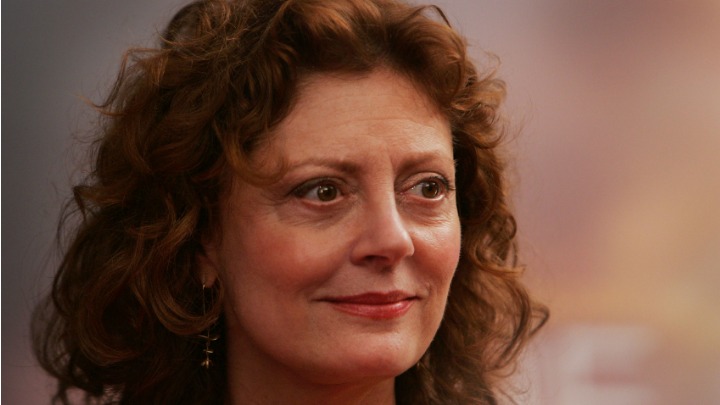 Susan Sarandon usually saves her social media presence for Twitter, but it seems she's been going on a trip down memory lane recently, with a number of throwback photos posted to her Instagram account. The latest is a sultry glamour shot that harks back to when Sarandon was pregnant with her eldest child, Eva Amurri. 
Sarandon uploaded the photo to Instagram with the simple caption, "Pregnant with [Eva] #tbt", 
Taken 33 years ago, the image shows Sarandon sitting on a simple white box, clad in an oversized long-sleeved shirt and jeans.
While the baggy top may have been hiding her baby bump, Sarandon wasn't shy about revealing a glimpse of décolletage as she leaned towards the camera. 
Read more: Susan Sarandon shows why you never need to 'dress your age'
Ad. Article continues below.
The photo's gauzy glow and some defined eye makeup work to cast Sarandon's face in an ethereal light, erasing any wrinkles she may have had at the age of 39, and simply highlighting her high cheekbones. 
Sarandon's auburn curls are styled in an effortless tumble, framing her face.
Sarandon has three adult children, all conceived when she was in her late 30s and early 40s. She spoke about her late pregnancy to Time Out New York back in 2014. 
Ad. Article continues below.
"I wasn't in a hurry," Sarandon said, "but I actually had a medical condition and was told I could never be a mother." 
Sarandon revealed that her endometriosis wasn't a heartbreaking part of her life as she was surrounded by "plenty of nieces and nephews". But when her three pregnancies eventuated, she was thrilled to face such a challenge. 
Read more: Susan Sarandon spills the beans on her multiple arrests 
"Motherhood definitely was something I didn't see coming but i definitely something you can't be overqualified for. It did rein in every ounce of creativity and patience and made me think outside the box. I was ready to do it on my own, even though a lot of people counselled me against it—that it would be the end of my career. It was just such a freak [thing] that I got pregnant that I thought I can't ignore this." 
Sarandon will celebrate her 71st birthday on October 4.
When did you have your first child?