Priscilla Presley sends social media into meltdown with youthful look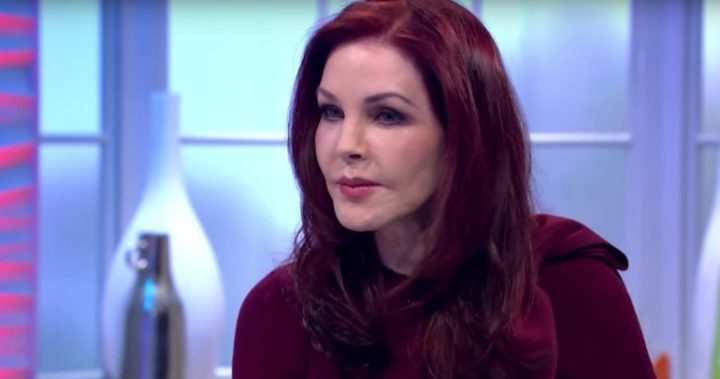 She's been in the spotlight for more than 40 years but it's Priscilla Presley's latest look that has everyone talking.
Appearing on popular British talk show Lorraine, the 72-year-old sent social media into a frenzy, with commenters noting that the celebrity barely seemed to have aged since she married Elvis Presley as a teen.
While the singer's former wife was recently in Australia as part of the country's Melbourne Cup events, it's been some time since she's been in England, where she was talking about a brand-new Elvis Presley album and tour that features her discussing her memories of the King.
Read more: Priscilla Presley brings back old Hollywood glam in ravishing dress
Ad. Article continues below.
Because they hadn't seen Priscilla up close for a while, viewers were taken aback by her appearance, with many flocking to social media to suggest that Presley had been a regular at the cosmetic surgery clinic.
One person wrote: "Wtf has Priscilla Presley done to her face? She'd never eat an apple." Another person said: "Priscilla Presley' Lorraine, omg she looks like a wax work! What on earth? Please grow old gracefully."
Read more: Priscilla Presley sets the record straight about Elvis
A third comment added: "What has Priscilla Presley done to her face … looks like she has a scary mask on."
Plenty of other viewers approved of her appearance, though.
Ad. Article continues below.
One fan wrote: "I know she has had a lot done but Priscilla Presley looks amazing!"
Presley herself, however, wasn't focused on herself, instead taking about how important the new tour was in keeping her late husband's memory alive.
Read more: Priscilla Presley addresses her relationship with Tom Jones
She told presenter Lorraine Kelly: "Actually, in concert, people are yelling his name … dancing in the aisles, some are crying, some are smiling. To me, it's very surreal."
She also spoke of how Elvis probably wouldn't have coped in modern times, telling the show's host that he wouldn't like selfies.
Ad. Article continues below.
She explained: "No, not at all. Elvis didn't like having pictures taken.
"Listen, we were very lucky to get what we had, even in the home movies. And the reason that we got the home movies was because he gifted me with a video camera … of course we didn't document our lives back then, we lived them."
What do you think of Priscilla Presley's new look? Does she look good for her age or are the haters taking things too far?