Next came Kerið a volcanic crater formed about 6,500 years ago. It is one of three in the south Iceland region along the Golden Circle.
Kerið has distinctive red volcanic rock slopes and measures about 270m in circumference, 170m wide and is about 55m deep. The surprising fact from our visit was that the lake at the bottom of the crater is between 7m and 14m deep (depending on rainfall and other factors)! I thought all crater lakes were, because of their nature, really deep, almost bottomless! Tourists were walking all around the lip of the crater, but I stayed a safe distance away from the edge.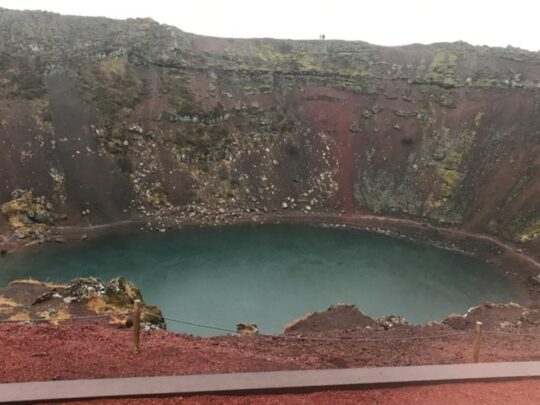 In a canyon of the Hvítá river was the third waterfall we were to encounter, Gullfoss (Golden Falls). It was the most spectacular in my opinion, being made up of several waterfalls cascading down, dramatically displaying the force and beauty of nature. The spray from the falls was freezing on the nearby rocks, which also made the scene around us really pretty. My hands almost froze taking a video of it.
We stopped at Geysir for lunch, a hot spring and geothermal area of the Haukadalur Valley. This is where the English word 'geyser' originated, according to our guides.
Geysir was the name of the original geyser, which fell dormant in 1916, with one brief activity in 1935. Though Geysir is itself largely dorman, there are a plethora of hot springs and geysers in this area, including Strokkur. Strokkur has taken over the starring role and is what everyone waited to see. There was lots of steam ejected but because of the wind, it blew away almost immediately, so the geyser effect was not as spectacular as it could have been. Stacey was patient and took a great video. I just wanted to get out of the cold.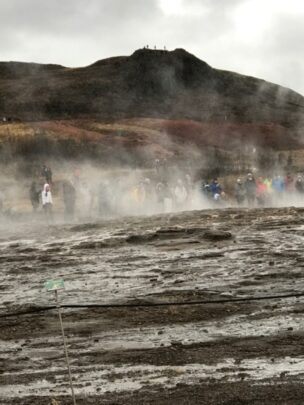 I still wasn't well so took out two pieces of dry toast to eat. Stacey had made herself a sandwich from breakfast. We sat in a warm corner, but were still spotted by a picnic policeman who said we are not allowed to eat our own food. It mattered little that I couldn't eat the cafeteria food because I was sick. There was a sign on the serviette holder saying no 'picknicking', so I bought Stacey a coffee and we left soon after.
After lunch, the next part of the tour included dessert: a working dairy farm whose speciality was homemade ice-cream! I couldn't resist! Efstidalur is a dairy farm first and foremost, but the business has also developed to include accommodation. A restaurant was opened in 2013. I thought it a lovely place to come to stay for a couple of days rest and relaxation.
Read more: 'They don't call it Iceland for nothing! Chilling out in Reykjavik'
The last spot on our tour was Þingvellir (pronounced Thingvellir). This national park lies in a rift valley that marks the boundary between the North American and Eurasian tectonic plates. To its south lies Þingvallavatn, the largest natural lake in Iceland. You can even go snorkelling in the fissure between the two plates. We didn't, but we did enjoy the magnificent views over the valley and lake.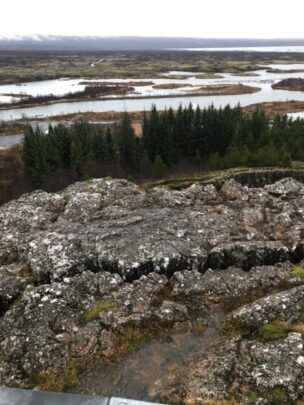 Everyone dozed driving back to Reykjavik. It had been a long, arduous three days. We were dropped off in front of Hallgrimskirkja and had to walk fully laden to our new accommodation, which once again, Stacey informed me was "just around the corner". I prepared myself for at least a kilometre hike as I know what Stacey's "just around the corner" means. What do you know? Aurora Guesthouse was literally just around the corner!
I stood on the corner guarding the bags while Stacey checked in, and amazingly, our room was on the ground floor! And it was a large room with three single beds, so we could place our suitcases on one and still have enough room to hold a ballroom dance. Not that either of us had enough energy to do a one-step, let alone two. We had planned on returning to the 42C thermal pool close by, but all we could manage was the three steps to the pizzeria next door.
Figuring that we had saved money by making sandwiches from the breakfast table each day for our lunches, we ordered a medium pizza to share and a beer for some prohibitive amount. This is where Iceland becomes expensive — restaurant meals — but when the food is delicious and the staff friendly, we didn't mind paying especially since this was only our second restaurant meal since arriving here.