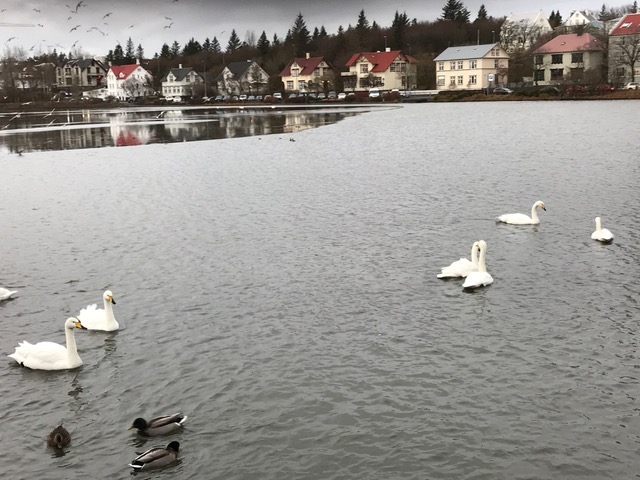 When the walking tour finished in the concert hall, we remained in its warmth, eating our ham, cheese, tomato and cucumber sandwiches as well as the boiled eggs we had taken from breakfast. Lunch never tasted so good!
Nanna, our walking tour guide, had recommended the exhibition space Culture House, so off we shuffled. The air was colder than my freezer at home, so I tried to walk fast. Four floors of Icelandic culture were more than enough for me, but I drank the free hot coffee that was on offer.
Next, we trotted off to The Settlement Exhibition. This was fascinating, so we took our time taking it all in. The first settlers were Vikings, who built homes of turf and timber. The first settlement was estimated to be prior to 874 but the exact year wasn't known.
The one thing I really wanted to see was the Hallgrimskirkja church, which is the largest church in Iceland and among the tallest structures in the country. We walked up the long hill and across the forecourt to reach it. Just my luck – it was closed for a funeral. But at least it wasn't mine! It almost could have been. As we were walking back from the church, a fierce gust of wind almost blew me off my feet. Images of my casket played like a movie in my mind. I could almost feel the warmth of my new timber box. But Stacey grabbed me just in time. Her instinct was to get out of the wind. Mine was to stand my ground and hope my coffin pillow was comfy.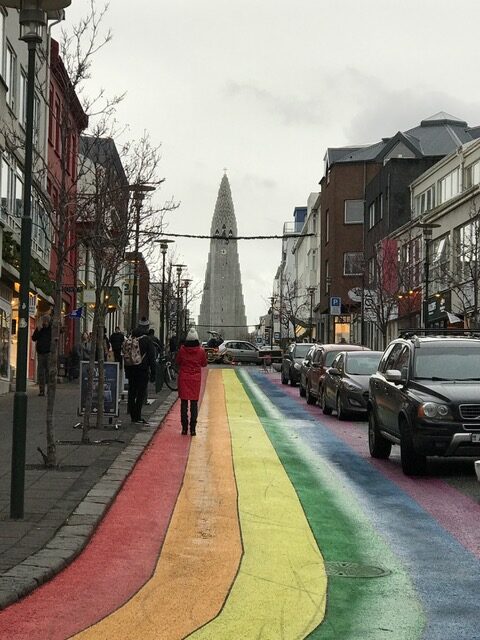 We made it to the Loki cafe across the street and sat down to an early dinner. Lamb soup for Stacey and trout tarte for me. For dessert: rye-bread ice-cream, an unusual Icelandic treat that was actually delicious. Think cookies-and-cream ice-cream and you'll have some idea of the taste.
Every part of my body was aching by now and I just wanted to go back to our room. But this would mean having to catch a bus, and I didn't even know where the bus stop was! Stacey lured me with the promise of a dip in the thermal baths "just around the corner". I limped there, tongue hanging out and panting excessively by the time we arrived. It was worth it. The 42C pool had spa jets for my back and feet and for as long as I wanted.
Rejuvenated, I agreed to accompany Stacey to Perlan on top of Öskjuhlíð Hill, as long as we didn't have to walk. The pool lady called us a taxi. At Perlan, we chose to see the Northern Lights show and skip the re-creation of the ice cave, volcano and animals of Iceland. Maybe next time? I learnt a lot I didn't know about auroras. Did you know there are auroras on Saturn and Jupiter – as well as on Earth?
After the show, the receptionist called us a taxi by pressing a button. He was waiting by the time we walked out of the foyer. Home, James! This wasn't his name though. Probably something like Gunnar or Ragnar. Totally exhausted but having to pack for tomorrow's three-day tour, I imbibed some Jameson whiskey. Before I knew it, I had drunk the whole bottle straight! I had packed all my gear, so I feel it was well deserved.
Collapsing into bed, I woke just after 4am thinking we'd better take our suitcases down to the lobby before they closed off the dining area for breakfast. During breakfast, guests have to climb a set of spiral stairs (not easy at the best of times, especially with suitcases), then you have to walk along the hall and down another set of stairs. Weird I know! Stacey woke up and was proud of my forward-thinking skills. I'll take this compliment to my grave.
After eating breakfast and packing more sandwiches and eggs we were ready and waiting on the footpath for our tour bus to pick us up at 8am. But there'd been a mix-up. Some guests thought it was 8.30am. As usual, we were the last on the pick-up list, so we didn't get on the bus until 8.45am. The "bus" was a large minivan. I climbed up into the passenger seat and we were off.
Next stop: famous Reynisfjara Beach, with its black sand, and the largest ice cap in Iceland, Vatnajökull Glacier.