Kyrgios clearly disagreed with the suggestion, quickly replying "Hahahahaha NO HE DOESNT".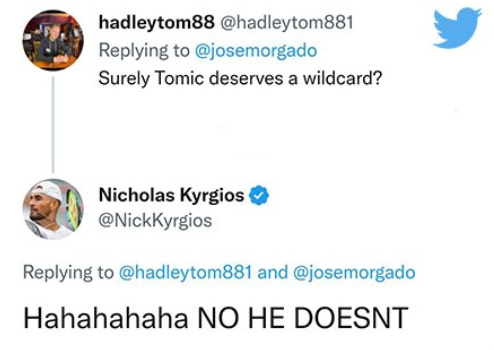 The 27 year old's response shows there is still no love lost between him and Tomic and adds to a long running series of confrontations between the pair.
The two exchanged barbs earlier this year after Kyrgios responded to a fan who asked whether an exhibition match between himself and Tomic was on the cards, during an Instagram Live video.
"TBH (to be honest), don't think I wanna make him relevant anymore. I'm not gonna bother with someone 800 in the world. But all the best," Kyrgios replied.
Tomic wasted no time in firing back against the sledge, quickly serving up his own response to Kyrgios.
"Just a matter of time before I see you Nicky boy. #obsessed #scared," he replied.
In what appeared to be another warning to Djokovic, Tomic stated that it would only be a matter of time before he is ranked in the top 100 again.
"Momentum's coming my way. Not long now. Done it before. Will do it again."
Despite controversy both on and off the court Kyrgios is on a career-high lately, not only did he take home victory in the men's doubles alongside Thanasi Kokkinakis at the Australian Open this year but he also made it to the Wimbledon finals before losing to Novak Djokovic in a gruelling four set match. The World No. 22 also secured an impressive victory against defending champion Daniil Medvedev in the US Open, in what sports commentators labeled the "best match of his career".
Whereas, Tomic began the year with a loss in the Australian Open qualifying round and has since fallen to number 462 in the rankings while struggling to move past the opening rounds in this season's tournaments. Despite his struggles, Tomic recently secured a victory in the M15 Cancun tournament on September 12 and made it to the semi-finals.
"It took a lot of hard work this (2022) season, a lot of discipline and it seems the better you do, everyone wants a bit more of you and it becomes more stressful.
"But I had a lot of fun this season. And I'm finally just proud to say I made a slam final and started to meet some expectations."