Inside the church, Charlotte and Kate were all smiles as they were snapped putting together a donation basket for The Baby Basics bank. Charlotte was seen handing over a variety of baby clothes and items to the Princess who graciously accepted each piece.
Kate was also overheard chatting to her new little friend, saying "I have a Charlotte too. My Charlotte is at school with George and Louis and her friends. Do you go to school?"
Meanwhile, William was spotted with Charlotte's mother, expressing that her daughter was "very sweet" and that her attire was "quite possibly the sweetest outfit" he had ever seen.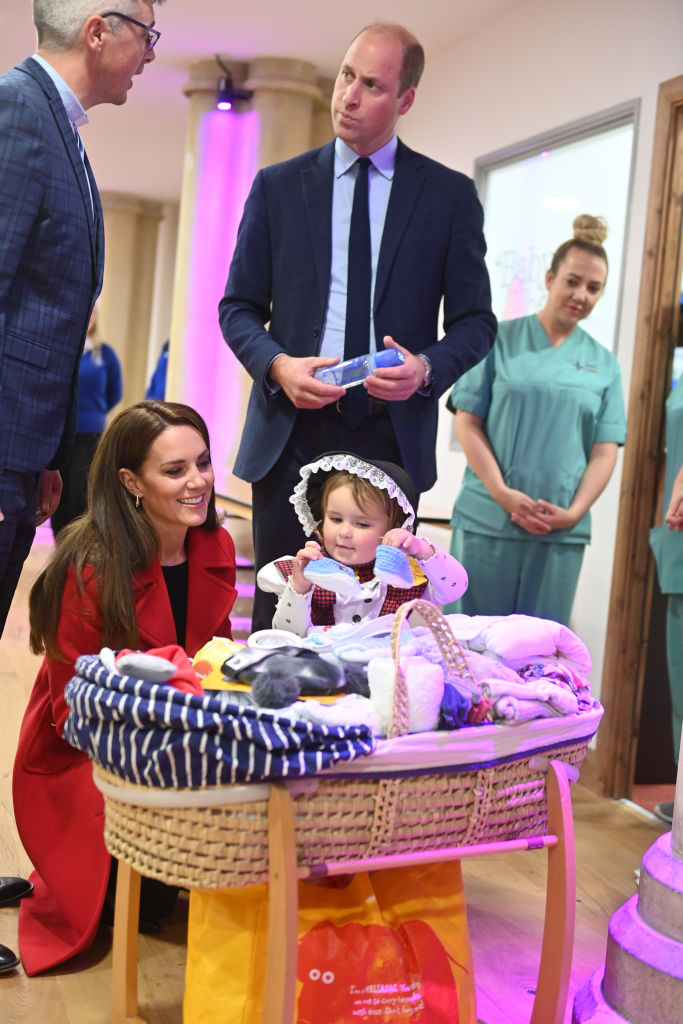 But Charlotte wasn't the only child who was excited to meet a real-life Prince and Princess.
In a separate royal engagement in the RNLI Holyhead Lifeboat Station, in Anglesey, the couple were greeted by a cheerful 4-year-old schoolboy, Theo Crompton, who boasted the broadest smile as he handed Kate a bouquet of pink roses.
This isn't the first time Kate has shared a sweet moment with local children during a royal tour, earlier this year the royal couple stopped off at St. John's Primary School where students observe infants in order to gain a greater understanding of empathy through the Roots of Empathy program.
The groundbreaking initiative involves a local parent and their baby visiting school classrooms, in this case, "tiny teacher" Saul was on hand to teach kids about empathy and emotions.
Prince William and Kate joined students as they sang nursery rhymes and it wasn't long before Kate had little Saul wrapped up in her arms as they read through a book together.
"Can you get my wife out of here before she gets broody?" William joked.
Saul's mother Laura Molloy told reporters that she "could tell how motherly she (Kate) is"
"She also loved Saul too and held him for a moment in her arms and said she loves this baby stage," Molloy said.
 

View this post on Instagram

 
Kate's most recent adorable interaction with the local Welsh children is a delightful welcome to the royal couple as they visit the nation for the first time since taking on their new titles.
Following the announcement of his new title as Prince of Wales, William promised Welsh First Minister Mark Drakeford that he would serve the people of Wales with "humility and great respect".
Kate has also now become the first royal to use the well-known title since Princess Diana, who died 25 years ago.
The last time the couple were in Wales was during Queen Elizabeth II's Platinum Jubilee celebrations, taking their children Prince George and Princess Charlotte to the city of Cardiff.