In addition to providing criminals with sensitive details, clicking the link could possibly result in harmful or malicious software being installed on the recipient's device.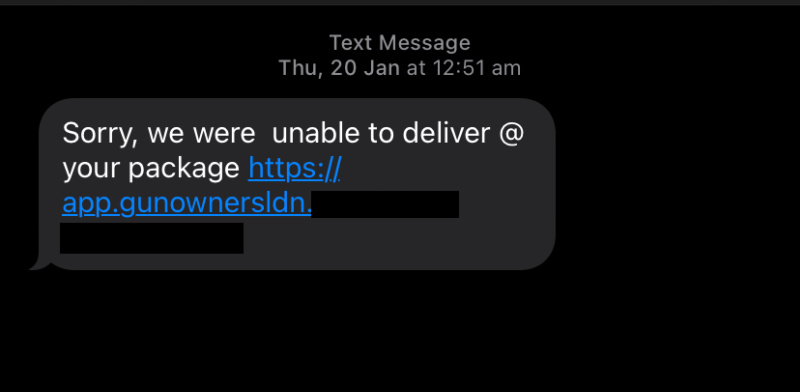 AFP Commander Cybercrime Operations Chris Goldsmid elaborated further on the scam activity, explaining that "cyber criminals often impersonate trusted brands, such as legitimate parcel delivery services, to send messages designed to trick consumers into clicking on URLs containing harmful malware or providing personal information."
"This may include a technique called 'spoofing' in which cyber criminals make their messages look legitimate by using real company logos and fake sender details," Goldsmid said.
Goldsmid suggested that those who receive such a message to "not click the link" and to confirm that the message is legitimate before proceeding.
"Most delivery services will never text or email their customers to request personal or financial information," he said.
"If something doesn't feel right, take the time to verify the request with the organisation using contact information listed on their website.
"If you receive one of these scam texts or emails do not click on any links, report it to Scamwatch, block the sender and delete the message immediately."
Some red flags the AFP warns to be on the look out for include requests for your personal or financial information in order to confirm your order, an unexplained sense of urgency in the message's request, grammatical errors and suspicious links.
Malicious scam activity is expected to double this Christmas with the festive season considered prime time for scammers to "target unsuspecting consumers", according to Assistant Treasurer Stephen Jones.
"The Christmas shopping rush is a major opportunity for scammers looking to catch the unwary," he said in a statement.
"It's also a time when they exploit our elderly and other vulnerable groups who may be experiencing loneliness.
"So called phishing scams, which allow scammers to remotely take over phones and personal computers, are the biggest risk at this time of year.
"Australians should also be on the lookout for impersonation scams, where scammers pose as a legitimate business or family member."
Jones stressed that "the government wants to have people be aware" that scams "are likely to ramp up over the Christmas period and to take extra care".
"If it looks too good to be true, it probably is," he told the ABC.
"The ACCC has told us that last year there was about $2 billion worth of scams … they expect that to double this year and there's always a spike over Christmas time."
Scams are already having a detrimental impact across the country with total losses to scams expected to reach an estimated $4 billion by the end of 2022 in addition recent widespread data breaches have impacted millions across the country.
Further assistance for scam victims is available on the Scamwatch website at scamwatch.gov.au.