After the news broke of his tragic passing tributes poured in from across the globe from fellow cricketers, celebrities, and politicians alike.
Warne would have turned 54 this week, his birthday falling on Wednesday, September 13, and although he may no longer be with us that hasn't stopped those close to him from taking to social media to wish him a happy birthday.
Warne's children were among the first to honour the legendary cricketer on his special day.
Warne's son Jackson took to Instagram to share how he plans to mark the day by doing "things that make me happy", what his late father would have wanted.
"Today would have been dad's 54th birthday – happy birthday dad," he said.
"And I thought instead of being sad or posting a story in black and white with a big caption with things that are quite obvious, I'm going to do what dad would have wanted me to do which is be happy and do things that make me happy.
"I've already gone to the gym, but I want to do three things that me and dad used to do together all the time. First one being Maccas [McDonald's]. We'd either get Maccas for lunch or dinner, but at some stage today we'll get Maccas because we loved Maccas.
"Second thing is dad's favourite TV show was Two and a Half Men, but it had to be the episodes with Charlie Sheen. He loved Charlie Sheen and loved Two and a Half Men, so I'll watch an episode of that.
"Thirdly, roulette. Roulette is on par for me and dad with poker and we just loved cheering on a 23 for a spin. So we'll go downstairs and see if we can hit a 23. Happy birthday dad."
 

View this post on Instagram

 
Warne's eldest daughter, Brooke, also took to Instagram with a throwback picture alongside her father.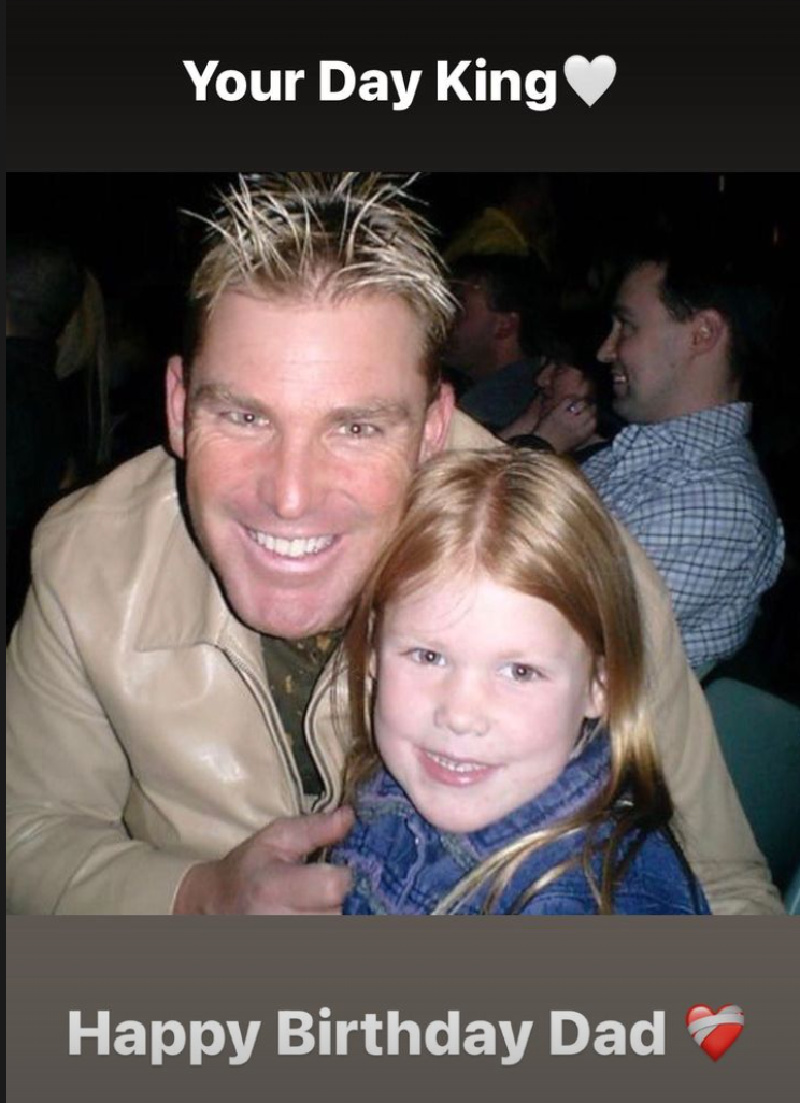 Youngest daughter, Summer, also took to social media to honour her late father, sharing her own throwback picture alongside a moving message conveying how much she misses her dad.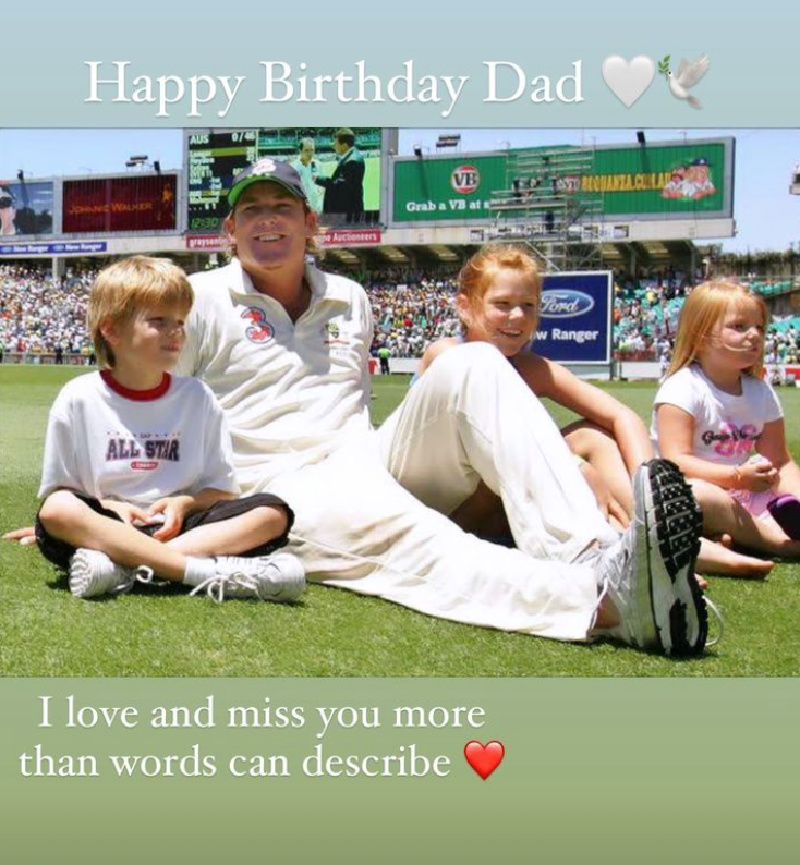 The birthday messages were not just confined to Warne's family with a sea of fans and members of the wider cricketing community taking to social media to reflect on special memories and share some of Warne's career highlights with heartfelt messages of remembrance.
Widely regarded as one of the finest bowlers in the annals of cricket history, Warne made his debut in Test cricket in 1992, embarking on a journey that would see him claim over 1,000 wickets across both Test matches and One-Day Internationals. Warne's astonishing tally of 708 Test wickets, achieved in just 145 appearances, held the coveted record for the most wickets taken in Test cricket until 2007.
Acknowledging his extraordinary sporting achievements, the Wisden Cricketers' Almanack bestowed upon Warne the rare honour of being named one of its Five Cricketers of the Twentieth Century, sharing this elite status with legendary figures such as Sir Donald Bradman, Sir Garfield Sobers, Sir Jack Hobbs, and Sir Vivian Richards. In 2013, he was immortalised in the ICC Cricket Hall of Fame.
Many aficionados of the game credit Warne with revolutionising cricket, particularly for his mastery of leg spin—a craft that, back in 1994, some believed was vanishing due to its formidable technical demands. Warne breathed new life into this art form, leaving an enduring legacy that continues to inspire aspiring cricketers around the world.
As we fondly remember Warne on his 54th birthday, it's evident that his influence on cricket goes well beyond mere numbers and records. His lasting impact lives not just in statistics but in the hearts of those who admired his brilliance. Warne's spirit continues to be felt on the cricket field and in the memories of cricket enthusiasts worldwide.
Happy Birthday, Warnie! Your legacy lives on.