Funds with the worst-performing products had already been contacted by APRA with requests for an action plan that shows solutions to the weaknesses the regulator identified.
"If they are unable to make substantial improvements in good time, we will consider other options, including pressuring them to consider a merger or exit the industry," Rowell explains of APRA's next move.
How to read the APRA heatmap
The colour gradient on the heatmap ranges from white (a product that is performing at or above predetermined acceptable benchmarks), to pale yellow and all the way through to burnt red (for the worst-performing funds).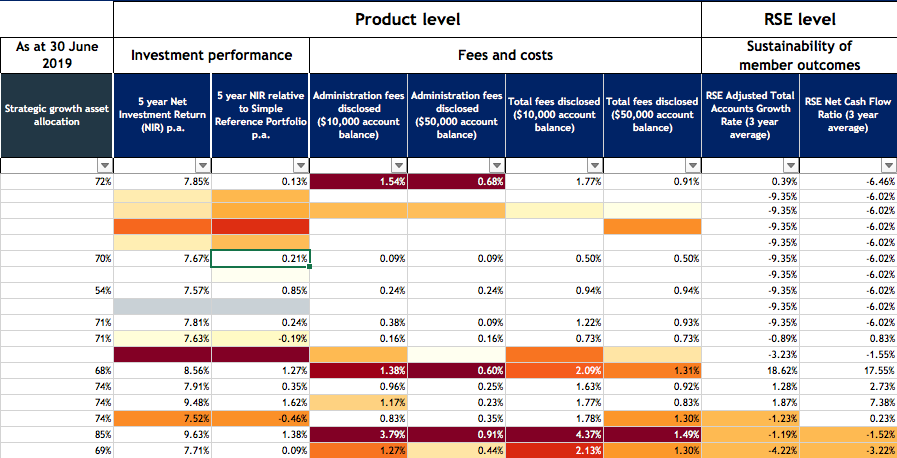 The heatmap assesses products on three criteria – investment performance, fees and costs and sustainability of member outcomes – and doesn't give an overall 'colour' to rank one product over another. This was done to acknowledge the complexity of super products and ensure that no product provider can be complacent about specific shortcomings in their products.
When separating out products based on the criteria, the worst-performing products for average annual compound returns included:
Mine Super Fund – Default Lifecycle
Asgard Employee MySuper
BT Super for life MySuper; BT Lifetime Employer
Westpac Group Plan MySuper
Christian Super – My Ethical Super.
The funds with the worst fee disclosure for $50,000 account balances included:
Pitcher Retirement Plan MySuper
First Super MySuper
TWU Superannuation Fund – (Balanced) MySuper
Goldman Sachs & JB Were Super Fund
Mercer SmartPath.
And the least sustainable funds due to reducing member numbers and net cash outflows included:
Goldman Sachs & JBWere Superannuation Fund – MySuper Product
BOC MySuper
SmartSave MySuper Balanced
Super Directions Fund – AMP Super No 3
Perpetual's Select Super – Perpetual MySuper.
How investment strategies stacked up
MySuper products offer two investment strategies, both of which were evaluated in the heatmap. The most common strategy is a single diversified investment that offers a mix of investments that stay the same over time, and the less common one is a lifecycle strategy that shifts from growth investments to more conservative investments as the employee ages.
The funds that provide a single diversified investment strategy option that scored average or above across all categories included:
HEST Super
Media Super
Care Super
Electricity Supply Industry Superannuation (QLD)
Motor Trades Association of Australia Superannuation
AMP's Brookfield Australia MySuper option.
And those offering the best lifecycle products were:
Sunsuper
QSuper
First State Superannuation Scheme.
Naming and shaming funds that may have previously flown under the radar is just the start of APRA's crackdown, Rowell says; funds with burnt-red products will also be subjected to more intense regulatory supervision.
"This is a game changer for the superannuation industry," she says. "The heatmap will subject trustees to a new level of scrutiny, and it's understandable that some in the industry feel uncomfortable."
The heatmap will be updated by APRA at least annually going, but to show super product owners what early improvements had been achieved, the first update will be published in in six months' time. The complete map can be downloaded from APRA here.