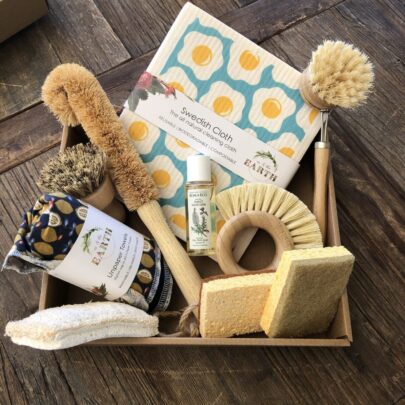 Here is what you will find in the box:
Kitchen spray that smells natural
Would you use standard kitchen spray on your hands? Probably not, but the Koala Eco Natural Hand and Surface Spray included in the box smells so good you'll want to spray it everywhere. The aroma is like the heady scent from a long walk through the bush, with hints of lemon-scented tea tree at the fore. 
Also, do you wonder what's actually in the kitchen sprays that you use to clean your benchtops? Practical and powerful, the all-natural ingredients used by Koala Eco tick all my boxes – non-toxic, no synthetic perfume, and eco-friendly! 
Importantly, although this product does come in a plastic bottle, no new plastic was used to create it. Instead, it is made from recycled waste bottles.
The kit includes a pack of five Swedish Sponges, and three other Eco sponges. There's a non-scratching two-sided Loofah Cellulose Sponge that can be used in all house areas. One side is absorbent and the other slightly abrasive, but it won't scratch steel surfaces, dishes, glasses or benchtops. Made from wood pulp and loofah, the sponge can just go straight into the compost, not the bin at the end of its life!
You'll also find a coconut coir/cellulose sponge and a loofah/cellulose sponge to increase your cleaning options.
The most used item from my box is the pack of Swedish sponges with pretty designs on them. Made from cellulose pulp which has been repurposed from wood production, with a small amount of cotton, these sponges are a kitchen staple. I like to have them on high rotation, so they are frequently washed. Luckily these sponges can be cleaned in the washing machine or dishwasher many, many times. Up to 200 times according to the manufacturer! When they eventually get too ratty to use, I plan to put them in my compost bin.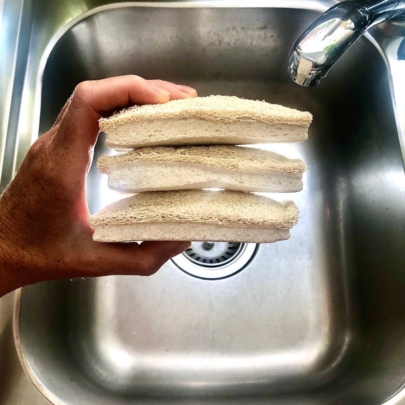 The five eco brushes look so good on my benchtop I don't want to put them in the cupboard. Made from solid wood with attractive light-coloured handles, these brushes have a great hand feel and are sturdy enough to do any cleaning job. In addition, the brushes are made with natural coconut fibre and sisal, which makes them strong but flexible.
My favourite is the long-handled brush which is perfect for getting all the bits off the plates when rinsing.
When something requires a bit more grunt, I grab the stubby pot brush, which fits perfectly into the palm of my hand. It makes short work of those stubborn, burnt-on bits which come with the best roast dinners! Finally, a soap and scrub and my pans are looking pretty smart.
The fan brush has found its way into the bathroom where it goes to work, getting rid of that mould and scum that seems to build up in seconds during hot weather.  
When you need a brush specifically designed to fit the job, the Eco Cleaning Box includes a sisal straw cleaning brush for your sustainable metal straws and a bottle cleaning brush.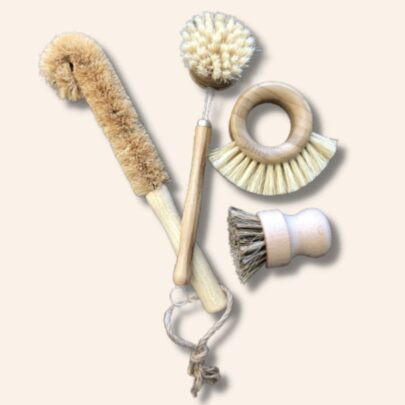 Instead of single-use, get years of use out of unpaper towels made from high-quality organic cotton. About the same size as a face washer, these handy squares are just what you need in the bathroom, kitchen or even your handbag. There are so many ways to use these towels you'll wonder how you survived without them. There are eight in the kit so spread them around the house.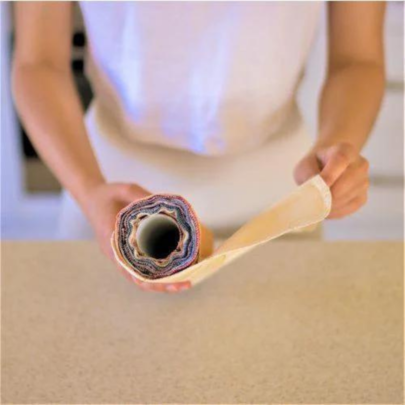 How to be even greener
Us and the Earth make it so easy to be green with products so take a look at their range of beauty and food products too.