How we get through living with my mother's dementia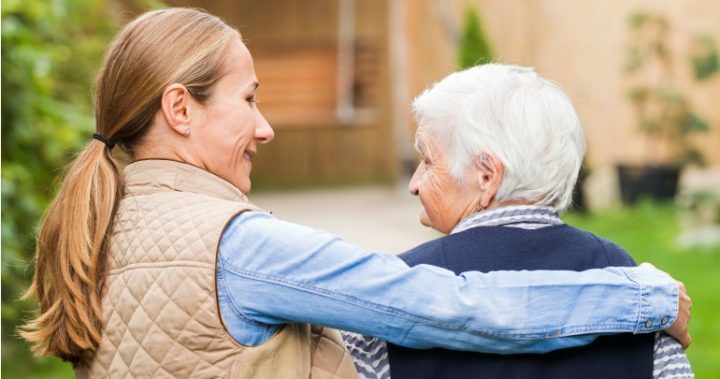 This article continues our in a series by the Starts at 60 community on Alzheimer's disease and dementia. Other articles in this series include: 'Behind the laughter and the tears' and 'Living with dementia' and 'Living with Alzheimer's disease'.
Dementia is now playing a major part in Mum's life. Everybody has their own journey and once you accept your journey, life becomes easier.
I realised something tonight… It's only a small thing. All my life Mum has called me 'Bub', but as the dementia progresses she calls me 'Christine' more and more. Like tonight, when she yelled "Are you there Christine?" I yelled back, "Yes Joan, I am here. Where are you?" She always laughs at that and we still manage to laugh a lot every day.
Life is so very short. You can either try and ignore what is happening, which does not help the sufferer at all, or just carry on with subtle changes along the way to accommodate the dementia.
It can be difficult when doctor and hospital appointments become an issue.
Ad. Article continues below.
Recently I took Mum to both. They were over a two-day period and she became confused with everything. She basically didn't know her bum from her elbow because her routines were completely out of whack. It took her a couple of days to pick up and get back to her 'now' normal.
This week we will be going through it all again. Hopefully she will bounce back more quickly.
Mum is very aware of her dementia. She knows not to go out of her normal circle when she is on her scooter. She has done it once or twice and got herself lost, but she eventually finds her way home — usually with a flat battery and an empty stomach. She refuses to carry a phone, but really there is no point because she would forget how to use it and she certainly would not hear it ringing.
People around the Redlands (in Brisbane, Queensland) are so very helpful to the elderly and most have no problems pointing her in the right direction. I remember one man even offered to put her scooter on the back of his ute and drive her home, but her fierce independence made her decline his generous offer.
I don't talk about dementia every five minutes. Actually, I rarely mention it, but when Mum wants to talk about it, it's usually out of frustration and confusion getting the better of her. She will blurt out "F***ing dementia!" and again we will laugh. Sometimes things might back back into her train of thought within minutes, sometimes hours; most of the time they are lost in that magnificent utopia that is now her mind.
If Mum outlives her Paget's disease, fibrous dysplasia and malignant hotspot on the diseased bone in her skill, and gets full blown dementia, we will deal with it like every other day, with laughter, routines and acceptance being the magical keys.
Can you relate to Christine's story? How have you found the series of contributions from the Starts at 60 community? Share your thoughts with us.