Behind the laughter and the tears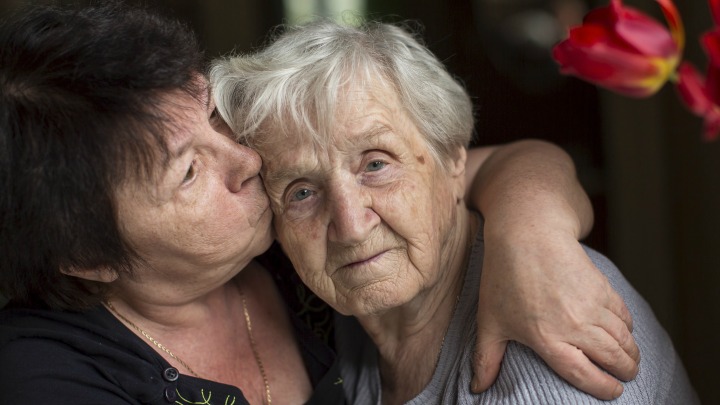 This is the first article in a series by the Starts at 60 community on Alzheimer's disease and dementia.
It's estimated that today 1.2 million people in Australia are involved with the care of someone with dementia. In less than four years we will have in excess of 400,000 with the disease, which is currently the second leading cause of death in this country.
Although primarily a disease of the elderly, over 25,000 currently have early onset dementia i.e. they are between the ages of 30 and 65.
I was recently speaking to a woman, my age who is caring for her mother-in-law in her home. MIL is in the end stage of dementia. Her husband who was assisting with his mother's care, has just been diagnosed in the early stages of dementia. Having been caregiver for her MIL for the past nine years, she is now faced with a possible further 10 years or more as a carer for her husband. She has understandably struggled under this latest diagnosis.
My journey was with my mum, who passed last year after a rapid decline, diagnosed with Lewy Body and Parkinson's dementia.
Ad. Article continues below.
My active, vibrant mother, never on medication, started struggling with simple concepts. On one of her regular visits I noticed she was confused by the sliding doors if they were ajar. She had sliding doors at home, but couldn't work them on occasion and often needed direction to her room. Her placid demeanour was interrupted by flashes of anger. I was aghast to hear her commenting loudly on a stranger's weight. Not something she would ever have done normally. All early signs of dementia.
Both in their mid-80s, my father was struggling to care for her. She lost the will or the ability to cook or shop, driving was too risky. We asked them to come live with us but they felt a care facility would be the best option.
Mum quickly transitioned from low care to high care. She could no longer dress, wash or toilet herself. Her speech became garbled and she would wander searching often for her parents, or her husband (who was right beside her but no longer looked like the man she recalled as her husband).
I spent weeks at a time with her. I got to know the other residents. I saw the heartbreak of a woman whose husband was a resident, when he became very attached to a female resident. When his wife arrived to visit, the 'girlfriend' would cry hanging on to his hand. He would soothe her and tell her he'd be back soon, before leaving with his heartbroken wife who was taking him for lunch. His wife understood, but her pain was palpable.
Dad and I attending a training seminar on dementia to help him with the changes to come. Simple strategies on how to deal with everyday challenges are invaluable. The three cornerstones to caring for someone with dementia are information, love and patience. There are some great resources out there. Teepa Snow on You Tube has many down to earth tutorials. Your local health care service, forums on Facebook — such as Memory People — all have value.
Ad. Article continues below.
I came to see that my mum's illness was her last gift to me. She taught me so much.
My top tips?
The altered reality of a sufferer is their reality. There is no point in trying to convince them otherwise. It is frightening for them. Deflect, distract and love.
A dementia patient's brain has access to sparse and finite resources. Don't waste them with questions i.e. would you like a tea, would you like a biscuit, where do you want sit etc. While good manners, each answer drains the tank. Rather, I'll make you a tea and heres's a biscuit, let's sit by the window and enjoy the view.
Dementia sufferers lose peripheral vision. Greet them at eye level, standing in front of them and introduce yourself each time e.g. 'Hi mum, it's your daughter Robyn, you look lovely today'.
Ad. Article continues below.
Speak clearly in short sentences, remove background noise so that they can focus.
When rage or physical attacks occur (and they do) understand that the loved one is upset, angry or in pain but cannot express it, so shouting or lashing out occur. It's possibly not related to the situation in hand. Stay calm, stay loving and use your detective powers to work out what the real issue is. There is always an issue, it's your job to find it.
Give your loved one something to occupy their hands. Dementia patients' hands are restless. Give them a broom to sweep if they can stand, a pack of cards to sort, a box of treasures to go through (make sure there is nothing sharp or nothing that can be swallowed in there). Fiddle rugs are good too.
Above all understand your mood will affect your loved one. Stay calm, stay upbeat and distract and deflect in difficult situations. Love really does conquer all in the long slow goodbye that is dementia.
It's hugely important to understand the system around dying. When your loved one is in palliative care it's vital to be their advocate and to know what you can ask for. This is a whole subject in itself but needs to be addressed, perhaps at a later date.
Can you relate to Robyn's story of caring for a loved one with dementia? Share your stories with us.