Anthony Mundine's emotional breakdown on 'I'm A Celeb'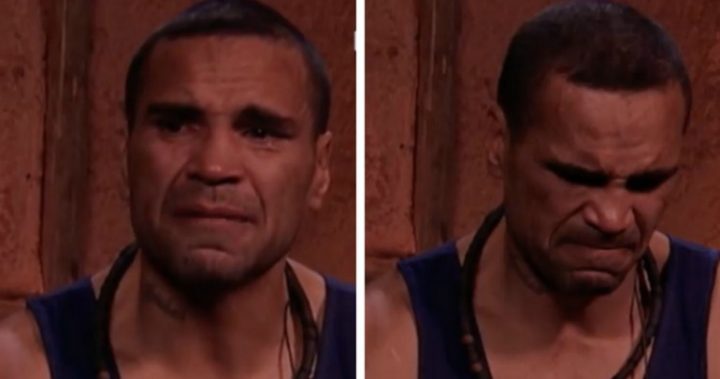 Anthony "The Man" Mundine prides himself on his tough persona, but the opinionated boxer showed fans a softer side during Monday night's episode of I'm A Celebrity … Get Me Out of Here!.
The 42-year-old athlete, who is one of ten personalities competing in Channel 10's popular reality show in South Africa, was reduced to tears as he recounted a personal story that has always stuck with him.
He suggested that his fans were extremely important to him, but not for the reasons many people think. "I actually saved this dude's life," he told fellow contestant Jackie Gillies on the show. The Real Housewives of Melbourne star asked Mundine what happened, which is where he decided to open up to the reality star.
"He was in this very bad, depressed state. He had a 13-year-old girl and he was just about to hang himself," he recalled. "And his daughter walks in, she went hysterical and said, 'Dad! What are you doing? What are you doing?' He said, 'I need to go, I need to do this' and she goes, 'well what about Anthony Mundine?'"
The athlete held back tears as he was recounting the story. "And then he goes, 'something clicked in me and said that's true daughter. We're gonna meet him.'"
Ad. Article continues below.
Anthony said that after the man's near-death experience, he made it his mission to meet his idol. The meeting happened and went on to be one of the biggest moments in both men's lives.
"Because he always told her [his daughter] that he always wanted to meet me before he died," he explained. "He said 'your courage, your strength, helped me out of this dark place' and that touched me."
Tears continued to roll down Mundine's face before he said, "I must be doing something right".
Many people rushed to Mundine's defence as the heart-tugging scenes went to air. One viewer wrote: "This is the Anthony Mundine we need to see more of because this is who he really is. Loving, caring and a generous human being".
Ad. Article continues below.
Another person wrote: "I'm sold on him. I now consider myself a fan. This has been an absolute pleasure, the past week, watching him. He's wonderful". A third added: "Absolutely love seeing this side of Anthony. This is the side I see time and time again when he is helping out with one of the charities I am also involved with. Anthony is a genuine and kind soul, and I love that Australia will get to see this side of him. I just hope people take the time to appreciate him".
The scenes comes after Mundine's boxing rival, Danny Green, entered the show as a replacement after Bernard Tomic sensationally quit after just three days. The pair originally came to blows on the show, calling each other "pussy cats" and each arguing that they would beat the other if they ever fought again.
If you ever need to talk to someone, Lifeline is available 24 hours a day on 13 11 14.
What do you think? Are you surprised to see this side of Anthony Mundine?
---
Ad. Article continues below.
With Facebook removing news sites from your feeds we ask that you sign up for Starts at 60's emailers here. And to keep us on your wall, join some of our new Facebook groups and clubs:

News Junkies Club – Australia
News Junkies Club – USA 

See news on the change and links to all our other clubs and groups here.