To use both the trams and the ferry service you need a 'Clipper Card', which works the same way as the Brisbane Go Card, New South Wales' Opal card or Myki in Victoria etc. Fortunately, our hosts provided us with Clipper Cards as part of their Airbnb service. All we had to do was load cash via machines at the Ferry Building and return the cards at the end of our holiday — very thoughtful! The commuter ferry across the Bay must be one of the most scenic in the world. The route passes close to Alcatraz so keep your camera ready for a posed mugshot. We were warned to dress in layers as it can often be foggy and cool on the water, as it was for our crossing.
Sausalito is tucked away in a secure little bay and its small settlement of hillside homes cascade down to a lively downtown featuring a mix of art galleries, small boutique shops and restaurants, often serving fresh seafood. After we strolled along the waterfront, soaked up the ambience of the numerous coffee/ lunch spots and enjoyed views of the city, we decided to visit the Tourist Visitor Information Kiosk near the Ferry Terminal, to ensure that we did not miss a concealed highlight. Just as well we did otherwise we would not have learned about the Sausalito houseboats and we would have missed a very good lunch recommendation.
Our guide advised that we should do the 20-minute walk north of the downtown to Waldo Point Harbour where most of the houseboats are moored. She added that we should stop along the way and see the 'Taj Mahal' houseboat at the end of Johnson Street and perhaps dine at Salito's Crab House and Prime Rib. What great advice!
Our seafood chowder at Salito's was wonderful and whilst we gazed at the myriad of yachts, we savoured a glass or two of Californian white wine. It seemed like a great way to start the afternoon.
The houseboats of Sausalito have an interesting history. The houseboat era began in the late-19th century, when well-to-do San Franciscans kept 'arks' as floating holiday homes, on local rivers and deltas. After the catastrophic 1906 San Francisco earthquake, some became semi-permanent refuges.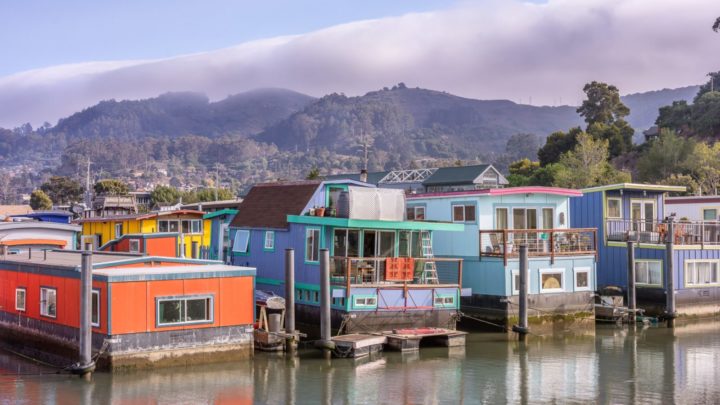 The modern era of Sausalito's houseboats began after World War II. During the war years, Marinship Corporation operated a facility at Richardson Bay, Sausalito, for building Liberty transport ships for the Pacific campaign. In the 3.5 years that Marinship was active, it launched a total of 93 ships and employed up to 20,000 workers. When the war ended, though, Marinship ceased operations almost overnight leaving tons of wood, metal and scrap behind. Richardson Bay turned into an aquatic salvage yard full of possibilities.
The former shipyard offered the chance to construct rent-free homes out of abandoned boats and flotsam. This attracted a range of characters including working artists, musicians, drug dealers, misfits and other fringe-dwellers. The waterfront swelled into a community of squatters. In August 1967, Otis Redding wrote the first verse of the song, 'Sitting on the Dock of the Bay', on a houseboat at Waldo Point in Sausalito. I think all we 'boomers' know that song, which exemplifies that era of the houseboat scene.
Through the early-1970s, the Sausalito houseboats presented a chaotic community with its wacky architecture, filched electricity and untreated sewage. Though a paradise for some, it became a smelly eyesore to others. Following a murder, local authorities and developers set their sights on revamping the Sausalito waterfront. This was more because of its obvious real estate potential than from any civic duty. Ultimately, the developers prevailed. Most of the houseboats were relocated to a series of five new docks and their electricity, sewage lines and broadband are now up to code. The gentrification on the new docks has been steady and not altogether unwelcome. Many occupants have seen the value of their floating homes skyrocket. Whilst we were there one houseboat sold for a staggering US$3.2million (AU$4.66 million). Not bad considering it is leasehold, not freehold tenure. Today, 245 floating homes are based at the five docks of Sausalito's Waldo Point Harbour.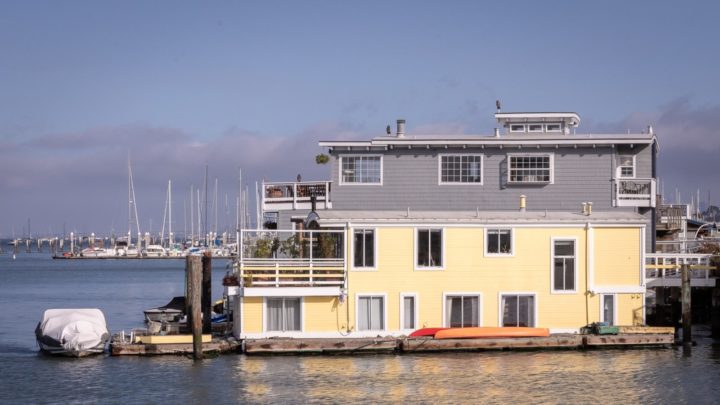 The docks are more like a trailer park than a marina, with most of the houseboats encased in concrete hulls. They're protected from rot and ocean organisms but are immobile. Some of these homes were once boats of different kinds and the architectural translation into floating houses can be fascinating. The homes range from the simple to three-storey mansions, but all are unique and often quirky. Some docks are lined by beautiful flowers in containers that are tended by the owners as their 'front yards', and many of the homes have names and hand-crafted decorations. Surprisingly, we did not see any evidence of solar panels or wind turbines anywhere which struck us as odd, given the artistic nature of some residents and the 'Green' image of California. Perhaps this is a legacy from an old lease condition?
The best way to see these houseboats is on foot and the easiest places to do a walking tour of a wide variety of houseboats is either:
Around the northern Gate 5 Road area (Liberty Dock, Issaquah Dock, South 40 Dock and Main Dock) or
Gate 6 Road Waldo Point Harbor area (Kappa's Marina, Gate 6 1/2 Road behind the seaplane and heliport area).
If you want to tour all the docks allow 45 minutes to an hour. We only toured Liberty, Issaquah and Main Dock but the residents we met were friendly and openly discussed life on the houseboats. They told us it has a close-knit community feel and they are always safe from earthquakes and wildfires. They don't believe they can be assured of this on the mainland. They were very interested to know that we had come 'all the way from Australia' and were amazed that there was nothing similar in Australia given 'all our coastline'. I expect they thought Sydney Harbour should have something like Sausalito. I can't really see this happening at say, Rose Bay!
In order to meet our ferry, we opted for the local bus rather than the return walk. After this fascinating but tiring walk, we definitely recommend the bus for the return trip.
Sausalito has a mild climate and is lovely year-round so make a day of it. Most restaurants and shops are open from 10am to 5pm or so. Stick around at sunset to see the Bay and San Francisco skyline surrounded by a pink and orange sky, or mist and fog! Either way, it's spectacular.
Been travelling? Travel at 60 wants to publish your story. Simply sign up as a contributor and submit your stories. When your story is published, you'll go into the draw to win some great weekly prizes. You can also join the Travel at 60 Travel Lovers Club on Facebook to talk to other travellers in the Travel at 60 community.