Are older people represented fairly in the media?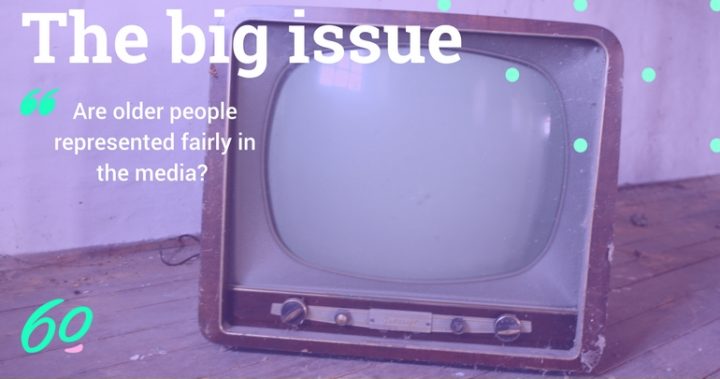 How fairly do you think people over the age of 60 are represented in the media?
At Starts at 60, we make it our mission to create an inclusive and vibrant online environment for our community, but a new study suggests people in their 60s and beyond don't actually think that advertising and the mainstream media at large is doing them justice.
New research by YouGov asked Baby Boomers (people born between the mid-1940s and mid-1960s) whether they saw people who looked, acted and had similar views to them in media and advertising..
Just one in three said they felt they were being well-represented, while an incredible 55 per cent felt bad when it came to how they were portrayed by the media.
It's not hard to see why people feel this way.
Ad. Article continues below.
---
Starts at 60 is tackling one big, social issue each day, providing a place for readers to debate and discuss the topics that matter to us all. Tell us what you think, share your knowledge, and debate your point!
---
When was the last time you saw a commercial depicting an older person as a vibrant, intelligent individual with something meaningful to say?
Just last week. 25-year-old model and actress Cara Delevingne was named the face of Dior's anti-ageing skincare product.
Ad. Article continues below.
Read more: What's the right age to be the face of an ant-ageing campaign?
The advertising campaign saw plenty of backlash online, with many questioning how a twentysomething ended up spruiking a product for women more than double her age.
The house of Dior is delighted to announce that @Caradelevingne is now the face of the skincare line « Capture ». #diorforyouth pic.twitter.com/CpEF2Aop3K

— Dior (@Dior) October 24, 2017
One person wrote: "Dior chooses 25-year-old Cara Delevingne as the face of its Anti-Aging products. Now 25 is the new old?"
Ad. Article continues below.
Another message read: "Beautiful Cara is 25. I'm 51 and I'm our target audience for Capture. It's a wrinkle cream. This is unfair to her, and to me!"
A third added: "She's lovely. Perhaps her mother or grandmother would be best suited to promote this product."
And it's not just advertisements Baby Boomers feel excluded from – they've also seemingly been banished from prime-time TV shows to make way for younger actors that appeal to younger audiences.
For example, Channel 9 recently announced that hit quiz show, Talkin' 'Bout Your Generation, would be making a return in the new year.
In the past, the show had seen three generations battle it out in several rounds of general knowledge questions. Next year, however, the Baby Boomers will not be included and will be replaced by Generation Z, with host Shaun Micallef telling news.com.au that the Baby Boomers had had their day.
Ad. Article continues below.
He explained: "For once in their miserable lives they won't be dominating. I'm a Baby Boomer – maybe I'm the representation actually."
Still, it's not all doom and gloom.
Older celebrities such as Helen Mirren and Jane Fonda have been the face of many beauty products.
In fact, they recently outshone some of today's up-and-coming celebrities at Paris Fashion Week by modelling as part of L'Oreal's show. And Fonda has attracted a new generation of fans with her hit series Grace and Frankie becoming one of Netflix's biggest successes in recent years.
— Grace and Frankie (@GraceandFrankie) March 30, 2017
Ad. Article continues below.
Read more: Helen Mirren dominates the runway for L'Oreal Paris fashion show
The show follows a pair of women in their 70s who form an unbreakable bond when their husbands both come out as gay and admit that they've been having an affair.
We're not saying that older people aren't appearing on screens, but simply questioning whether it's a fair portrayal of who they really are.
Do you think the media and advertising does a good job of representing older people? Do you think TV shows and advertising campaigns need a reality check?