Turnbull's approval rating plummets in wake of Joyce scandal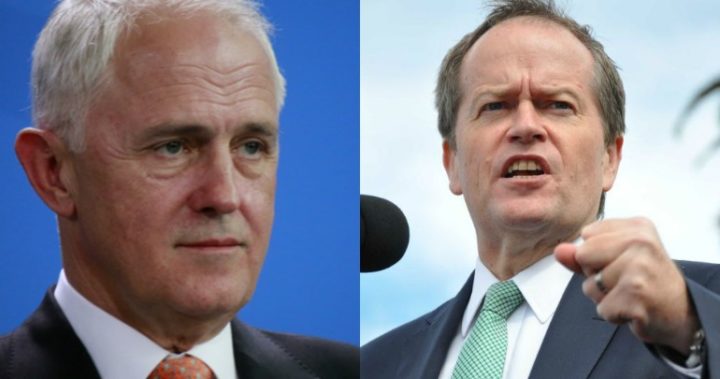 He had a weekend of fun and frivolity at Mardi Gras, but Malcolm Turnbull is waking up with a headache of a different kind this morning.
The latest Newspoll, published in The Australian, shows the PM has lost his 28th poll in a row on a two-party preferred basis, and to add salt to the wound, his once steady personal approval rating has plummeted in the wake of the Barnaby Joyce baby scandal.
Opposition leader Bill Shorten has surged up the ranks and now trails Turnbull 35 per cent to 37 per cent. That's a four-point increase since February 1 and a scary wakeup call for Turnbull, who had a 14-point lead on Shorten when Parliament returned from its summer break.
In more good news for Labor, the Opposition has maintained its 53-47 two-party-preferred lead over the Coalition, propelling Turnbull dangerously close to his self-imposed deadline of 30 poll defeats — the number that prompted him to oust predecessor Tony Abbott.
The PM has always maintained he would step down if he ever lost 30 Newspolls in a row, but he's stayed steadfastly quiet on the issue as the cutoff approaches.
Ad. Article continues below.
The results are disappointing for Turnbull, who returned from a successful trip to the United States last week where he held trade talks with President Trump. The dip in his approval rating is an indication that the ongoing scandal around former deputy Joyce continues to hurt his reputation as an effective leader.
Joyce, who official resigned as National Party leader and deputy PM last Monday, added further fuel to the fire at the weekend when he revealed the paternity around partner Vikki Campion's baby is a "grey area".
In an exclusive interview with Fairfax media, Joyce said he was out of the country for most of the critical conceiving period, but that he would raise the child as his own regardless.
According to Fairfax media reports, Joyce was in Europe on a 10-day business trip with his wife Natalie in June 2017, when the baby was conceived, while Campion was located in north Queensland.
Even without a paternity test, Joyce is convinced the baby is his.
Ad. Article continues below.
"It's mine … And can I say, even if it wasn't, I wouldn't care, I'd still go through this, I'd still love him," he said.
Joyce also said in the interview that he didn't intend on getting a paternity test to settle the "outrageous" rumour.
Do you think Turnbull will step down if he loses 30 polls in a row? Would you rather he stepped down or fulfilled his term in office?