Barnaby Joyce says the paternity of his partner's baby is unclear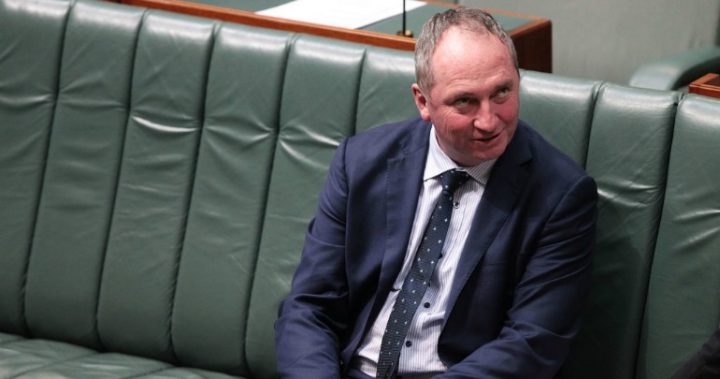 In an exclusive interview with Fairfax media, Barnaby Joyce says the paternity of his partner Vikki Campion's baby is unclear adding that he and his lover had been apart for most of the critical conceiving period. According to Fairfax media reports, Joyce was in Europe on a 10-day business trip with his wife Natalie in June 2017, while Campion was located in north Queensland.
Joyce came out and openly responded to paternity questions after reading an article in Saturday's Sydney Morning Herald and The Age, which reported the question of the baby's paternity was a big topic in the Parliament House rumour mill.
"How could they know?" Joyce told Fairfax media. "They never even asked if it was Joyce's bundle."
Fairfax reports that it did, in fact, witness an email sent by the Daily Telegraph ahead of its original story outing Joyce and his pregnant adviser that asked if the then-deputy PM was the father of the child. Joyce refused to answer any questions put to him by the Daily Telegraph at the time.
He said that while the paternity of the child was a grey area, he would still raise the child as his own.
Ad. Article continues below.
Even without a paternity test, Joyce is convinced the baby is his, "It's mine … And can I say, even if it wasn't, I wouldn't care, I'd still go through this, I'd still love him." he said.
Joyce also said in the interview that he didn't intend on getting a paternity test to settle the "outrageous" rumour. Campion, who is due to have her child in April was photographed flying out of Canberra last week with Joyce.
Joyce resigned from his role as the leader of the National Party and as the country's deputy prime minister last Monday after a West Australian woman accused him of sexual misconduct. Barnaby quickly called the accusations–printed in an ABC report– "spurious and defamatory", vehemently denying that such events took place. 
On the Tuesday after his resignation, Joyce wished his successor Michael McCormack "the very best" and said that he would be satisfied on the backbench.
"For any person in that position, I do nothing more than wish them the very best on behalf of our nation because that is what the job is for," he said, reports Fairfax.
Ad. Article continues below.
When asked if he planned on returning to the top job one day, Joyce refused to rule out the idea.
"I never rule anything in or anything out, right, because otherwise later in life you look like a hypocrite … I don't expect to ever return." he said.
Joyce and Campion are reportedly on the hunt for a new home along the NSW north coast to escape the relentless media attention. The pair were living rent-free in an Armidale townhouse owned by a multi-millionaire ­businessman Greg ­Maguire.
Ad. Article continues below.
Joyce and Campion's baby is reported to be due around Joyce's 51st birthday in April.
Do you think Barnaby Joyce will ever return as Nationals Leader? Would you support him?
With Facebook removing news sites from your feeds we ask that you sign up for Starts at 60's emailers here. And to keep us on your wall, join some of our new Facebook groups and clubs:

News Junkies Club – Australia
News Junkies Club – USA 

See news on the change and links to all our other clubs and groups here.