Step up or step down: Abbott challenges Turnbull on leadership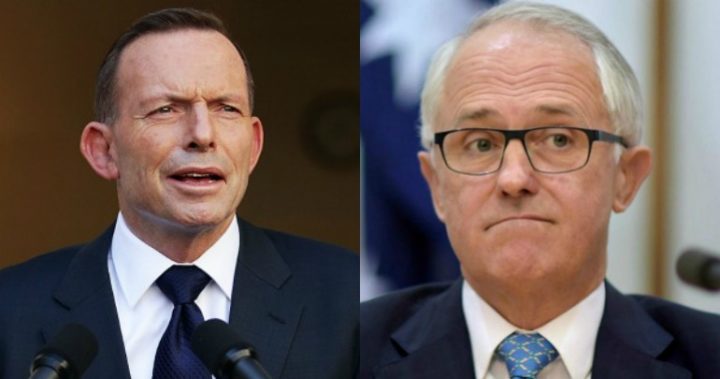 Former Prime Minister Tony Abbott has hit out at Malcolm Turnbull saying the PM will have a lot of explaining to do if he loses 30 polls in a row.
Speaking with Ray Hadley on 2GB radio this morning, Abbott chastised the prime minister over his latest poll results and warned he never should have gambled his leadership on the fickle measurement. 
The latest Newspoll, published in The Australian on Monday, revealed Turnbull had lost his 28th poll in a row on a two-party preferred basis, with his personal approval rating also taking a hit in the wake of the Barnaby Joyce baby scandal. 
In 2015, Turnbull used poor polling as a key weapon in overthrowing Abbott's leadership. At the time Turnbull said, "The one thing that is clear about our current situation is the trajectory. We have lost 30 Newspolls in a row. It is clear that the people have made up their mind about Mr Abbott's leadership."
On Monday, Abbott said that if Turnbull loses 30 polls in a row it would be "up to him to tell us all why the test doesn't apply in his case".
Ad. Article continues below.
"I never made the polls the be all and the end all," he said. "I never turned the poll into the ultimate test of leadership. It was someone else who did that. It was the Prime Minister who set this test and I guess if he fails the test it will be the Prime Minister who will have to explain why the test was right for one and not right for the other."
When asked about the political scandal on everyone's lips, Abbott also expressed shock at the situation his mate Joyce has found himself in, admitting: "Barnaby has certainly had a pretty messy time of things."
Abbott has been a staunch supporter of Joyce throughout the scandal, even commenting on Twitter that Joyce's move to the backbench would be a "loss for the government".
Barnaby Joyce's move to the backbench will be a loss to the government: https://t.co/35YJ8tDfu5

— Tony Abbott (@TonyAbbottMHR) February 23, 2018
Ad. Article continues below.
When asked for his thoughts on a story published by Fairfax at the weekend, in which Joyce admitted the paternity of his partner Vikki Campion's child was a "grey area", Abbott remained coy.
"Please tell me that your jaw dropped as you either read or were told what he was saying in Fairfax newspapers on the weekend?" Hadley asked Abbott.
"I think that was a pretty common reaction and I shared the common reaction," Abbott replied diplomatically.
Should Turnbull step down if he loses 30 polls in a row? Have you become disenchanted with Turnbull's leadership or do you think he makes a good PM?
Ad. Article continues below.
With Facebook removing news sites from your feeds we ask that you sign up for Starts at 60's emailers here. And to keep us on your wall, join some of our new Facebook groups and clubs:

News Junkies Club – Australia
News Junkies Club – USA 

See news on the change and links to all our other clubs and groups here.