Malcolm Turnbull flags postal survey in Australian republic debate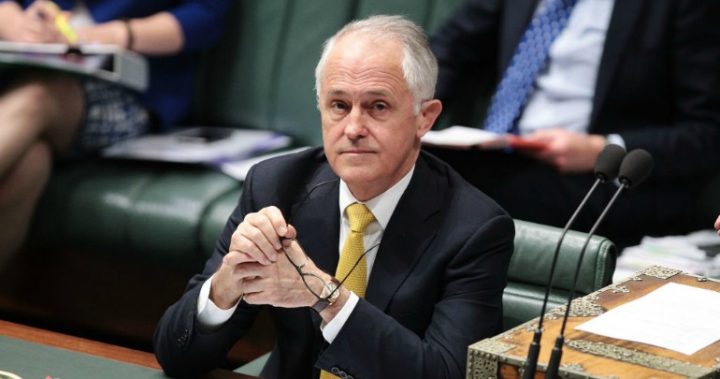 Malcolm Turnbull has flagged a postal survey to gauge public reaction once again to an Australian republic.
Just hours ago, former Prime Minister Paul Keating hit out at his five successors – including Turnbull – claiming they have "broken the nation's heart" by not transitioning the country from a monarchy to a republic.
Now Turnbull has fired back, insisting a referendum shouldn't take place during the Queen's reign – but it may be possible after she steps down.
The question was first put to the public in a referendum in 1999, but failed to gain support.
At the time, Turnbull himself headed the campaign, while Keating was in power, and he's now declared a postal survey could be one way to start off a national debate on the Republic.
Ad. Article continues below.
Read more: 'How pathetic': Paul Keating slams PMs over Australian republic
He said there was no point "pretending that there is an appetite for change when there isn't one", and cited the success of the marriage equality survey.
"We all say long live the Queen and we say that with great sincerity and love," he told the Australian.
"If you are asking me how you would go about it in the event of the issue becoming live again I think the first thing that you would need to do is to have an honest open discussion about how a president would be elected … (and) whether the president would be chosen by parliament in a bipartisan two thirds majority — as proposed in '99 — or directly elected."
Cabinet papers for 1994-95, released by the National Archives of Australia this week, stated that the main issue Keating would have faced with cutting ties to the monarchy was the way in which an Australian president would be appointed.
Ad. Article continues below.
Back in 1995, Keating proposed a plan for a head of state to be elected by both houses by a two-thirds majority at a joint sitting of Parliament.
At the time, he revealed hopes for Australia to become a republic by 2001, and warned against any model that proposed a popularly elected president – insisting appointment by Parliament would provide "effective safeguards in respect to the calibre and non-partisanship of candidates".
Read more: Let's talk: Should Australia become a republic?
However, the newly released papers reveal AGB McNair polling in February 1994 showed support for the direct election of a president was at a staggering 91 per cent – with just 3 per cent public backing for his favoured model, the Herald Sun reports.
He forged ahead nonetheless, and lost the national referendum in ­November 1999.
Ad. Article continues below.
Keating has since slammed PM's John Howard, Kevin Rudd, Julia Gillard, Tony Abbott and Turnbull, insisting they haven't done enough to severe ties with the British monarchy, and establish a republic.
He famously appointed Turnbull to head the Republic Advisory Committee in 1993 during his time in power, and Turnbull fully supported the move at the time.
But now Keating has turned on the prime minister – calling him out for failing to deliver on his former beliefs.
"He has little or no policy ­ambition and commensurably little imagination, no system of prevailing beliefs," Keating told the publication. "Was (his republicanism) just Malcolm being another chameleon doing another chameleon act as he has on so many other things? You know, I was real but is Malcolm real?"
Turnbull has since responded to the publication, saying: "I don't know what's prompted Paul to come out swinging at everyone. He seems to be critical of every prime minister and former prime minister apart from himself… It must be good for Paul to feel that he's without fault or blemish, but in the real world we gave it a red hot go in '99."
Would you vote for a Republic? Or do you prefer the monarchy of the present day?