Gina Rinehart's son calls for Barnaby Joyce to stop wearing Akubra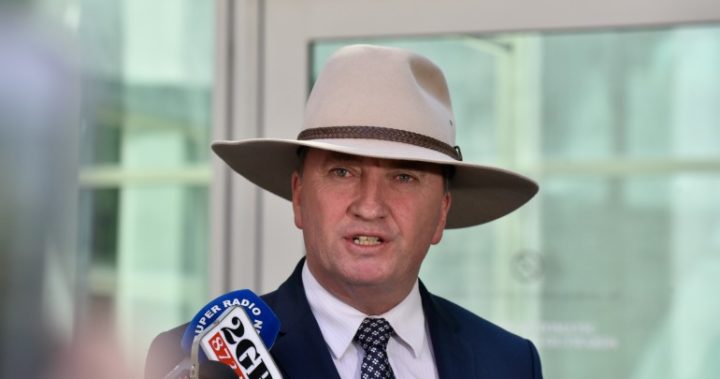 Australia's deputy prime minister Barnaby Joyce has upset a lot of people in recent weeks and it looks like he can add Gina Rinehart's son to the list.
John Hancock, a businessman and estranged family member of Gina Rinehart, has suggested that it's disrespectful for Joyce to wear his trademark Akubra hats, given the current scandal he finds himself in. Whether he's speaking at press conferences or walking around Canberra, the Akubra has become a staple part of Joyce's outfit.
Joyce's personal life has been made very public in recent times, following the news that he'd had an affair with a young staffer. The lady, Vikki Campion, is now pregnant with Joyce's child.
Hancock has suggested that he has no place wearing the iconic Australian hat for his political gain and even set up a petition to ban the 50-year-old from wearing the hat.
"That Barnaby Joyce should stop wearing Australian symbolic items for his political advantage," he wrote. Although he closed the petition after just half an hour because he didn't want to discourage anyone from protecting themselves against the sun, he still stood by his original statement that Joyce shouldn't be wearing the hat for personal advantage.
Ad. Article continues below.
"The aim of this was to highlight the politicisation of Australian symbols by someone who many people have suggested does not represent such ideals," he said. "Barnaby wore the hat indoors, at inside formal occasions and has been associated with the hat to the extent its a reference to him in newspapers."
He pointed out that the Akubra hat has been worn by an array of great Australians throughout history, suggesting that those who did showed the world Australia's loyalty, bravery and selflessness. Hancock insisted that these ideals were something that Joyce hadn't lived up to.
"This hat, a symbol of National pride, has now been associated with Barnaby to the extent it is used on front pages of newspapers in a manner that undermines the core values of Akubra and many Australians that also consider this a special symbol," he said. "And a symbol to the people in Australia who put others first- instead of perks, private air travel, and the favours of being a politician who appears to care only for themselves and holding onto power."
Earlier in the week, prime minister Malcolm Turnbull suggested that Joyce's actions didn't just hurt him, but also impacted the lives of his wife, Natalie, their kids, as well as his new partner. As a result, he chose to update the ministerial code that banned sexual relationships between ministers and staffers.
Joyce slammed Turnbull's comments, suggesting that they only made matters worse for him and his family. "In regards to comments made by the prime minister yesterday, I have to say in many instances they caused harm, these were in many instances inept and in many instances unnecessary," he said on Friday.
Ad. Article continues below.
What do you think? Should Barnaby Joyce be banned from wearing the Akubra?
---
With Facebook removing news sites from your feeds we ask that you sign up for Starts at 60's emailers here. And to keep us on your wall, join some of our new Facebook groups and clubs:

News Junkies Club – Australia
News Junkies Club – USA 

See news on the change and links to all our other clubs and groups here.