Turnbull savages Joyce: Shocking error brought 'world of woe' on family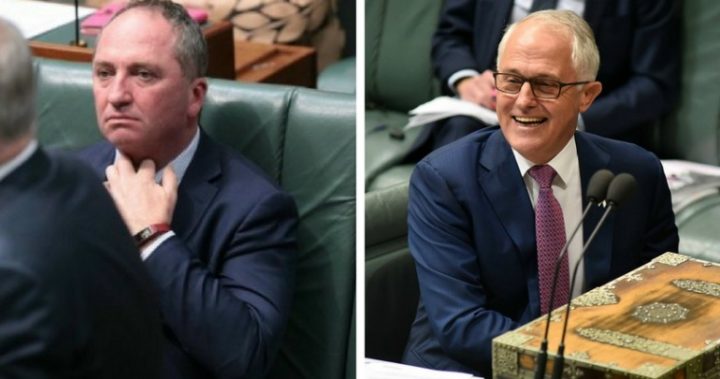 Barnaby Joyce made a shocking error of judgment that had brought about a world of woe for his wife and daughters, Prime Minister Malcolm Turnbull has said in a gob-smacking press conference in which he addressed the deputy prime minister's extramarital affair.
"I think we know that the real issue is the terrible hurt and humiliation that Barnaby, by his conduct, has visited upon his wife, Natalie, and their daughters and, indeed, his new partner. Barnaby made a shocking error of judgement, in having an affair with a young woman working in his office," Turnbull said. "In doing so, he has said off a world of woe for those women and appalled all of us." 
It was the first time the government had openly acknowledged that the Nationals leader Joyce had had an affair with a young woman who was his staff member – something Joyce has skirted around acknowledging in his own statements on the issue. The woman, Vikki Campion, is now pregnant with Joyce's child.
The prime minister said that while Joyce may not have breached the letter of the ministerial code of conduct with his actions, he had certainly breached the spirit of it.
"His situation is not uncommon, marriages do break up, people have affairs with others, of course, but here in this place, we have such important responsibilities … and we have to acknowledge that we must have higher standards," Turnbull told a crowd of reporters. "They must not have sexual relations with their staff, that's it."
Ad. Article continues below.
Turnbull said that as a result, he was updating the ministerial code as of today to make it a breach to have such a sexual relationship. The change was not retrospective, he said.
"I have today added to the standards are very clear and unequivocal provision, ministers, regardless of whether they are married or single, must not engage in sexual relations with a staff," he said, noting that the original code had been drafted long ago and was "truly deficient" in dealing with today's issues.
Turnbull said, however, that Joyce had given him an "unequivocal assurance" that he had not breached the words of the un-updated code. Questioned by reporters, Turnbull added that he did not believe that Joyce had breached the code by asking for free rent from a millionaire friend with whom the pollie had been staying after his marriage split.
The PM left the issue of Joyce's political future with the National Party, saying that it was matter for them, while adding that the party is "our coalition partners" in a tone that could be have been interpreted to mean he expected action from the Nationals.
More to come on this breaking news story.