Joyce accuses Turnbull of 'ripping the scab' off with harsh words over affair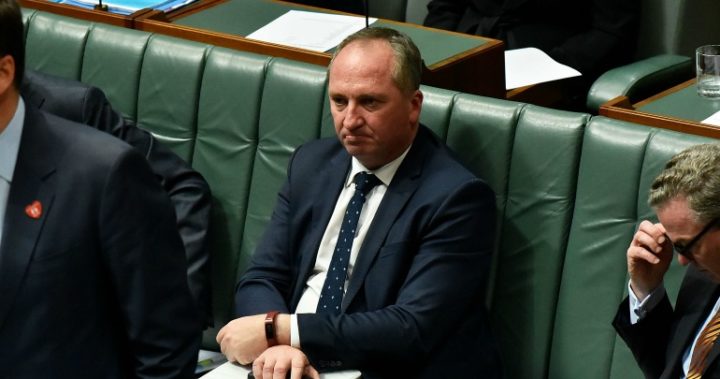 A visibly angry deputy prime minister Barnaby Joyce has slammed Malcolm Turnbull over comments the PM made yesterday regarding Joyce's baby scandal, saying the criticism made the situation worse.
During an unscheduled press conference today, Joyce, who as the leader of the National Party is key to the federal coalition government headed by Turnbull, also made clear he was digging in his heels amid calls for his resignation, even going as far as to imply that Turnbull's criticism made it less likely his party would turf him out despite the embarrassment he's brought on it.
He began the press conference by apologising again to the people he'd let down by cheating on Natalie Joyce, his wife of 24 years and the mother of his four daughters, with his media adviser, Vikki Campion, who's now having his baby. "I'm incredibly sorry for the hurt I've caused Natalie, my daughters and Vikki since my marriage breakup last year," he said.
He also thanked the people of his electorate, New England, for their continued support, but made it apparent that he felt he had not received the same support from the prime minister. Yesterday, Turnbull told another unscheduled press conference that Joyce's affair showed appalling judgment and that it had brought a "world of woe" on the Nationals leader's family.
"In regards to comments made by the prime minister yesterday, I have to say in many instances they caused harm, these were in many instances inept and in many instances unnecessary," Joyce said today. "I listened to it and I thought that's completely unnecessary, that's only going to pull the scab off. It was public knowledge that was being repeated. All it does is reinvest in the hurt."
Ad. Article continues below.
Joyce had previously denied any wrongdoing amid accusations he may have misused public funds when helping his mistress win two jobs with other members of parliament. He also denied that he should have entered rent-free accommodation he received from a millionaire pal after his marriage break-up in the pecuniary interests register kept by parliamentarians.
Today he doubled down on that claim, saying that the new home was necessitated by death threats he'd received.
"In my time in politics, I've had multiple death threats, the most recent has been charged, convicted and awaiting sentence," he said. "I had to find somewhere that was secure and anonymous, which I didn't have before."
And despite the scandal playing out in the public eye, Joyce was adamant that didn't think he needed to resign as leader of the Nationals or from his political seat. "My [National Party] colleagues support me and we have a job to do," he insisted. "This was a personal issue, and I don't think anyone should resign in any job over personal issues."
Turnbull made clear yesterday that that while Joyce may not have breached the letter of the ministerial code of conduct with his actions, he had certainly breached the spirit of it.
Ad. Article continues below.
"His situation is not uncommon, marriages do break up, people have affairs with others, of course, but here in this place, we have such important responsibilities … and we have to acknowledge that we must have higher standards," the prime minister said. As a result, he said he was updating the ministerial code to make it a breach to have such a sexual relationship.
"I have today added to the standards are very clear and unequivocal provision, ministers, regardless of whether they are married or single, must not engage in sexual relations with a staff," Turnbull said, noting that the original code had been drafted long ago and was "truly deficient" in dealing with today's issues.
He also implied that he expected the National Party to act on Joyce's future, saying that his leadership was a "matter for" the party.
Joyce's relationship with his former adviser hit the headlines last Wednesday when the Daily Telegraph published a picture of a pregnant Campion and reported the pair were now living together and expecting a baby.
---
Ad. Article continues below.
With Facebook removing news sites from your feeds we ask that you sign up for Starts at 60's emailers here. And to keep us on your wall, join some of our new Facebook groups and clubs:

News Junkies Club – Australia
News Junkies Club – USA 

See news on the change and links to all our other clubs and groups here.