Barnaby Joyce quits as Nationals leaders and deputy prime minister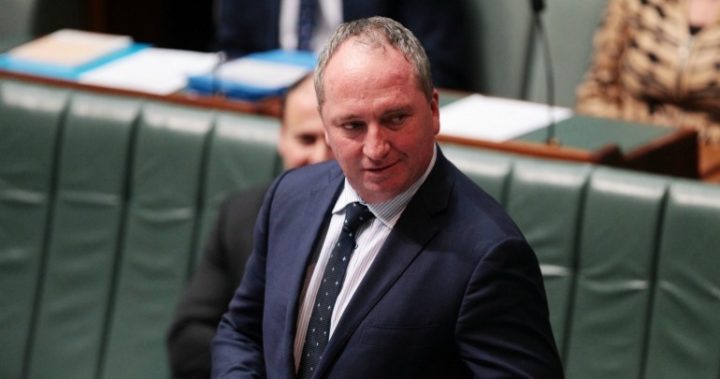 Barnaby Joyce has fallen on his own sword after weeks of pressure, saying he will resign on Monday as the leader of the National Party and as the country's deputy prime minister.
Joyce had resisted calls to resign as leader of the National Party and thus as deputy prime minister since news of his long-running affair with his media adviser, 33-year-old Vikki Campion, broke almost two weeks ago. Joyce, a father of four daughters with his wife Natalie, is due to become a father for the fifth time when Campion gives birth to his son in April. 
But his decision came after Prime Minister Malcolm Turnbull declined to endorse Joyce as his deputy, when he was quizzed on the issue during a trade visit to the US. "The leadership of the National Party is a matter for the National Party," Turnbull told reporters in Washington DC. 
Also, the ABC reported today that Joyce faces fresh allegations of sexual harassment. The ABC reports a West Australian women has accused Joyce of harassment, but he has vehemently denied the claim, calling it "spurious and defamatory". He has previously threatened legal action against the Daily Telegraph over its reports that he pinched the buttocks of a woman at a 2011 awards event.
A clearly embittered Joyce said that he wanted the claims of sexual harassment to be referred to the police so he could defend himself, but added that "it's quite evident that you can't go to the dispatch box while issues like that are outstanding". He said he wanted his party to have clear air to represent the people of small towns across Australia. 
Ad. Article continues below.
"There's been a litany of allegations, and I don't believe any of them have been sustained," he said of the claims made against him. "The leaking, the backgrounding, it'll not only destroy our government, it'd destroy any government.
"It's absolutely important that there be a circuit breaker not only for the parliament but a circuit breaker for Vikki, for my unborn child, for my daughters and for Nat," he said, then joked about the camera crews that were currently waiting outside his house. "I think it's gotta stop for the poor buggers who're parked outside my house every day, they've gotta go home."
Read more: Malcolm Turnbull refuses to endorse Barnaby Joyce as Nationals leader
He said he had been humbled, however, by the support of his electorate of New England.
"I want to thank the people of New England. I am so humbled, while walking around Armidale … they were so good, offering their support. The people of Tamworth the same, the people in small towns. I am so humbled," he said. "I don't deserve the support you've given me."
Ad. Article continues below.
Joyce said he'd return to the backbench but would definitely contest his seat at the next election, saying that he never claimed to not be "rough around the edges" but that he was dedicated to improving the lives of people who may not have inherited wealth, been born to the "best family" or had access to an excellent education.
Turnbull responded to his deputy's resignation in a muted fashion, thanking Joyce for his service and praising him as a "fierce advocate for rural and regional Australia".  "The coalition between the Liberals and the Nationals is Australia's most successful political partnership, having endured for more than 95 years," Turnbull added. "This partnership is undiminished and will continue to deliver opportunity and security for all Australians."
Read more: Joyce comes out fighting: 'My morals are only an issue for me and God'
The Nationals leader was due to face his own party room on Monday, where colleagues were to vote on his continued leadership. In a feisty interview with the Sydney Morning Herald on Wednesday, Joyce insisted that he had the support of colleagues, despite the withdrawal of backing from the West Australian Nationals wing.
Illustrated with pictures of a defiant Joyce in the "bachelor pad" he has lived in rent-free for the past six months at the behest of a millionaire mate, the SMH interview made clear the deputy PM felt no contrition over his affair, with Joyce insisting that his personal behaviour wasn't an issue for voters.
Ad. Article continues below.
"This should be a very simple story – a bloke whose marriage broke down is in a relationship with another person and they are having a child. Now it seems to have gone into some sort of morality discussion. That's between me and my God. I can understand how Natalie can be angry, absolutely, but how it's other people's business, I don't know," Joyce told the SMH.
He reiterated that point during his resignation press conference, saying that he did not believe that his personal relationships should be news fodder.
Do you think Barnaby Joyce should've resigned more quickly? Or should he have stood his ground and faced down his critics?