Joyce comes out fighting: 'My morals are only an issue for me and God'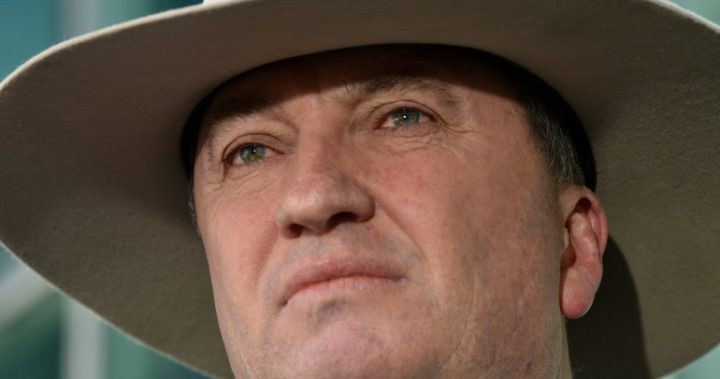 A defiant Barnaby Joyce has used his week's leave from parliament to launch a media offensive designed to rebuild his public image. He isn't going about it via the subtle route, though, but with a very cranky interview with the Sydney Morning Herald.
The Nationals leader had apparently decided to come out fighting, declaring that his morality was a matter only for him and God, and saying that he would have lied to Malcolm Turnbull had the prime minister asked him directly if he was having an affair with his media adviser Vikki Campion.
Illustrated with pictures of a defiant Joyce in the "bachelor pad" he has lived in rent-free for the past six months at the behest of a millionaire mate – he and pregnant partner Campion are in the process of moving out due to what Joyce says is media intrusion – the interview makes it clear that contrition isn't something the deputy prime minister is feeling, or at least willing to put on public display.
Despite having brought moral issues into the public arena during the same-sex marriage debate and other political discussions, Joyce says his own person choices aren't the public's business. 
"This should be a very simple story – a bloke whose marriage broke down is in a relationship with another person and they are having a child. Now it seems to have gone into some sort of morality discussion. That's between me and my God. I can understand how Natalie can be angry, absolutely, but how it's other people's business, I don't know," he told SMH reporter James Massola.
Ad. Article continues below.
(Among many other instances, Joyce in the past having expressed fears that government funding of a cervical cancer vaccine could cause teenage girls to become promiscuous, argued that a traditional marriage between a man and a woman was the "best protection" for his own daughters, and chose not to support same-sex marriage legislation that removed a governmental restriction from the private lives of Australia's gay citizens.)
Joyce also told the SMH that Turnbull never directly asked him about his relationship with Campion.
"He never asked any direct questions and to be honest, if I believed it was private, I wouldn't have told him either," Joyce said. "If I think something is private and not in breach of the code, I don't think it's other people's business."
That his role in obtaining Campion jobs with two other Nationals MPs was above board was something Joyce reiterated in the interview, while Campion attempted to demolish reports that she was highly paid in her roles in Joyce's offices as well as with Matt Canavan and Damian Drum, even showing the newspaper her payslips from the period. The payslips showed that Campion was paid about $133,000 a year by Joyce, $138,000 a year by Canavan and $135,000 a year by Drum, Massola wrote.
Joyce was also adamant that the unwelcome public attention over the son he's expecting with Campion – the baby is due in April – would not affect his feelings for the child. Joyce has four daughters with estranged wife Natalie.
Ad. Article continues below.
"I don't pick winners, I'm not gonna love one more than another, but I'm not going to love one less than another either," he said. "I don't want our child to grow up as some sort of public display. I have to stop it from the start. It's a fact we are having a child, it's a fact it's a boy, it's not more or less loved than any of my other children."
The Nationals leader isn't just working to win back hearts and minds through the media. He also met party members at a hotel in his electorate on Wednesday, telling The Australian that he had really strong support from the grassroots. Joyce is due to face the nationals party room on Monday, after colleagues were reportedly given a week to spend in their own electorates so they could judge the mood of supporters on the ground.
A Newspoll found that 65 per cent of Australians more generally though Joyce should step down as leader of the Nationals, which govern Australia in a coalition with Turnbull's Liberal Party. This week the West Australian branch of the Nationals withdrew support for his leadership, saying his behaviour had damaged the party's image.
But Joyce told Prime 7 in Armidale during his grassroots gathering that his private life had no impact on his ability to lead his party, and that he was confident he retained the support of the majority of his colleagues.
"I believe that I have the confidence of my party and the numbers in my party and I'm never scared of democracy," he said.
Ad. Article continues below.
Do you think politicians can pick and choose when to bring morality into the public debate or is it one rule for all? Does an MP's moral code hold any importance for you?
Ad. Article continues below.