Duchess of Cornwall rocks a polka-dot dress and bold red skirt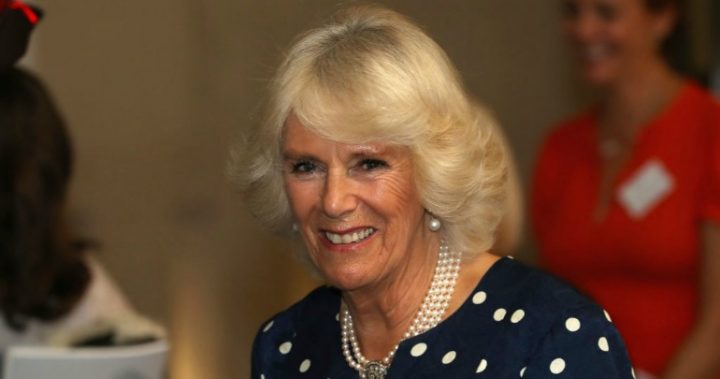 The Duchess of Cornwall has certainly come out of her style shell in recent years and her latest colourful display in London is further proof her new look is here to stay.
Camilla turned heads in two bold looks on Monday, first appearing at the Women of the Year Lunch in a blue polka-dot dress and later stepping out in an embroidered red skirt and black jacket at the Royal Academy of Arts in Piccadilly to launch its RA250 Friends Membership scheme.
It's not the first time the Duchess has sported her spotted dress, which has become somewhat of a favourite over the past year. On Monday, she chose to pair it with her trademark pear necklace and nude heels.
Ad. Article continues below.
The royal gave a moving speech at the women's event where she praised those present for their hard work and even poked fun at her age.
"Now, 'Women of the Year' was founded in 1955, and I am afraid to say that I am probably one of the few women here who can actually remember that date," she laughed.
"I can assure you that, in those distant days, it was almost unheard of for women's achievements to be recognised, let alone celebrated."
She went on to encourage women "from all walks of life to unite" and stay strong together.
"As the Victorian writer Matthew Arnold observed, 'If there ever comes a time when the women of the world come together purely and simply for the benefit of mankind, it will be a force such as the world has never known'," she said.
Ad. Article continues below.
"I think we can see, from those of you gathered here today, an insight into what can be achieved by women who work together to uphold their communities or their beliefs. You all represent, not only yourselves and your own achievements, but also the millions of remarkable women who make a difference every day.
"I salute you all – for your courage, selflessness and dedication."
Later, the Duchess changed into a bright embroidered red skirt for the Royal Academy of Arts event and was presented with a posy by a young fan.
Ad. Article continues below.
Read more: Duchess of Cambridge dances in the street for a good cause
Read more: Thrifty Charles and Camilla recycle outfits for fancy flower show
Are you a fan of the Duchess' style? Do you agree with her thoughts on women uniting?