Thrifty Charles and Camilla recycle outfits for fancy flower show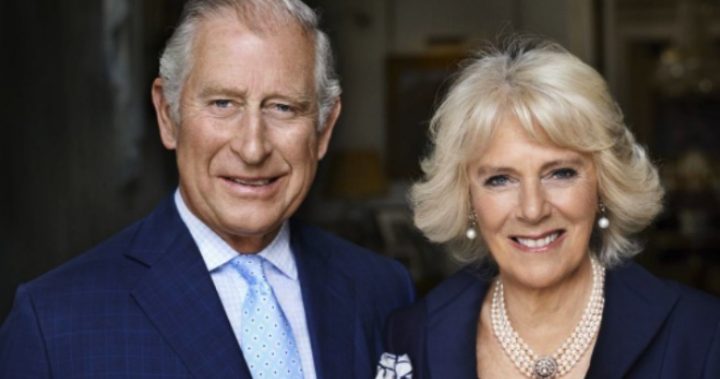 A little rain couldn't stop crowds turning out to meet Prince Charles and Camilla, the Duchess of Cornwall, at the Sandringham Flower Show.
Charles and Camilla arrived by horse-drawn carriage, armed with umbrellas to combat the drizzle.
As they made their way along the line of people gathered to greet them, the Prince of Wales and Duchess of Cornwall stopped for a chat and accepted the gifts and bouquets of flowers that were carefully sheltered from the rain.
Ad. Article continues below.
Cosy against the looming chill, Camilla wore a white dress with navy polka dots, teaming the look with a blue blazer and bronze clutch.
Fans of the royals may recognise the much-loved ensemble, as Camilla wore the exact same outfit to Wimbledon in 2011.
The Duchess of Cornwall opted for large pearls on her earrings and necklace, with a gold bracelet on either wrist.
Simple brown pumps with thick heels helped the Duchess avoid any embarrassing falters in the wet grass, while a clear umbrella kept her visible while she made the rounds.
Ad. Article continues below.
Camila didn't hesitate when asked to pose for a selfie with one fan. As the woman snapped a photo, she took shelter under the royal's umbrella.
But it seemed Camilla enjoyed meeting the assembled dogs most of all, crouching in the grass for a quick photo with a wide smile on her face.
Charles was also in high demand as he donned the same outfit he wore on a much sunnier visit to Sandringham Flower Show in 2014: a cream suit, purple shirt and diagonal-striped tie.
Ad. Article continues below.
Using the umbrella as a cane when the weather cleared, Charles smiled delightedly as he was presented with flowers and even a framed photograph of his son, Harry.
The couple toured the marquees and exhibits on their outing, with both looking impressed by the floral displays.
Ad. Article continues below.
Would you like to see the royals recycle more of their outfits?