Nicole Kidman busts a move with daughters at Keith's gig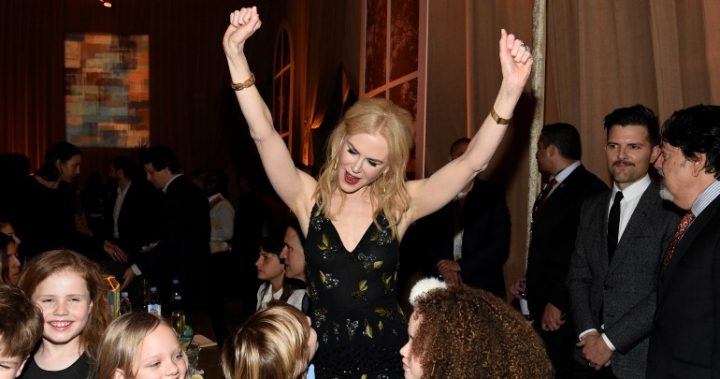 Nicole Kidman proved to be her husband's biggest fan as she danced with her children backstage at his New Year performance.
The actress, 50, was joined by the couple's children Sunday Rose, nine, and Faith Margaret, six, as Keith Urban took to the stage at the Jack Daniel's Music City Midnight: New Year's Eve in Nashville.
Sharing a short clip on her Facebook page, Kidman can be seen wrapped up against the cold in a black hat and coat, as she wildly waves her arms in the air.
Her daughters look equally as enthusiastic as they dance in front of her, with the stage visible behind them.
Ad. Article continues below.
She captioned the sweet video: "Side stage watching Daddy! Happy New Year everyone!"
The star was no doubt showing her appreciation to her husband after he treated her to an array of gifts this Christmas.
Speaking live at the concert, Urban reportedly told the crowd: "I gave Nic a backpack, some amazing jewellery, and umm, things we can't talk about."
Our imagination must run wild, then.
Ad. Article continues below.
It's not the only gift, Kidman has been bestowed with lately. The actress has been sporting a stunning new diamond on her wedding ring finger. 
When country singer Urban proposed over a decade ago, he gifted her a diamond-studded Cartier band featuring three large stones surrounded by smaller stones, estimated to be worth $50,000.
Read more: Did Nicole Kidman upgrade her $50,000 engagement ring?
Considered at the time to be slightly untraditional because it wasn't a great blingy solitaire, Nicole's engagement ring, which she paired with a slightly thinner, equally stone-encrusted band when they married in 2006, was a bedazzling beauty nevertheless.
More recently, the much-loved Australian actress has been seen wearing a huge emerald cut diamond on her ring finger.
Ad. Article continues below.
Photos of Kidman over the last couple of years show her alternating between both rings, although the newer ring makes far more appearances.
Whether it was a 10-year anniversary gift from her husband or a gift to herself to celebrate her many career successes, Kidman looks to be as much in love with Urban as she ever was.
What do you think to Nicole's dance moves?