'I've had my happily ever after': Terri Irwin on dating after Steve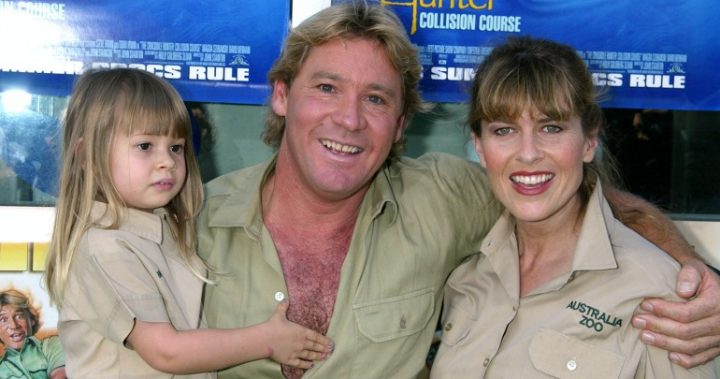 She's been single for more than 10 years, but Terri Irwin isn't planning on entering the dating scene any time soon. The wildlife warrior told People she's content living the single life knowing that she's already had her "happily ever after" with husband Steve.
The 53-year-old said she has no interest in dating, not that it's stopped men — and women — asking her out, and would rather focus on her children and work than romance.
"I think it's wonderful when people who have lost someone find love again, but I'm not personally looking, 
and I haven't been on a date in 27 years," she told the magazine. "In fact, it's been so long, I've had a couple of lovely women ask me out because they figured that's the case.
 But I'm content. I have two beautiful kids, a really full plate. I've already had my happily ever after."
The world was rocked by the news of Steve's death in 2006, after he was impaled in the heart by a sting ray while filming a new TV show in Queensland, Australia. Terri was suddenly a single mother to the pair's two children Bindi, who was eight at the time, and Robert, who was just one.
Ad. Article continues below.
In recent years, gossip magazines have dedicated many pages to Terri's supposed love life, repeatedly claiming she is dating close friend Russell Crowe. The pair have consistently denied they are a couple, and even Bindi was forced to weigh in on the topic during an 2017 interview in which she defended her mother.
"There's lost of crazy rumours," she told E!'s Daily Pop. "You know we do love Russell, but mum and Russell aren't actually in love!"
While she said her "entire family" loved the Oscar winning actor, her late father Steve was still "very much" the love of Terri's life.
"My dad is still very much my mum's soulmate," she said. "And I think that no matter what, Mum always says that they'll always be married."
Ad. Article continues below.
Steve and Terri met in 1991 and married just eight months later. During their 14 years together they turned Steve into an internationally recognised figure and launched a series of conservation projects aimed at protecting wildlife and the environment.
While entering the dating field is a daunting prospect at the best of times, doing it after losing a loved one is even more difficult. It seems Terri has made her decision though and is content living the single life and knowing that she was lucky to spend time with the love of her life.
Have you dated after divorce or death? Do you think there's ever a right or wrong time to get back into the dating field?