Catherine Zeta-Jones' sweet birthday tribute to Michael Douglas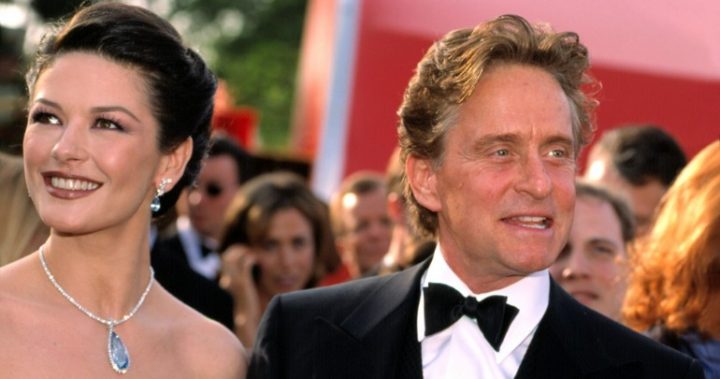 Though Catherine Zeta-Jones and Michael Douglas were born 25 years apart, they share the same birthday: September 25. Zeta-Jones took to Instagram on her 48th birthday (and her husband's 73rd) to share a touching birthday message that gave all of us a blast from the past. 
The image posted to social media was probably taken in either 1998 or 1999, as the couple first met in August 1998 at the Deauville Film Festival. 
"One of our early dates, a boxing fight in Vegas!" the Welsh actress captioned the image. "You got me at round one. Happy Birthday darling." [sic] 
Ad. Article continues below.
In the image, Zeta-Jones looks breathtakingly beautiful, her long dark hair worn in a casual brushed-back style as she surveys the event taking place. Douglas sits beside her, every bit the silver fox at around 54 years of age, sporting a clean-cut grey suit and black dress shirt. 
It looked like it was the end for the couple back in 2013, when they announced their split just a few years after Douglas' bout of throat cancer, and Zeta-Jones' well-documented struggles with bipolar disorder. However, Zeta-Jones and Douglas have since reconciled and seem to be happier than ever. 
Read more: When breaking up is the right thing to do
It's been 19 years since they met, when Douglas reportedly wooed Zeta-Jones with the pickup line "I want to father your children." True to his word, the pair have two children together: David and Carys.
Ad. Article continues below.
Carys, aged just 14, drew attention earlier this month when Zeta-Jones took her on a mother-daughter outing to Carys' first fashion show at New York Fashion Week.
Read more: Catherine Zeta-Jones and Michael Douglas' daughter is all grown up 
While some may be expecting the 14-year-old stunner to follow in her mother's footsteps in the acting world, Zeta-Jones hinted that her daughter may be in line for something a little different. 
"Actress, model, brain surgeon … we'll see," Zeta-Jones said. 
What do you think of the famous couple?