When I contacted Roger to see if he was still interested in getting together, he was. He asked if I would like to accompany him and Alex on a bird watching mission and I jumped at the chance.
"We will be leaving around 5:45am and we will go to the Rafflesia Centre at the Crocker Range and we will be back after lunch," Roger said. It turns out Roger lives in the same condominium as me.
I thought 5:45am was going to be an effort. I'd need to be up around 5am. Early morning rises are not something on our schedule any more since retiring here in Malaysia. However, I was excited about the opportunity and well-prepared. Or so I thought…
At around 8pm my mind went into overdrive. If we were leaving before 6am and not returning until after lunch, I hope that didn't mean we'd be hiking into the thick of the Borneo jungle. I even started to consider what would happen if I needed to go to the toilet in the middle of the bush! I'd been a Girl Guide 'a 100 years ago' and I had done plenty of bush time. I'd enjoyed camping at a younger age, but now preferred a different kind of 'stars' — that's hotel stars, not stars in the sky.
I had concerns about what I should wear. If we were going bushwalking in the jungle then there'd be leeches and snakes not to mention the 'species of insects and animals' in this part of the world that I did't even know about.
Then the self-doubt kicked in. Maybe I shouldn't go, maybe I won't be able to keep up with them (they were much younger than me). I didn't want them to regret taking me and I didn't want to scare the birds away. I decided to text Roger.
In my text I asked what the plan was. "Will we be doing any serious hiking into the bush, or do you just wander around?" I asked. I wanted to get some idea of what I should expect.
He responded, saying: "No hiking at all. At the first place we just sit at the shelter by the roadside by the Rafflesia Centre entrance and the flowering mistletoe is just a few metres from there. We might also go the Gunung Alab substation and see the birds in the area. Also no serious walking … maybe 100 or 200 metres on the road." He reassured me by saying that we'd have breakfast at one of the coffee shops along the way, after we'd collected Alex.
Now don't get me wrong I love walking and we start every day with a 4-5 kilometre walk along the beach, it's just what's lurking in the greenery that I'm not particularly fond of anymore. I felt a great relief. I could definitely do "wandering around, breakfast and coffee". I slept well knowing this and I'm glad I checked.
It was 4:35am and I was awake before the alarm. I was looking forward to the prospect of going bird watching and now that I had all the boxes ticked about the logistics of the expedition I was feeling more excited than nervous.
Both Roger and Alex were really excited as the plan was to find a Whitehead's Spiderhunter, a bird endemic to the island of Borneo. Roger said he'd been waiting more than five years to see this bird. He said there is only ever a 10 per cent chance of seeing it due to its rarity. This bird feeds on the flowering mistletoe, a tall thin tree laden with pink tubular flowers and it has a feeding cycle of every 30 minutes. The Whitehead's Spiderhunter (Arachnothera juliae) is a canopy bird measuring around 18cm in length and is a mottled brown and white in colour. It has a long curved thin beak.
Kota Kinabalu is a popular bird watching destination, with new species still being discovered. On the island of Borneo itself there are approximately 664 species of resident and migratory birds with 51 of them endemic. The best time for bird watching generally is early in the morning and late in the afternoon between October and April. During this time you'll have a good chance of seeing migratory birds, mostly water birds such as sandpipers and plovers from north-east Asia and Siberia feeding in the wetlands.
Global Big Day (the biggest day in bird watching) is held on May 4 each year. More than 32,000 people from 171 countries went bird watching finding 6,816 species, two-thirds of the world's bird species in a single day. This is a new record for the number of people birding on a single day.
I discovered there is a club on the island called the Borneo 400 — this club is for people who have seen at least 400 different species of birds in Borneo to which Roger proudly states he is a member of. Alex has a little way to go yet.
We stopped for a quick breakfast of noodles, wonton soup and buns at Gunung Alab a small community about 30km from Kota Kinabalu city. We then headed to the Rafflesia Centre, which was our destination point as it had one flowering mistletoe across the road in the bush. We sat, we waited with eyes focussed high up at the flowering mistletoe. With a 30-minute feeding cycle we did not know when the cycle started and finished, but it didn't matter. I found it relaxing just being in the surrounds of the jungle.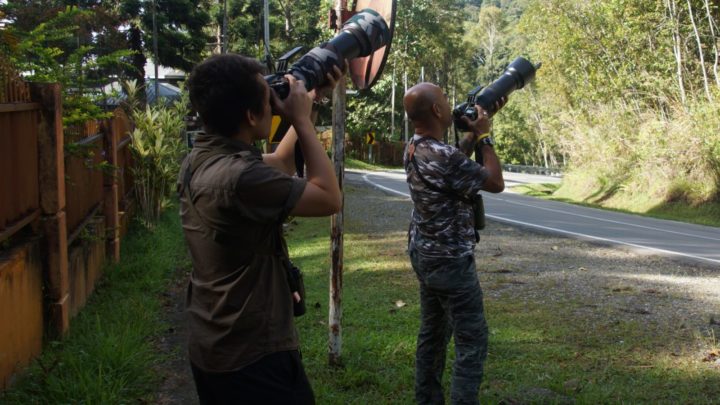 You know that feeling when you put your finger of something hot, that instant shock and rapid movement, well that's what had just happened with the guys. Unbeknown to me the bird had arrived and they had swung into action. I had bought my camera with me, which has a good telescopic lens, but it was no match for the equipment they were using.
They were madly snapping away and obviously on cloud nine at seeing the Whiteheads' Spiderhunter that Roger had waited so long to see. It was pleasing for me just to sit and watch them. The bird darted from branch to branch busily feeding then off it went. Roger and Alex were elated that they had achieved seeing this rare bird.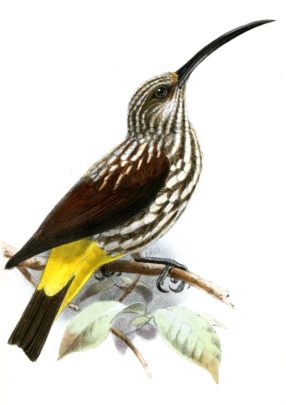 The next 10 minutes or so were spent analysing the photos they had taken and swapping information about their few minutes of joy. The bird returned and the guys were shooting again. Feeling satisfied with having seen this special bird not once but twice in a 20-minute period we headed to the next place.
Making our way to the Gunung Alab Substation about 1,800 feet above sea level, it was refreshing to experience a change in the temperature from the usual 33C regularly experienced at Kota Kinabalu. It was now 20C and I was enjoying being in the cooler weather, even if it would only be for a short time. We were about to head into the bush on a walking trail to do some more bird watching when it started to rain.
The rain got heavier and as we waited under a shelter for it to ease, we were abel to get to know one another better. Roger was a walking encyclopedia. His knowledge of the local area, the environment, flora and fauna put him up there with the best. His work gives him the best canvas in the world to work on, 'the island of Borneo'. He is a private tour guide with more than 29 years' experience and is a certified trainer by the World Federation of Tourist Guide Associations. He conducts numerous tours around Sabah and Brunei with a focus on nature, culture and adventure although his main focus now is on bird watching. He is a regular climber of Mt Kinabalu. Alex on the other hand is around 16 years of age and is home schooled. He told me he is addicted to bird watching and it is inspiring to see such a young guy with so much respect for and interest in nature.
Around one hour had passed and the rain wasn't showing any signs of easing so we decided to call it a day and headed back to Gunung Alab for lunch. Local chicken buns and fried rice with local coffee and tea filled the spot.
All in all it had been a great day. Nothing too terrifying for me at all. In fact I was feeling pretty pleased I had seen the Whitehead's Spiderhunter on my first time, when it had taken Roger years to spot.
Which takes me back to the curiosity and timing of things in life. If Roger, Alex and I hadn't been walking along the same beach at the same time we would never have met. If I wasn't a curious person I would never have enquired about their camera equipment and I would never have been able to experience the wonderful day I had bird watching.
Don't be afraid to say 'hello' to someone you pass. Many surprising things can eventuate from that one simple word.
Have you ever had a chance encounter that got you stepping outside your comfort zone?
Been travelling? Travel at 60 wants to publish your story. Simply sign up as a contributor and submit your stories. When your story is published, you'll go into the draw to win some great weekly prizes. You can also join the Travel at 60 Travel Lovers Club on Facebook to talk to other travellers in the Travel at 60 community.