Growing up in the outback, my heroes were a mixture of real-life people I knew and legendary outback historical figures who we heard about in stories told around the campfire.
Everyone told yarns about 'Trapper Bob' who went from station to station catching dingoes. He smelt like 10 dead dingoes but we kids were happy to trail along after him. We'd go to his camp with the dingo scalps all around and listen to his stories. Mum was horrified. She made us take our own mugs to drink from and told us not to eat anything while we were there but, to us, heroics counted for more than hygiene!
And there was Uncle Arthur the Indigenous stockman who taught me so much about working with horses and dealing with life. And Max, another old fella who chased feral cattle. We all dressed like him with bull-straps across our chests. When we rode with him, we felt we were riding with a legend.
It got me thinking about the stories we tell our young people today and what they learn from the people they admire as heroes. That's just one of my reasons for telling the stories of our outback heroes and pioneer forebears on our Outback Pioneers experiences in Longreach.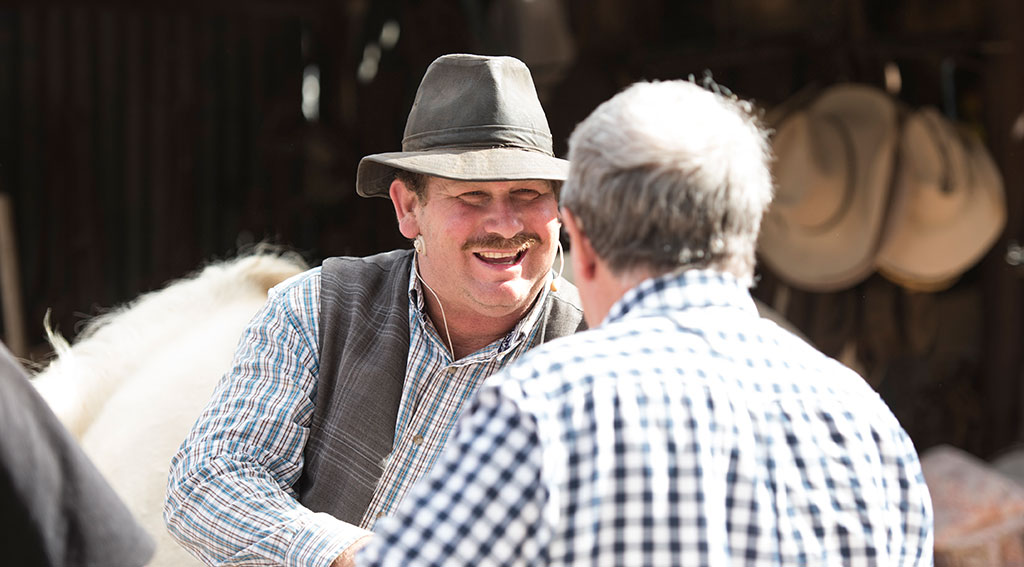 It's not just kids that can learn from them of course. We can all take some inspiration from those who accepted that each day was a challenge and found ways to get through it by their own ingenuity and helping each other.
Where the stories come to life
It's one thing to tell a story but another to walk in the footsteps of those heroes, who certainly never thought of themselves as heroes at the time.
In Longreach, so many of those stories come together – larger-than-life characters are remembered for their adventures and misadventures.
Spend a few days here with us and you'll learn plenty about cattle-duffer Harry Redford (aka Captain Starlight) who was admired for his bushcraft, navigation skills and audacity.
You'll probably hear about John Flynn who founded the air ambulance and helped set up communication – radios, party-lines, phones. He never felt happier than when he was in the outback and helping the people here.
Getting through no matter what
Today we wouldn't think of our bus drivers as heroes but in pioneer times, the Cobb & Co coach drivers were heroes who connected our town to the outside world and brought the precious mail.