My fascination with the traditional outback world began over 50 years ago when I was a little kid on my family's Queensland cattle property two-and-a-half hours from the closest small town and over 800 kilometres from the nearest big city – Rockhampton!
Things have changed a lot since then but now they're coming full circle and even the authorities are starting to recognise the wisdom the old fellas had in the way they did things. And when I talk about 'old fellas' I mean both the pioneers, the brave men and women who settled in territory that was quite unfamiliar to them, and Indigenous Australians who'd been taught thousands of years of wisdom since they were kids.
Back when I was young, we had Indigenous stockmen who lived with their families in camps nearby. I spent a lot of time with them and my dad was happy for me to go riding with them. Dad always thought carefully about what suited the land; he was among the first group of Australians to introduce American Brahman cattle because they can thrive in harsh environments that are just too tough for the breeds Australia had long relied on. He really valued the Indigenous people's knowledge and the help the old fellas gave him in working with unpredictable conditions.
Reading nature with the old fellas
I did many a day on horseback riding the boundary fences with a coil of wire over my shoulder. Our job was to keep riding that dingo fencing and fix the holes where kangaroos or other animals had dug underneath. I'd have my lunch in my saddle-bag and a quart pot to make tea over the campfire. Out there all day, a long way from anywhere, riding for hours and hours, you'd notice all the birds and bush animals, and all the changes in nature.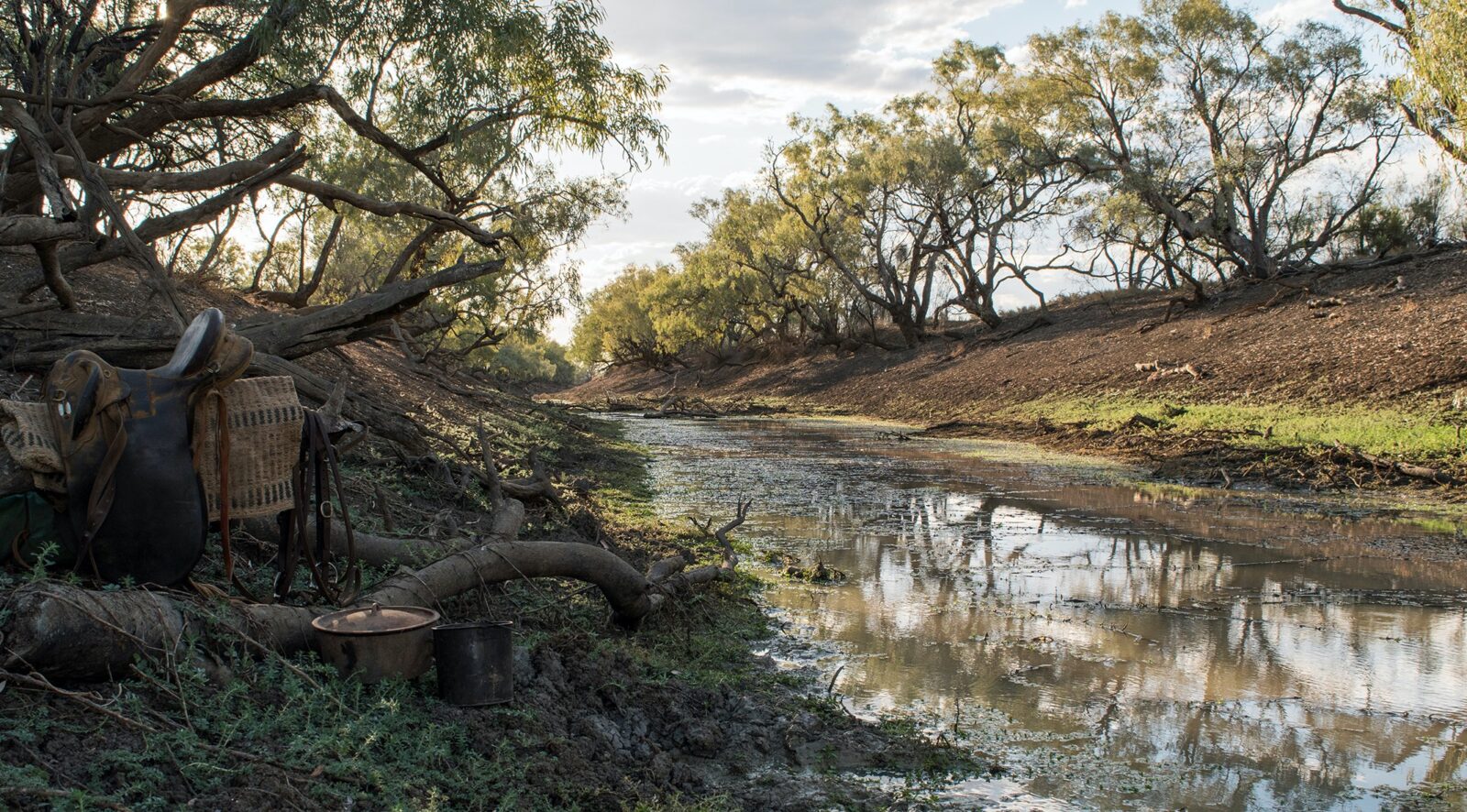 The Indigenous uncles pointed out Jacky lizards, the hollows where parrots made their nests and different animal behaviour. They'd know when it was going to be an early summer or a drought and where we needed to burn off. They'd say, "We need to be burning this now, the bush is telling us we are going to get bad lighting here come spring". They saw the signs and they were never wrong.
One day, when we were riding along a creek, old Uncle Arthur said, "Can you smell something? There's something here somewhere". He kept pretending to look even though he'd already seen the koala just above our heads in a nearby tree. He wanted me to spot it for myself. The uncles taught us to use all of our senses to notice everything the bush was warning us about – both present and coming events – and what was in our presence at the time.
Coming full circle in the outback
About 30-40 years ago, we lost a lot of that. Government shut the camps and moved the Indigenous people to the towns. We replaced the dingo fencing with barbed wire and poison. We forgot how to manage fire. There was more and more red-tape, and lots of theories from people who thought they knew.
As a grazier, I'm passionate about caring for our outback land and making sure it is properly managed. I want us to be able to pass it on to future generations for food production and wool growing, and to inspire others with its natural wonders.
That's one of the reasons I'm so aware the changes made in the name of 'progress' haven't worked. Graziers have been losing millions of dollars a year through the damage the wild dogs and wild pigs do. Important knowledge of this country has been lost.
Then, just the other day, I did a three-day agricultural marketing course and all they talked about was the way we did things in the 1950s!
But my family and I have already gone back to the past to create our future. At our Nogo Station near Longreach, we've completed 100 kilometres of exclusion fencing and we ride the boundaries again.