To make things easier, we've put together a list of the must-see destinations in Tasmania, plus some great Travel at 60 deals to help you along your way.
Freycinet National Park
Freycinet National Park is a nature-lovers paradise, filled with everything from white sandy beaches and pink granite peaks, to transparent waters and of course, the famous Wineglass Bay. Many opt to take in the surroundings with a walk, either choosing a short trek to Wineglass Bay to snap a perfect picture, or for the more active types, a longer trek which takes at least two days to complete. On this journey you'll see more standout sites including Cooks Beach and Bryans Beach.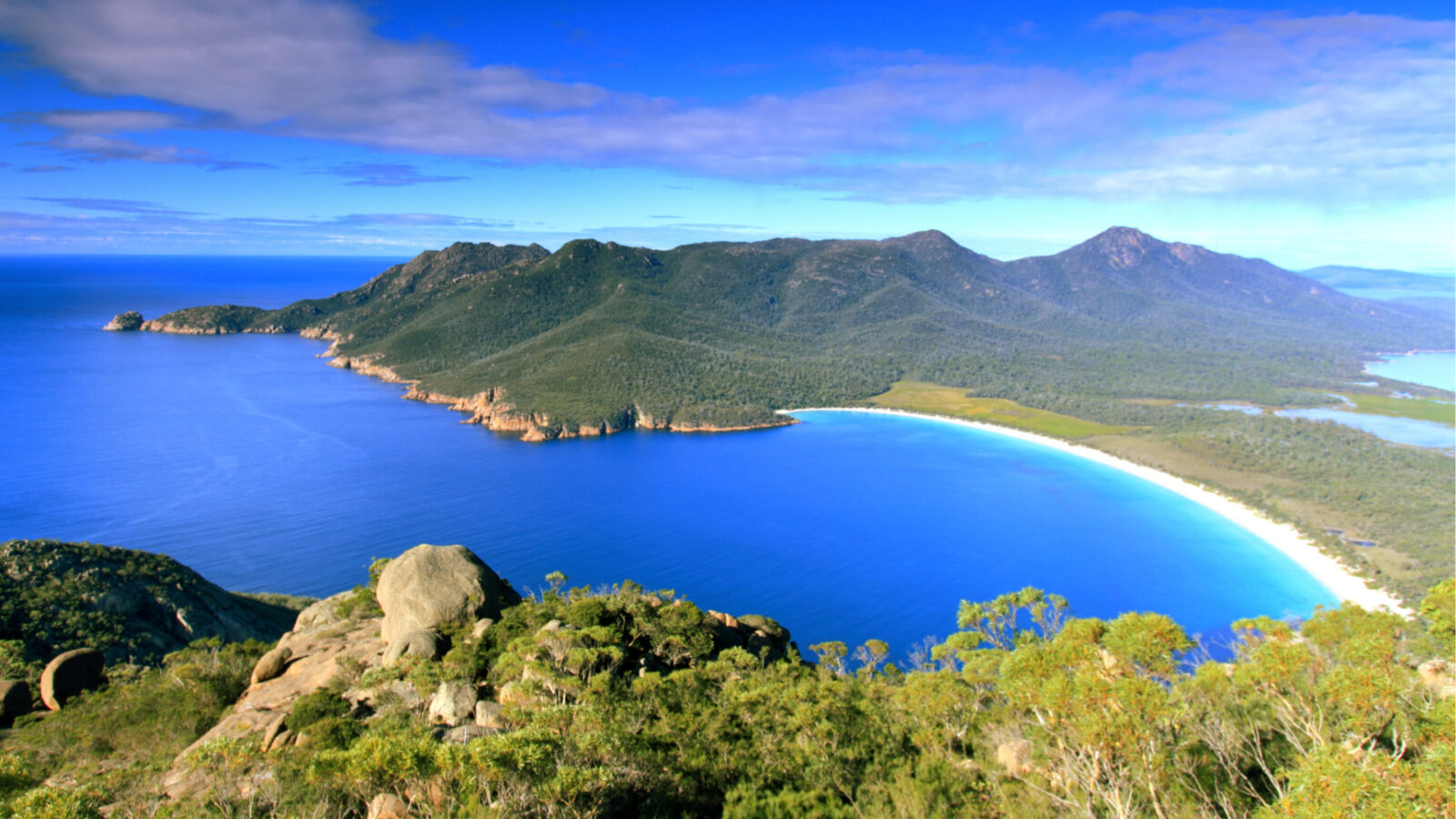 During the winter months it's best to rug up, but in summer you can take a dip in the beautiful beaches, with opportunities to swim, snorkel and kayak. The national park is located around 2.5 hours drive from Hobart and Launceston, but if you can, it's best to spend at least a full day exploring the surroundings. There's plenty of accommodation nearby to rest your head, including places to camp or more luxury eco-retreats if you want to really spoil yourself.
Cradle Mountain
Cradle Mountain is perhaps the most popular place to visit in the Apple Isle, due to the spectacular, picture-perfect scenery. From the lush green rolling hills, wild alpine moorlands and glacial lakes – it really would be hard to take a bad photo of this beautiful part of the country. And, if you're lucky you might even spot some Aussie critters, with wildlife in abundance throughout the national park, including Tasmanian devils, quolls, platypus, echidna and wombats.
Cradle Mountain itself is a 1.5 hour drive from Devonport, and a 2.5 hour drive from Launceston. So, an easy day trip and perfect short stopover. But really, if you have the time it's worth sticking around for a bit longer to lap up its beauty. If your legs are needing a stretch after many months stuck inside, there's a range of fantastic walks from easy strolls to more challenging hikes.
The Overland Track is one of the harder, but more popular hikes through the area, stretching some 65 kilometres from Cradle Mountain to Lake St Clair. It will take you around six days in total to complete, with stopovers to rest in private huts along the way. Currently, Travel at 60 has a great deal running where you can hike the track with a guide, and there's departures right up until May next year.
Port Arthur Historic Site
If you're a history buff and want to learn more about Australia's past, then a visit to the Port Arthur Historic Site is a must. The World Heritage-listed site is located around a 1.5 hour drive from Hobart and is labelled the country's most intact and evocative convict site.
On site you'll find over 30 historic buildings to explore, spread out across 100 acres of land. So, it's certainly not a quick stopover! But, what you'll discover will be worth it, including stories of the many escape attempts made by prisoners who weren't afraid to risk severe punishment for freedom. There's plenty to keep you occupied for three or four hours, including guided tours of the Penitentiary, the Separate Prison and the Convict Church, plus museums, galleries and gardens to explore.
Travel at 60 currently has a tour on offer to the Apple Isle, and as part of it, you'll visit the Port Arthur Historic Site. The 10-day trip starts and ends in Hobart, and journeys to Mount Field National Park, Cradle Mountain, Launceston, and many more great places.
Mount Wellington
Mount Wellington is located just 20 minutes drive from Hobart and offers incredible panoramic views of the city below – so, don't forget the camera! It's the perfect spot to snap a photo, with views of the Derwent River and the ocean. There's also areas to sit down and have a picnic with friends, with barbecue facilities available.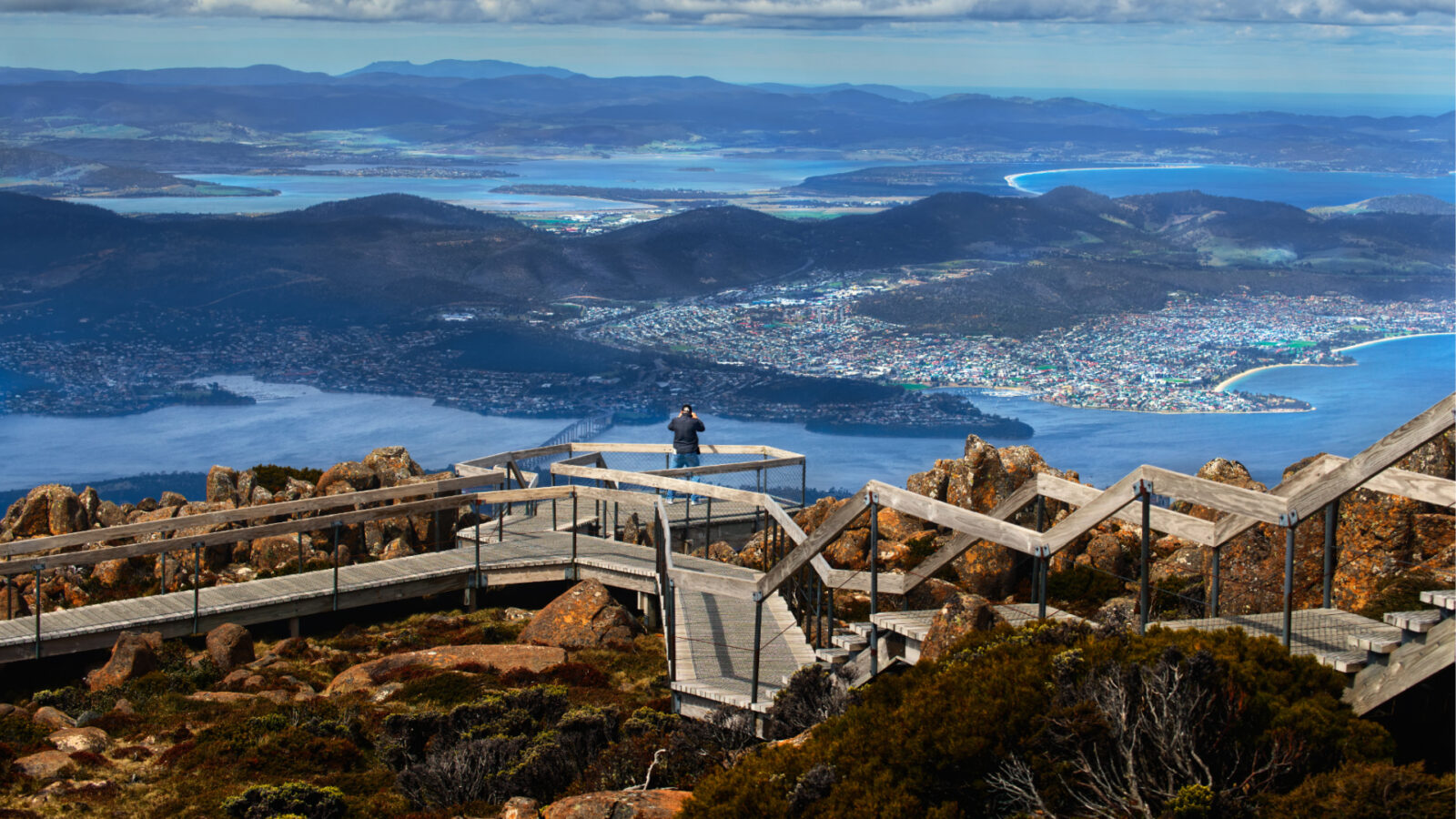 Or, if you're up for a more active adventure, you'll find bushwalking trails for all fitness levels, and other mountain activities such as abseiling for the real thrill seekers. Remember though, Tasmania does get quite cold and sometimes there's even snow and sleet on the mountains. So, if you're planning on going hiking, make sure to wear study boots, warm clothing and a waterproof jacket.
Salamanca Market
Tasmania's capital Hobart is nestled at the foothills of Mount Wellington and at the entrance to the Derwent River making it feel like more like a country town than a bustling city. But, that's not to say that Hobart doesn't have a lot to offer visitors. The meals you eat in the small city are mouth-watering, with Hobart praised in particular for its seafood options.
The city is also home to the famous Salamanca Market. The market is one of the country's most-loved markets, with fresh produce, arts and crafts, jewellery, homewares and collectables filling the many stalls at the outside venue every Saturday morning from 8am to 3pm. It was first held in 1972, with a small number of traders gathering to sell their goods. But, over the years it has continued to grow, and some have apparently crowned it the "best market in Australia".
On a visit to the markets, make sure to have a chat with the artisans and craftspeople about their products, and don't be shy to taste test – although be warned, you'll struggle not to pull out your wallet to make a purchase at every stall.
Meanwhile, if you want a real foodie adventure, Travel at 60 has a great deal on offer for a small group culinary journey through the Apple Isle. The tour begins in Hobart and takes you to a vineyard, an oyster farm, a cider distillery and many more incredible places!