Just two weeks prior to my visit, Venice had flooded. I could still see the watermarks where the waters had come through our apartment.
The very friendly, very Italian and very good looking landlord, went into detail of our surroundings and left us to it. We wandered, ate, shopped, visited outlying islands, watched glass blowing and bought lace — the things Venetians are so famous for. I did not want to leave Venice. I would go back in a heartbeat.
Yet I was off to Florence. with its history and crowded streets. It was December 30, 2019. After spending Christmas in the pretty, cold and snow-filled Innsbruck, Austria (my first white Christmas), I was on a high. I was in Florence, for New Year.
As I looked down the Ponte Vecchio, there were so many people I couldn't tell there was a street beneath their feet. I looked up at the tops of historic buildings and statues, all reaching for the sky and I could not wait to explore.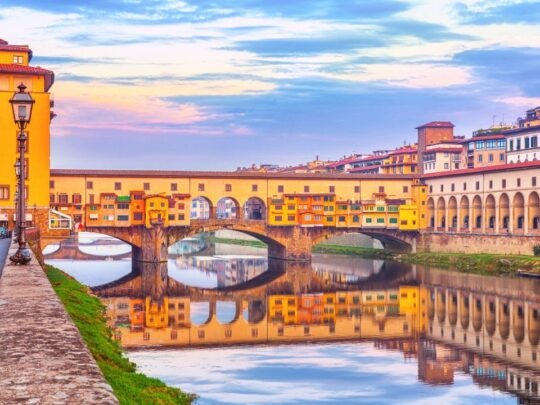 We were staying on the Ponte Vecchio, in the midst of hotels, cafes and restaurants and of course the never ending gold and jewellery shops, the most notable part of this medieval stone building arching over the Arno River. Hanging from the windows of our accommodation, I could hear, smell and see Florence stretching before us.
On New Year's Eve I ate gelato and watched and listened to the revellers. At midnight, to ring in the New Year, the fireworks started. Rockets launched from rooftops, I was told because it sends the bad spirits away from the city. They were launched until dawn.
I have so many positive experiences from my time in Florence. While there are other statues in the Florence area, seeing the original statue of David at the Accademia Gallery was a highlight. It simply took my breath away. I cannot fathom that this magnificent artwork was carved out of one piece of marble, the detail is amazing. Also at Accademia are a number of Renaissance art works and musical instruments. The historical buildings of Florence are also something to be seen.
On New Year's day, I parted from my travelling companions and headed for Genoa. Here, I would meet up with friend I'd met on Facebook four years earlier.
Genoa was full of old buildings and is renowned as the home of Christopher Columbus; its winding narrow roads reek of ancient Italy. My friend lived in a two-storey semi-detached house, which had once belonged to her parents. It opened up over the cliff face and had the most magnificent view of the Ligurian Sea.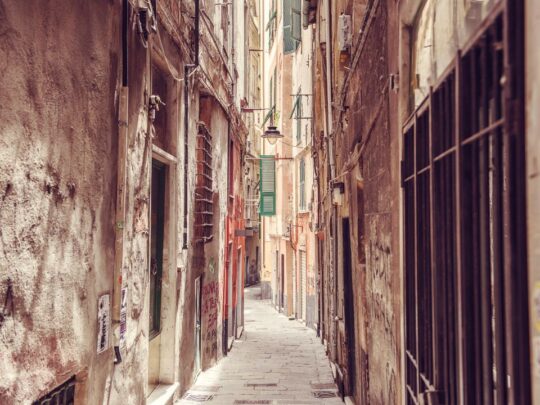 I was staying at the edge of what they call 'The Italian Riviera' in a quaint family owned hotel, the building was all white with lemon and olive trees surrounding it. A block away, my friend showed me the beautiful homes of the rich and 'famous' Italians, and the boardwalk of one of the prettiest ocean views I have ever seen. It was winter, but Mother Nature had turned on weather warm enough that swimmers were sunbaking on the tiny white pebbles and shells, meeting the ocean. The smells coming from the hotels and cafes were amazing, and the people were so friendly.
I spent a day exploring the city and marvelling at its buildings and churches. My friend and I laughed and ate and explored and ate some more, as though we had known each other forever. On the final day of my holiday, my beautiful Italian friend made a delectable meal of pasta and Italian meats and dessert in the form of six different pastries were supplied by another friend. What a day that was!
The dock at the end of Genoa, was my last sightseeing adventure in Italy. The lunch with my two Italian friends, who will be in my heart forever, was my final day in Italy. I hopped on a plane (three actually) and after 23 hours, I was home.
Four weeks later a virus nicknamed Covid-19 clawed its way around the world. If it ever leaves, I hope to visit France, but as I look at my little Italian leather handbag, a souvenir of Venice, I know Italy will reign supreme in my heart.