On our second full day, we all piled into the van, and we were off.  We were so lucky that one of the ladies was a frequent visitor who knew many locals.  
Our first stop a small plantation that made Luwak coffee. For those not in the know, Luwak coffee contains dried poop. Did I try some? Of course, I did.  It was coffee, not that I would know what poop tasted like. 
The trip into the plantation was following little paths. Then, oh joy of joy! A bat, with a lady and a camera! I love bats. I once almost trampled a child to get to hold one at Healesville sanctuary.
This one was enormous. Out came my purse and before I knew it, I'd paid to hold this soft beautiful creature and have my photo taken. All went well, and the lady popped it back on its perch where it folded itself up.  I couldn't resist the beautiful creature, just hanging there, so I just stroked that little head, and promptly got my finger nipped.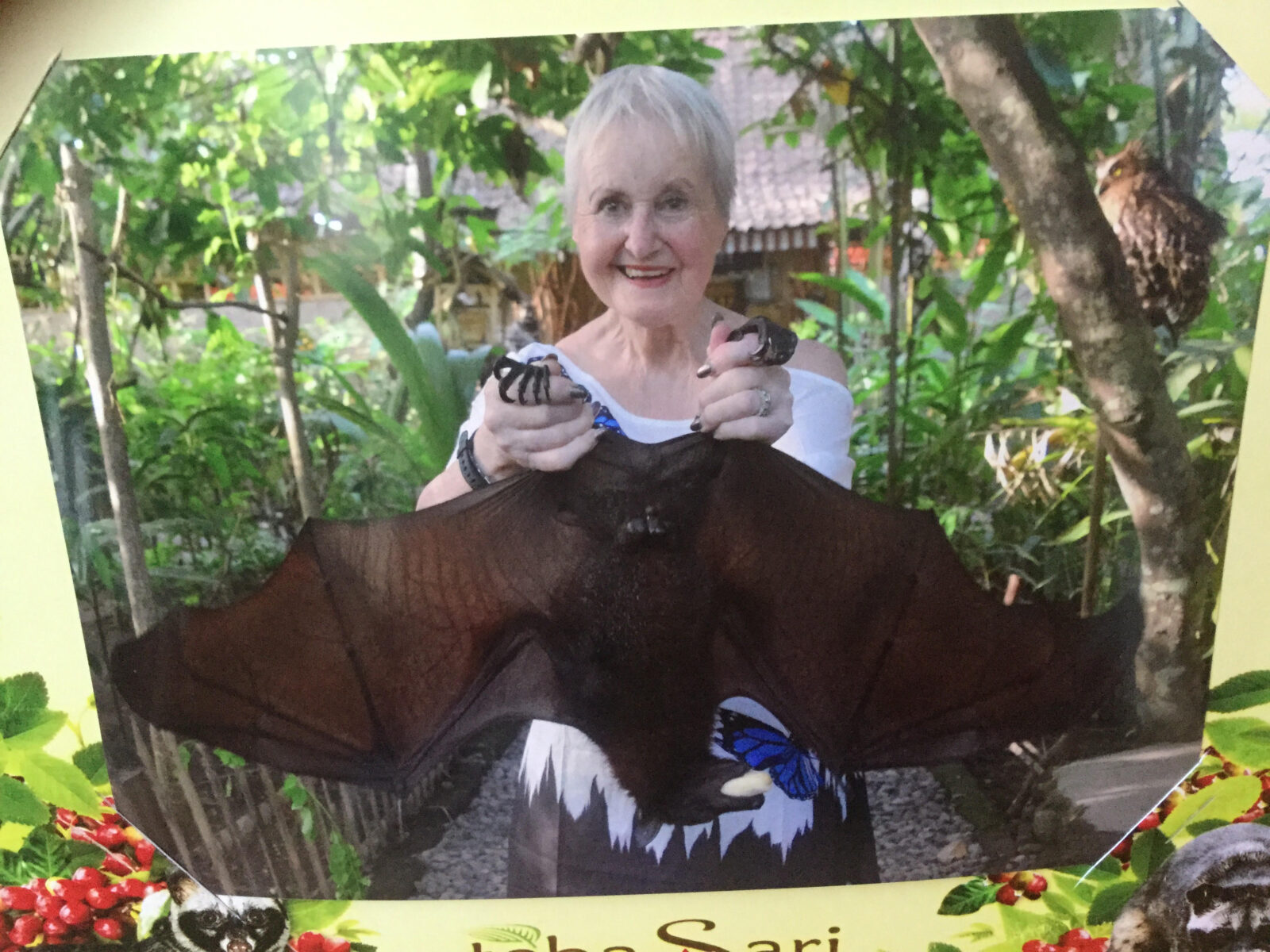 However, I wasnt game to tell anyone. I'm not a panic merchant. I just wanted to wait until I knew I had something to tell people. Until i was foaming at the mouth or something. I didn't.
The trip continued through the plantation, andwhoop! We were off again, to a place so pretty it would not be forgotten. Gardens as far as the eye could see, huge high steps to a temple that my friends wouldn't let me climb, nor go on the stepping stones through an artificial lake. That felt a bit mean, there were heaps of kids doing it. 
I settled for feeding carp the size of a large Murray cod instead.  
To add to my delight, there was a little market place nearby, where and I saw my hearts delight. A SNAKE!
A huge beautiful yellow snake, and I could pay to hold it. The little man looked at me and shook his head. "Too heavy?" he said. "No, no!" I protested, flexing my rather good gym biceps, "Strong!"
So he put the snake around my shoulder and it promptly curled around my warm little body. It was HUGE. It liked me and just rested its head next to my neck. 
Behind me was a poor man with his back to me, when he turned to me, he was confronted by a great big snakehead a handsbreadth away. he screamed and took off like a rocket.  I had to give my scaly friend back, but what a wonderful experience. 
There you go my main memories of this special place in Bali were animal-driven – a snake and a bat, who'd've thought.